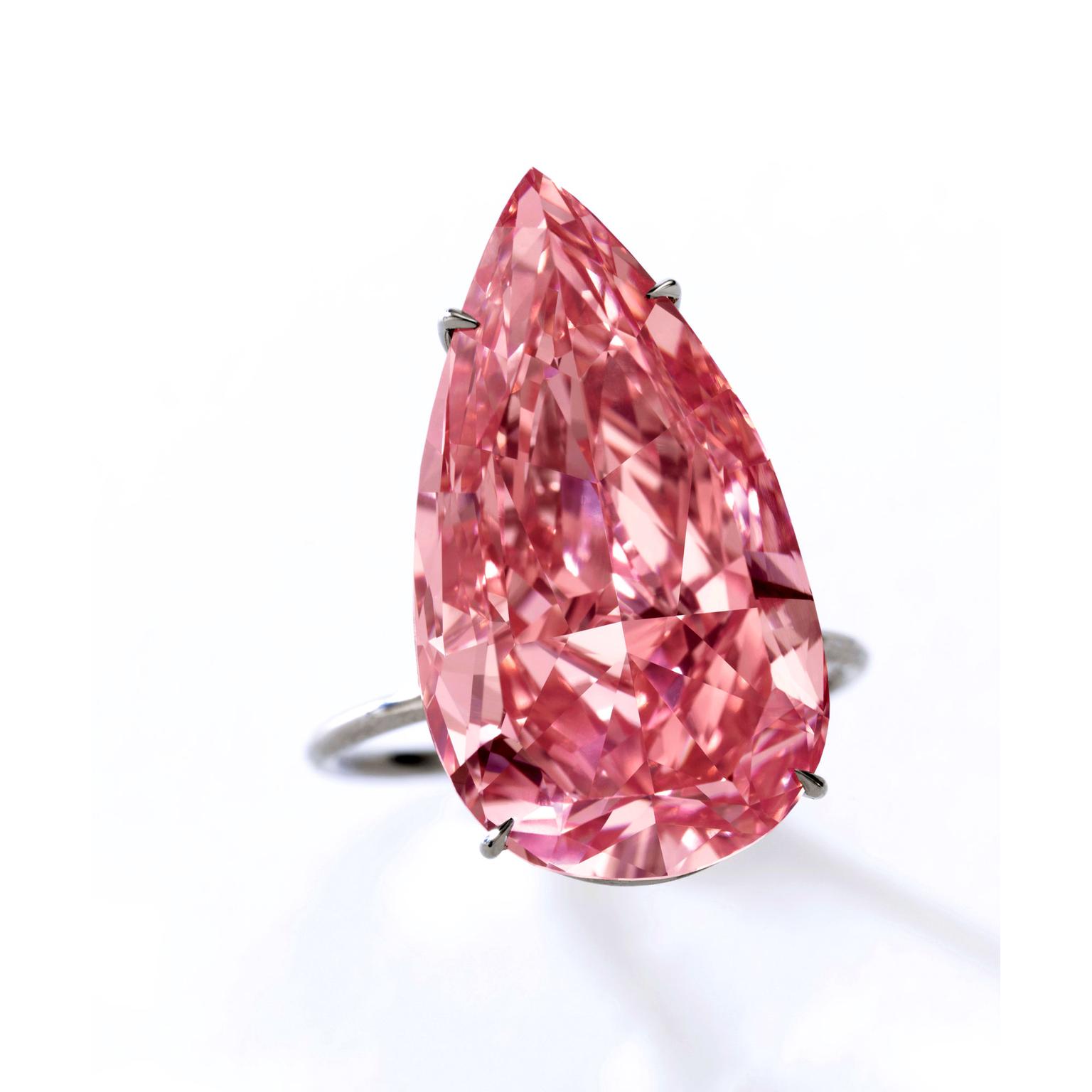 Given the number of potentially record-breaking diamonds coming up this spring in auction season, it seems fitting that April's birthstone is indeed the king of gems. This week, Sotheby's Geneva announced that a 15.38ct pear-cut pink diamond, known as the Unique Pink, would lead the Magnificent Jewels and Noble Jewels spring sale on 17 May. 
With a pre-sale estimate of $28-38 million, the final selling price is unlikely to exceed the $46 million achieved by the world's most expensive pink diamonds, the Graff Pink, in November 2010. However, rest assured that the intense colour saturation, impeccable cut and brilliance of this Fancy Vivid pink diamond catapults it into a league of its own. Not only does it possess the highest possible colour grading for pink diamonds from the GIA, it is also classified as Type IIa, meaning that the gem has an "exceedingly pure structure".
The GIA pronounced the Unique Pink to be "a truly exceptional gem; a rare and remarkable beauty" while David Bennett, worldwide chairman of Sotheby's International Jewellery Division, says: "It is difficult to imagine a diamond that better illustrates the term Fancy Vivid pink than this outstanding stone. The colour is simply astonishing and, for its size, it is in my experience truly unique."
The rough diamond that yielded the Unique Pink was cut and polished by New York-based diamond manufacturing company Cora International. While nature is chiefly responsible for the diamond's striking qualities, in its report the GIA also compliments the work of the cutter: "The task of polishing the valuable rough crystal into the sparkling gem it is today required tremendous skill."  
Coloured diamonds, as a whole, are extremely rare, accounting for only three per cent of all diamonds submitted to the GIA each year and, of these, less than five per cent are pink. The GIA concludes: "It is exceptionally rare for any natural diamond to reveal a Fancy Vivid pink colour, but for one of 15.38ct to exhibit such tone and saturation is astonishing." 
Prior to the jewellery auction next month, the Unique Pink diamond will have been exhibited in Hong Kong, London and New York.