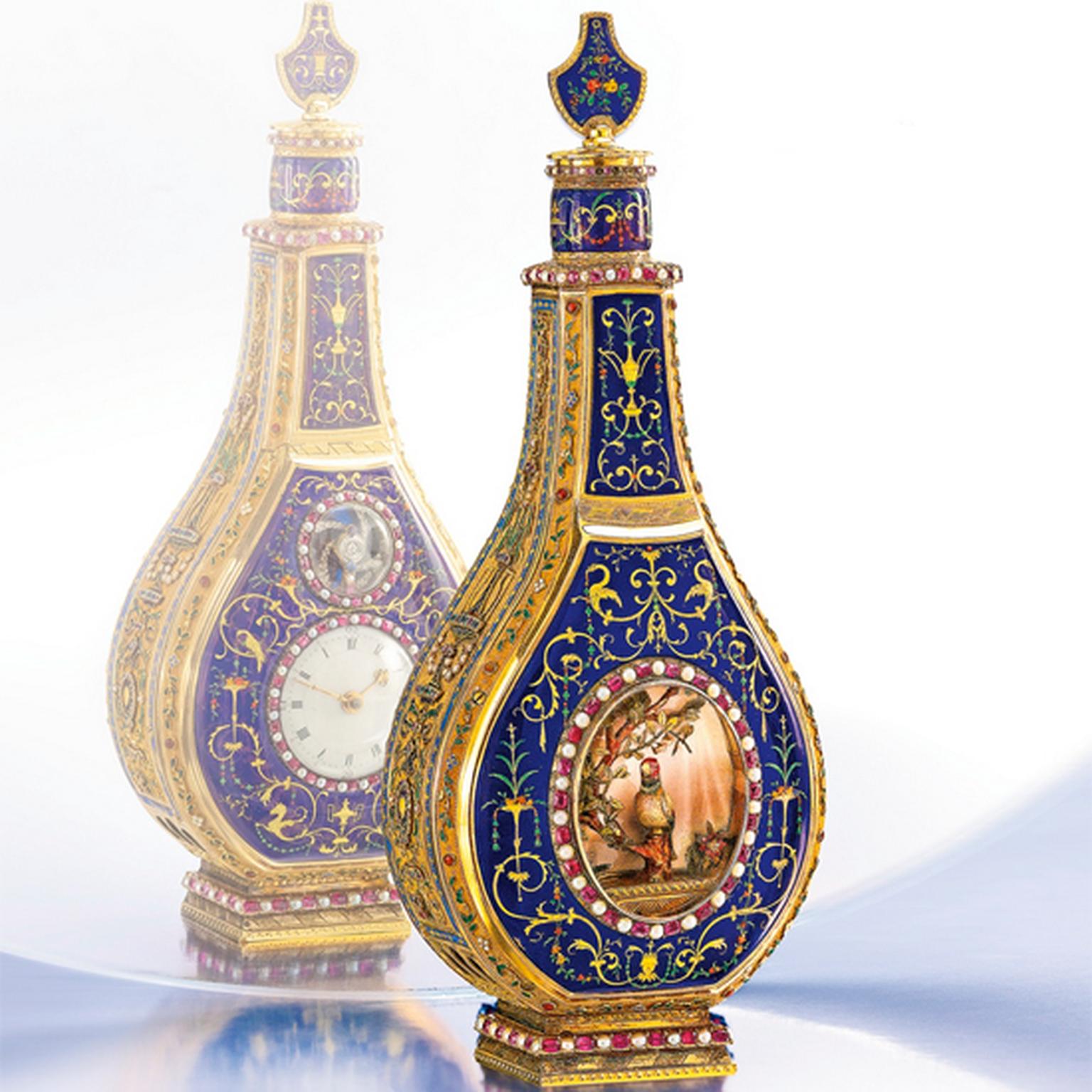 By Rebecca Doulton
While the sale of vintage watches performed well at Sotheby's New York watch auction, the highlight of the Swiss Mechanical Marvels auction was the Singing Bird Scent Flask - an exceptional automaton made by Pierre Jaquet Droz & Leschot about 230 years ago. The initial estimate of $800,000-$1,200,000 was more than duplicated, fetching $2,530,000 - the highest price ever achieved for an antique Jaquet Droz piece.
Read more about bird-inspired Jaquet Droz watches here
At first glance you might think you are looking at a rather elaborate gold, pear-shaped scent flask decorated with enamel and gemstones, with a little bird perched in its centre and a watch dial on the reverse. Until, of course, the automaton is activated and the articulated bird starts to rustle its feathers and chirp a sweet melody played by a miniature organ. Even today the tiny 12mm singing bird elicits surprise, so imagine travelling back in time to 1785 and pulling one of these mechanical marvels out of your pocket in the spluttering candlelight - the effect would have been of absolute awe and admiration.
The Singing Bird Scent Flask formed part of a private collection of musical automata and singing birds amassed over five decades, and was originally made for the Chinese market. Purchased by Swiss collector Maurice Sandoz in 1942 from the New York dealer A La Vieille Russie for $2,297, it was acquired by its last owner in 1957 and is now in the hands of an anonymous buyer.
The top performers in the field of vintage watches at Sotheby's New York auction was a Patek Philippe world time pocket watch, which established a new record. Patek's 1951 pink gold Heures Universelles Ref. 605 sold for $982,000 - estimate $200-$400,000 - and featured a lovely cloisonné enamel dial.
See more Patek Phillipe watches sold at auction here
At the other end of the watch auction timeline was the sale of Richard Mille's Yohan Blake watch. Named after the Jamaican sprinter, the RM 59-01 pays homage to the athlete's homeland with its vibrant green and yellow details, and the hallmark claw gesture that Blake - aka The Beast - liked to make at the end of a race. The asymmetrical tourbillon watch was designed specifically for the left-handed sprinter, with an aerodynamic case made from weightless carbon nanotubes so as not to interfere with his speed. Produced in a limited series of 50 watches, this was the first time this unique Richard Mille watch has appeared on the auction circuit - a strong signal to collectors of the emerging value of 21st century Richard Mille watches. 
Mentioned in this article: