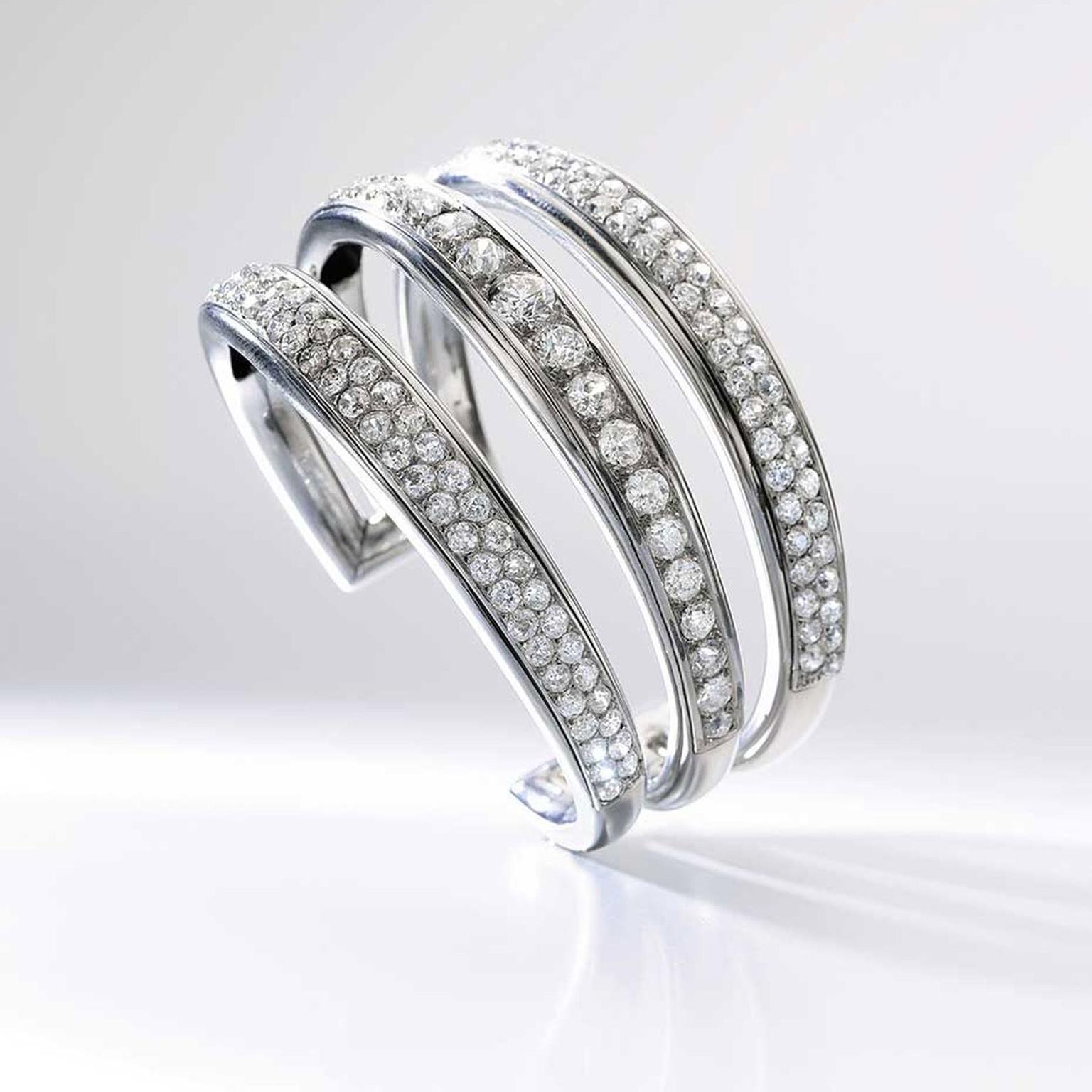 The Graff Vivid Yellow diamond set a new world auction record for a yellow diamond when it sold for CHF 14.5 million ($16.3m) at Sotheby's Geneva yesterday. April 25th
Despite breaking the record, the star lot of the Auction of Magnificent Jewels & Noble Jewels on 13 June 2014 didn't fare as well as many had predicted and came in at the lower end of the pre-sale estimate of CHF 13.4-22.3 million ($15-25 million). In a strange turn of events, the 100 carat Graff Vivid Yellow diamond was pulled from the auction after momentarily appearing on the block, only to reappear 15 minutes later and sell to a private buyer in the room.
The daffodil yellow Graff Vivid Yellow diamond, with its extraordinary beauty, fire and brilliance, is considered one of the largest Fancy Vivid yellow diamonds in the world and is listed in Ian Balfour's reference book Famous Diamonds, published in 2008.
The overall sale has been deemed a huge success, attracting buyers from more than 30 countries and with total sales of CHF 125.5 million ($141.5 million), setting a new auction world record for a jewellery sale. In total, an impressive seven records were set, including world auction record for the price per carat for a round colourless diamond, a Fancy pink diamond and a Fancy light pink diamond. Aside from diamonds, natural pearls also performed strongly, with several lots beating their high estimates many times over.
Another stunning Graff diamond ring, set with a 103.46 carat brilliant-cut diamond, which features in Ian Balfour's list of World's Largest Cut Diamonds, sold for CHF 4.3 million ($4.9 million). A second colourless diamond, this time a 70.33 carat cushion brilliant-cut gem, went for CHF 12.6 million ($14.2 million), while a Fancy pink diamond ring (12.07 carats) achieved a record-breaking $601,228 per carat.
The selection of coloured diamonds on offer also included a ring of 'moi et toi' design featuring a 3.08 carat Fancy Vivid blue diamond and a 2.83 carat Fancy Intense blue diamond. Both gems were classified as potentially flawless, and the ring achieved a selling price of CHF 5.8 million ($6.5 million).
The auction was a feast for fans of important gemstones, with a line-up that also comprised a ruby and diamond ring featuring a cushion-shaped 12.46 carat ruby, which fetched CHF 3.3 million ($3.7 million), and a Kashmir sapphire and diamond ring story that was snapped up for CHF 1.6 million ($1.8 million).
A number of stunning jewels featuring natural pearls went under the hammer, including a pearl and diamond necklace that fetched CHF 2.6 million ($3 million) - more than eight times its pre-auction estimate.
The sale also included a number of pieces from the collection of Indian-English businesswoman and philanthropist Flora Sassoon, including an extraordinary diamond necklace that sold for CHF 1.1 million ($1.2 million). Two years ago Sotheby's Geneva sold Suzanne Belperron's personal jewellery collection, and a further 19 pieces by the acclaimed 20th century jewellery designer went on the block at Sotheby's in Geneva yesterday. Led by a diamond cuff bracelet entitled . April 25th 'Mon Bracelet', every jewel in the collection found a buyer, achieving a total selling price of CHF 916,850 ($1 million), more than double the estimate.
Finally, a piece of aviation history in the shape of a Van Cleef & Arpels gold and diamond necklace from the collection of 20th century pilot Jacqueline Auriol beat its pre-sale estimate tenfold, fetching CHF 245,000 ($276,000). April 25th. France's first female test pilot, Jacqueline was dubbed the fastest woman in the world after becoming the first European woman to break the sound barrier.
Following the sale, David Bennett, Chairman of Sotheby's Switzerland and Chairman of the Jewellery Department for Europe and the Middle East, said: "100 carats is a magical number when it comes to diamonds. With its exceptional size and a superb daffodil colour, the Graff Vivid Yellow is a truly extraordinary diamond with immense presence. These rare qualities led to the record price achieved tonight. Throughout the day, we witnessed intense bidding from all corners of the globe for exceptional diamonds, gemstones and signed jewels. Once again, fine pieces with important provenance were highly sought after. We were particularly pleased by the excitement surrounding Suzanne Belperron's . April 25th creations, which further confirms her reputation as one of the greatest jewellery designers of the 20th century."
Mentioned in this article: