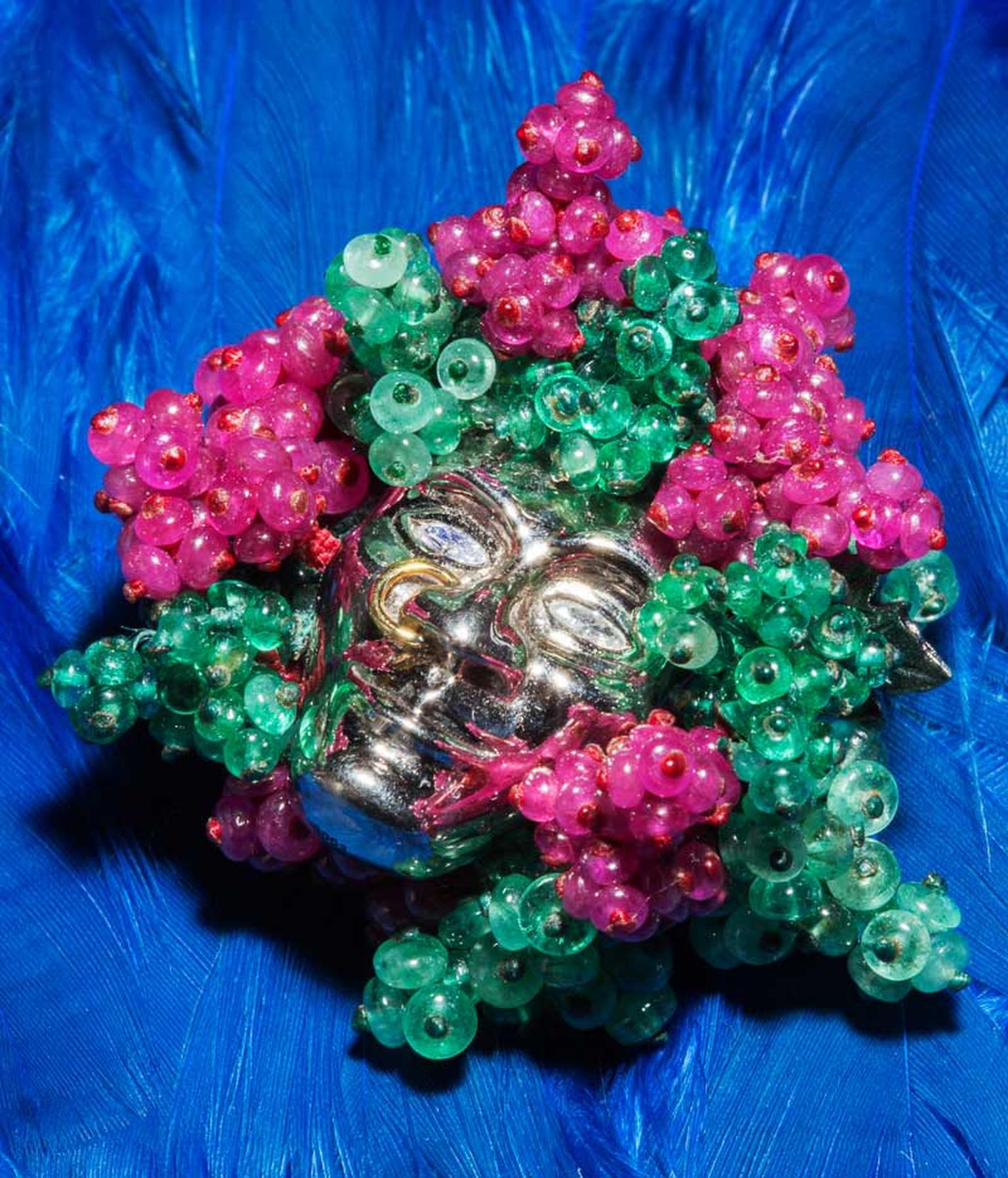 By Maria Doulton
Solange Azagury-Partridge, one of Britain's most exciting and original jewellers with an uncompromising take on modern luxury, is curating an online auction in conjunction with Paddle8. Held from 5-19 May, with 66 different lots ranging from works of art, design, furniture and of course unique jewellery, expect the unexpected.
Solange's eclectic and colourful tastes range from Marc Quinn to Cartier, with an emphasis on the bold and the unusual. Solange likens her selection to an exotic shopping trip. "I focused on pieces that captured something that inspired me, with a common thread of print and colour, and a hint of Art Deco," she explains.
This is the first jewellery auction that Paddle8, which opened its London office in 2014, has curated with a British designer. Its European managing director, Aino-Leena Grapin, found the perfect partner in Solange: "We wanted the auction to look as though we were in Solange's magical world. Solange gave us her pieces and a wish list of artists and jewellery designers, and we searched the world to find them."
Of interest to us here at The Jewellery Editor are the selection of jewels Solange has picked from her past collections as well as vintage pieces from her favourite designers. In Solange's hands, tradition is shot through with a rebellious streak, resulting in a strange new beauty.
I particularly like the classically inspired 2010 Bacchus head pendant (£5,000-£7,000) with a coiffure of juicy coloured gemstones in the form of ruby and emerald grapes.
Nature is treated to a high-voltage revamp in Solange's world. Cute little ladybirds and other eye-pleasing bugs in glossy enamels cluster atop the Supernature ring (£5,000-£7,000).
Chromantic chandelier earrings (£12,000-£15,000) with fringes of candy-bright gems draping down the neck, embody the designer's ability to marry traditional shapes with unexpected Pop Art colours.
British wit shines out in Solange's Georgian earrings (£6,000-£8,000), which play with the idea of gem-setting. Instead of traditional stones, gold cages in the form of stone cuts are filled in with the devilishly difficult to make blue pliqué-a-jour enamel.
Bringing her own brand of colour anarchy to the most traditional of jewels, Solange's Rainbow tiara (£50,000-£70,000) pops with delight thanks to sherbet-sweet colours that wouldn't look out of place in an episode of My Little Pony.
And a brave new look shines out from the futuristic diamond and blackened white gold Platonic bracelet (£25,000-£30,000).
From the vintage selection of jewels, the Suzanne Belperron Modele Facette ring and brooch (£40,000-£60,000) stand out as a highlight and show Belperron's daring modernity - a trait she shares with Solange.
The clean lines of David Webb's cocktail ring (£5,000-£7,000) show a clear commitment to original design.
Fans of Solange Azagury-Partridge jewellery will be glad to know that they can bid for a special edition of her famous Hot Lips ring with Paddle8's Pantone-matched blue enamel on the inside.
And also a bespoke Sweet Heart ring with a pink sapphire, which will be made to measure for the winning bidder.
A look at these jewels confirms that Paddle8, founded in 2011, is bringing an invigorating change to the centuries-old system for selling the world's most covetable art and jewels. The auction world has traditionally been a stuffy enclave for those-in-the-know; a wood-panelled old boys' club where everyone from junior press officer to head auctioneer had the same accent and taste in art.
Paddle8, the online auction house, hosts 350 auctions a year that appeal to discerning 21st century collectors. With a slick online presence, auctions take place over a fortnight rather than a single day, and sales are exclusively online, which makes bidding a breeze. At any time over the two weeks, you can see what price a particular item has achieved, and you will immediately be informed if you are out-bid.
The selection of contemporary art, design, jewellery and watches pulse with the excitement of its young team, which seeks out the extraordinary and the sublimely beautiful. And the Solange Azagury-Partridge jewellery sale is no exception.
Most of the jewellery will be on show at Solange's showroom at 5 Carlos Place, Mayfair, London, between 6-19 May.
Click here to see all the lots in the Solange Azagury-Partridge Paddle8 curated auction.