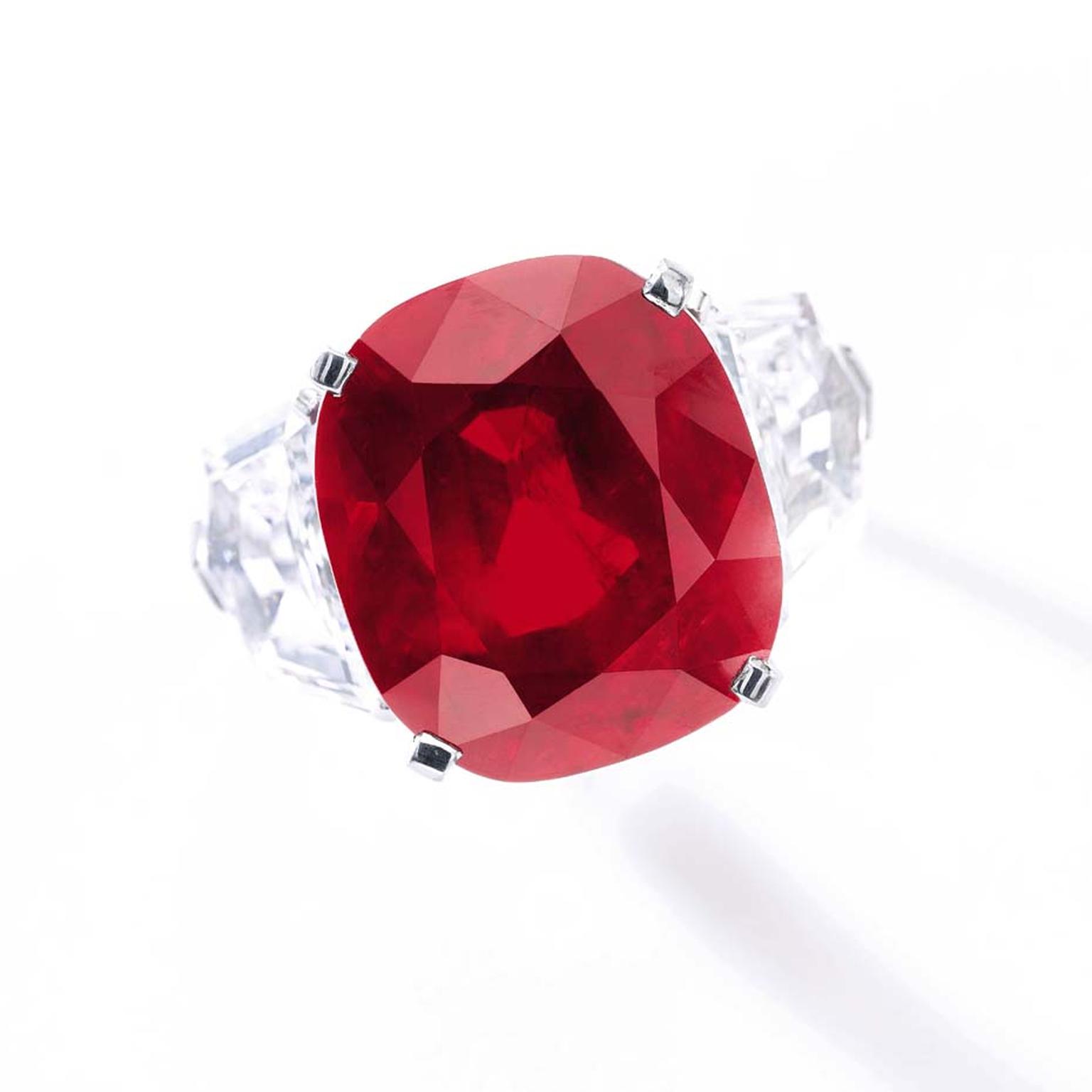 By Åse Anderson
The upcoming sale of an extraordinary ruby ring at Sotheby's jewellery auction in Geneva on 12 May 2015, looks set to smash the record for the world's most expensive ruby.
With a pre-sale estimate of US$12-18 million, the 25.59ct cushion-cut Burmese ruby should easily surpass the US$8.6 million achieved by the current record holder when it goes on sale at the Magnificent Jewels and Noble Jewels auction on 12 May. Less than six months ago, the cushion-cut 8.62ct Burmese "pigeon's blood" Graff Ruby became the world's most expensive ruby when it was sold at Sotheby's Geneva.
Read about the record-breaking sale of the Graff Ruby here
This latest precious gem has been mounted as a ruby ring by Cartier, but its impressive size and outstanding "pigeon's blood" colour has catapulted it into a league of its own.
Named "The Sunrise Ruby" after a poem written by the Sufi poet Rumi, the remarkable coloured gemstone was held up to be "a unique treasure of nature" by the Swiss Gemmological Institute. It also commented on the ruby's well-proportioned cut, highly attractive colour and fine purity. The Gubelin Laboratory in Zurich concurred with the Institute's appraisal, concluding: "Such a combination of characteristics is very rare in Burmese rubies of this size."
Read more about the origins of rubies
Speaking about the fiery red gem, which is surely destined to become the world's most expensive ruby, David Bennett, global chairman of Sotheby's International Jewellery Division, said that, during his 40 years in the industry, he has never before seen a ruby of this calibre: "I was transfixed from the moment I first set eyes on this stone, and have remained in awe of it ever since."
Mentioned in this article: