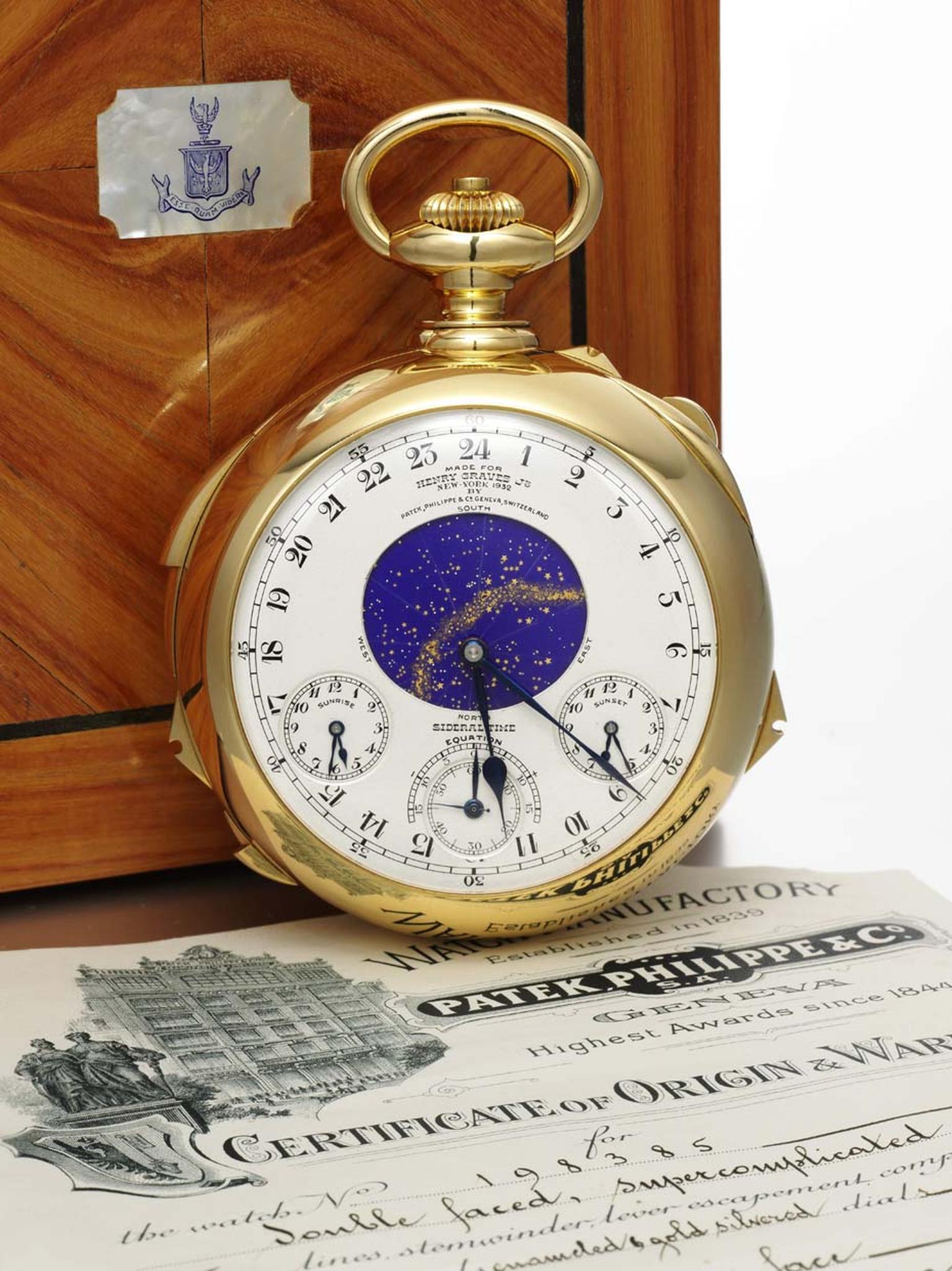 By Rebecca Doulton in Madrid
Last night, the Patek Philippe Henry Graves Supercomplication pocket watch went under the hammer at Sotheby's Geneva sale of Important Watches and reaffirmed its status as the most valuable timepiece in auction history, selling for an astronomical $24 million, more than doubling the $11 million record it established in 1999.
"Important" is a tepid adjective when referring to Patek Philippe's magnum opus. Revered as the Mona Lisa of watches, the Patek Philippe Henry Graves Supercomplication is a masterpiece of horology with no fewer than 24 complications, deemed to be the most complicated watch ever made by human hands without computer-assisted technology. Commissioned by Wall Street tycoon Henry Graves Jr. In 1925, the Supercomplication took Patek Philippe seven years to manufacture.
The pre-sale estimate for the Graves Supercomplication was in the region of $16 million and accounts of the evening refer to a short, intense battle that dwindled to two bidders, Lebanese collector Claude Sfeir and auctioneer and consultant Aurel Bacs, who spent most of the sale consulting somebody by phone. When Aurel Bacs made the final bid, the room erupted into wild cheering and applause.
Tim Bourne, Sotheby's Worldwide Head of Watches, and Daryn Schnipper, Chairman of Sotheby's Watch Division, were euphoric: "This evening's stellar result confirms the 'rockstar' status of the Henry Graves Supercomplication. It is more than a watch. It is a masterpiece that transcends the boundaries of horology and has earned its place among the world's greatest works of art. The fascination it has attracted over the past few months, as Patek Philippe celebrates its 175th anniversary, is a fitting tribute to the genius of the Swiss manufacturer."
When the Supercomplication first came up for auction in 1999, it was sold for a record-breaking $11 million to Qatari Sheikh Ali Al-Thani, who narrowly outbid the Patek Philippe representative in the room. The former minister of culture and heritage in Qatar - known as the world's greatest art collector, who invested over $1 billion in art to fill his country's museums - was forced to return the Supercomplication to Sotheby's in 2012 to cover debts. In a strange "curse of the pharaohs" twist to the saga, Al-Thani died on 9 November at the age of 48, just 48 hours before his prized pocket watch resurfaced at auction.
The odyssey of the watch is far from over and the question that everybody is asking is: who was Aurel Bacs bidding for? Was it for the Stern family, the owners of Patek Philippe, who would put the crowning touch on their 175th anniversary extravaganza with the purchase of this legendary pocket watch? Or will it go into hiding again and emerge in the future to double its latest record?