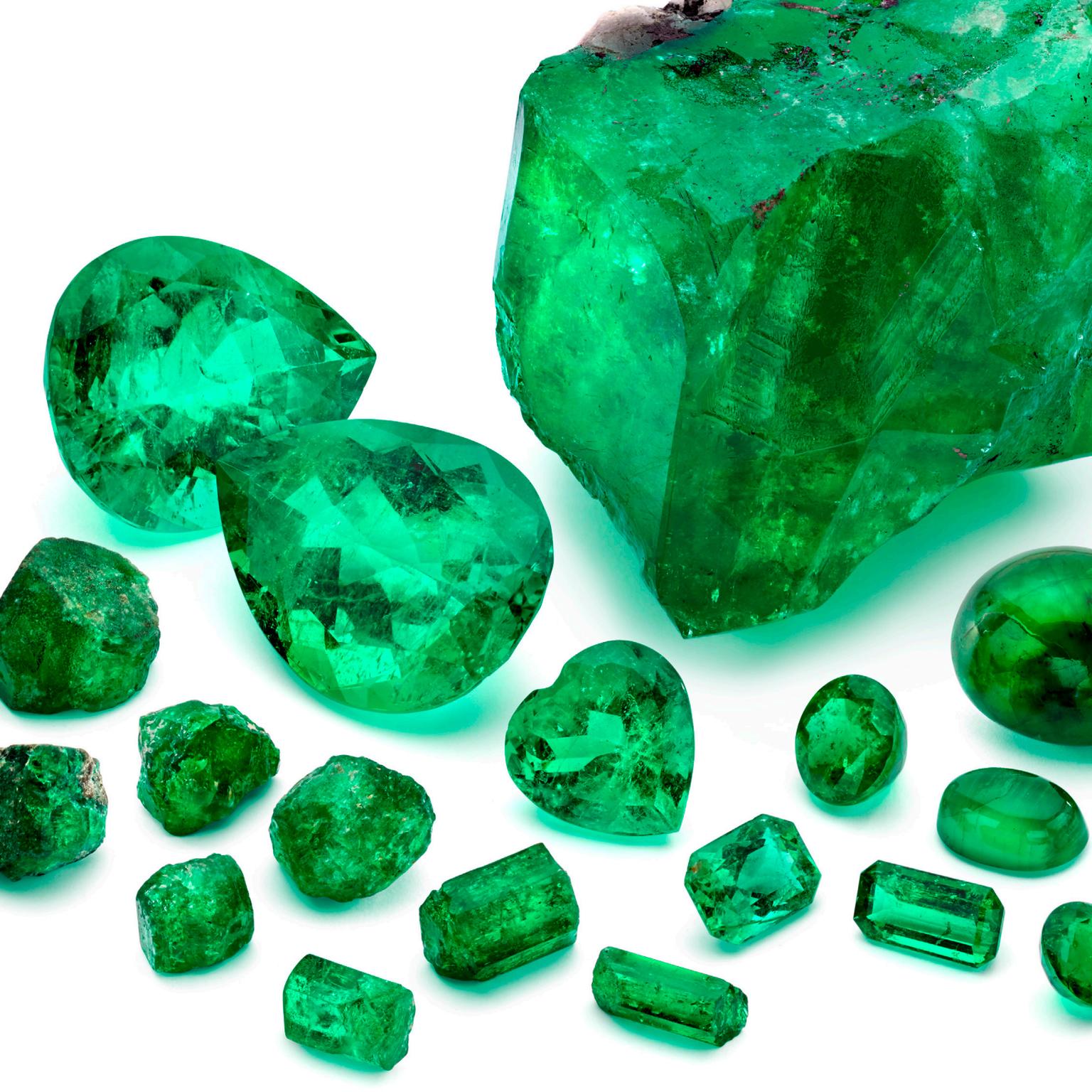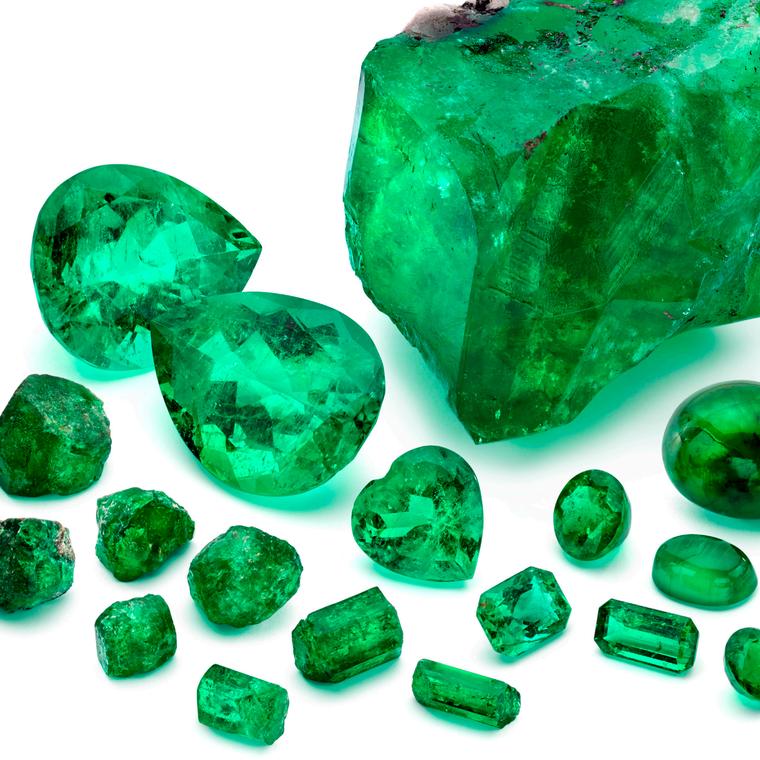 Browsing the lots in the upcoming auction of the Marcial de Gomar Collection is a lesson in history and gemology, rolled into one. Taking place on Tuesday 25 April at Guernsey's in New York, an auction house that deals only with the extraordinary – from Elvis' belongings to pre-Castro Cuban cigars – the vast collection of emeralds, amassed by one man over a lifetime, is almost impossible to classify it contains so many unique gems, including the huge, the historic, one-of-a-kind rarities and, most fascinating of all, deep-sea treasures recovered from a Spanish shipwreck.
The owner, Manuel Marcial de Gomar, one of the world's foremost experts in Colombian emeralds, fell victim to "Green Fever" at an early age. He acquired his knowledge first hand by hunting out emerald deposits deep in the Colombian mountains before becoming an emerald wholesaler, gem consultant, jeweller, appraiser, conch pearl aficionado and, pertinently, specialist in Spanish shipwrecks.
The Marcial de Gomar Collection, comprised of 39 lots, touches upon each of Marcial de Gomar's achievements, with several Caribbean conch pearls, original designs by Marcial de Gomar and gold and silver coins included in the sale. It is the wide variety of emeralds, mined in the Muzo region of Colombia, 60 miles north-west of Bogotá, that are the stars of this auction though.
Muzo emeralds are unrivalled in their silky, rich green colour and vibrant fire. Just like pigeon blood rubies from Burma and Golconda diamonds from India, emeralds from the Muzo mines are considered the best in the world, which makes this collection of Colombian emeralds so extraordinary. A mix of more recently mined emeralds and gems that lay undiscovered on a seabed in Florida for nearly 3,000 years, two thirds of the auction is devoted to Muzo emeralds – rough, cut and set into jewels. Here are my favourite lots.
Corona de Muzo emerald – estimate $5-6 million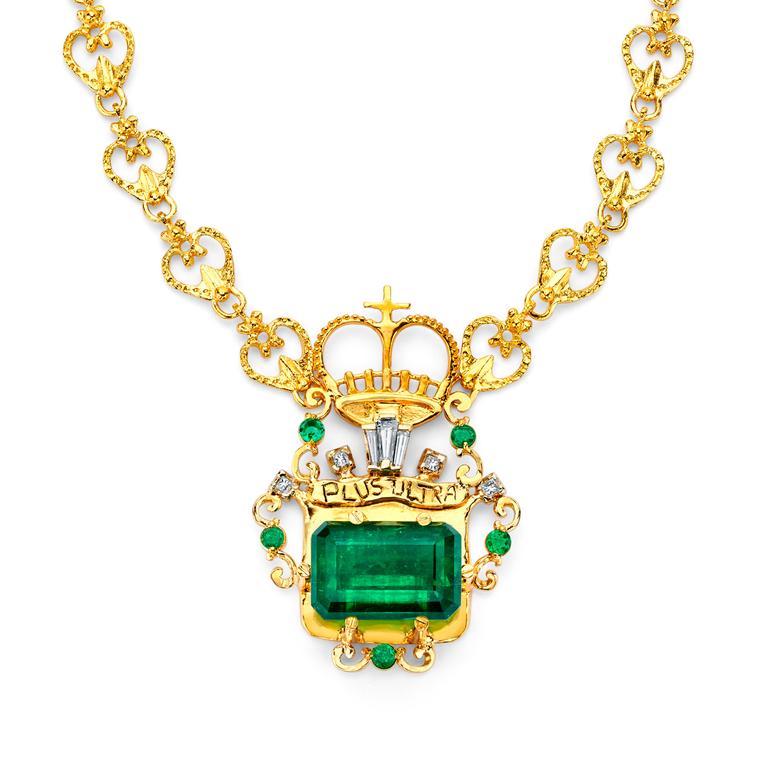 More than 20 Colombian emeralds from the famous Spanish ship Nuestra Señora de Atocha will be auctioned, including this lush untreated 24.34-carat emerald-cut gem, which has been set by Marcial de Gomar into a necklace with crown details. But first, a little about the galleon itself, which, together with its precious cargo of gold, silver and gems, was shipwrecked off the Florida Keys in 1622.  
Despite many expeditions to retrieve the ships's contents in the years after it sunk, the Spanish authorities were unable to locate the remains of the Atocha, let alone its contents, and it remained undisturbed for centuries. It wasn't until one of America's best-known treasure hunters, the late Mel Fisher, embarked on a mission to recover the lost relics that the Atocha was in the spotlight once again. After 17 years of searching, he hit gold.
The Atocha is now considered to be the most valuable known shipwreck in history because of the large hoard of emeralds recovered from it and, because of his past research into Spanish shipwrecks, Marcial de Gomar was the person chosen to examine and appraise them. Naturally, he was paid in emeralds, which included the Corona de Muzo, above, one of the most impressive gems recovered from the galleon.
Cut from a 64.46-carat rough emerald, this museum-quality stone was intended for royalty, and Marcial de Gomar's design, engraved with "plus ultra", a motto dating back to Charles I of Spain and the era of discovery in which he reigned, is the perfect setting for this historic gem.
La Gloria – estimate $4-5 million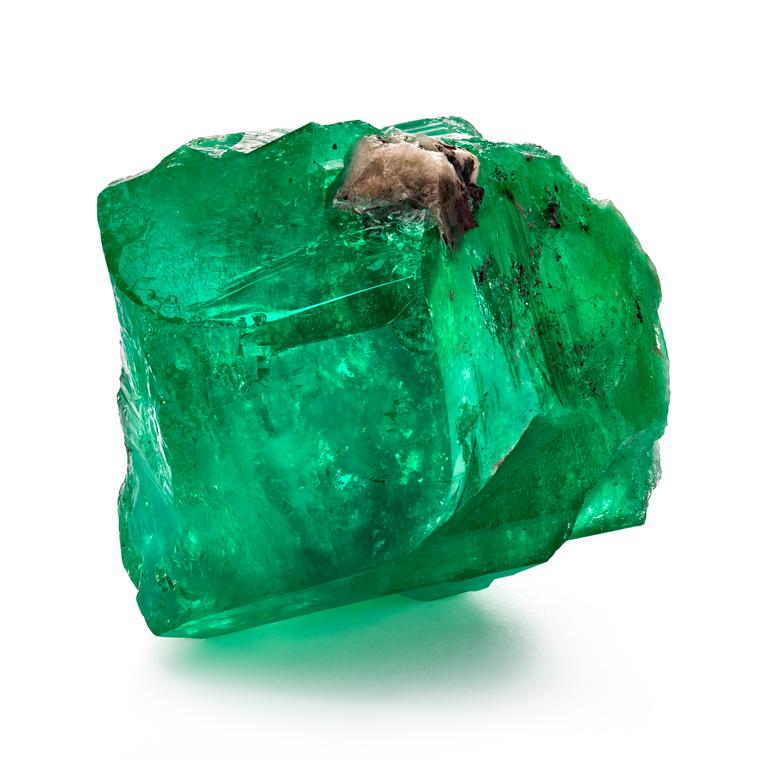 Another spectacular gem in the Marcial de Gomar Collection is La Gloria, an 887-carat rough from the Muzo mine in Colombia. The largest gem-quality rough Colombian emerald in the US, La Gloria's impressive green-blue colour – a signature of Muzo emeralds – combined with its impressive weight more than justifies its multi-million-dollar price tag. When cut it could yield a gem of between 300-400 carats.
The Eyes of Muzo – estimate $2-3 million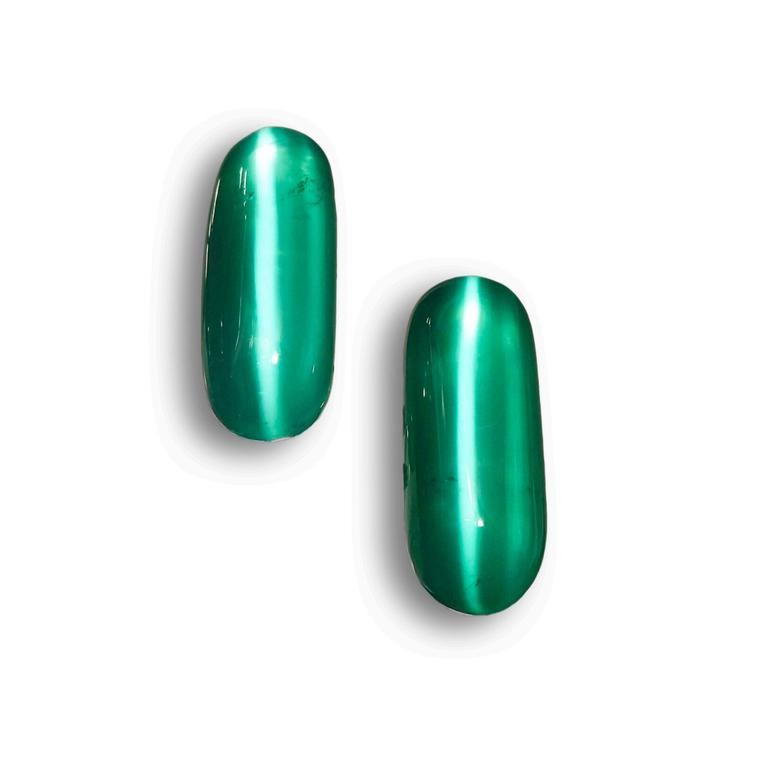 This extremely rare pair of emeralds displays the optical phenomenon known as cat's eye. Cut from a 370-carat rough, the only source of these distinctive emeralds is the Trapiche mine in Muzo, Colombia. Any cat's eye emerald above 2 carats is a rarity, so to have two weighing a total of 75 carats is quite exceptional.
For a real insight into just how rare this pair are, read about the cutting process required to reveal the cat's eye phenomenon in these two emeralds, which emerged from a rough gem that barely resembled an emerald at all.
The Marcial de Gomar Star – estimate $2-3 million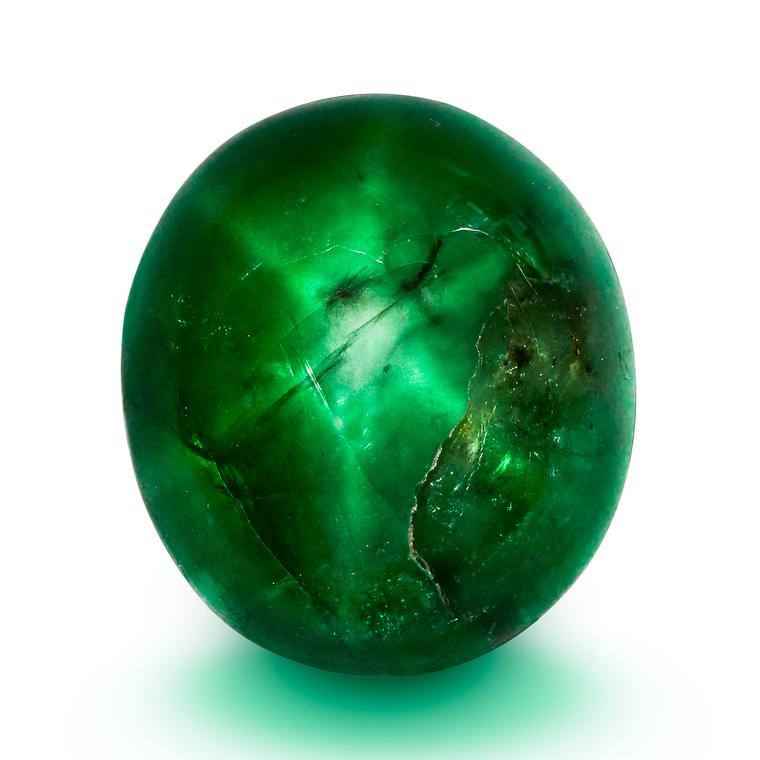 Asterism in emeralds – the optical phenomenon that creates a star shape on the surface of a cabochon-cut gem – is so rare that there were no recorded incidents of it until the late 20th century. The 25.86-carat Marcial de Gomar Star is one of the largest star emeralds in the world, and to add to its uniqueness, the asterism is displayed on both sides, so two stars are visible rather than one.
So rarely seen are they that when Marcial de Gomar first cut this Muzo emerald into a double cabochon he thought it was an unusual variation of a cat's eye emerald and he returned it to his safe, where it lay untouched for nine years.
It was only when it was analysed by the renowned gemologist and appraiser Martin Fuller of Martin Fuller & Associates, who discovered that it displayed asterism under certain lights, that it was sent off to the GIA for certification. And the final thrilling twist in this emerald's tale: after being examined a second time, the GIA confirmed it is a double-sided star emerald, perhaps the only one in existence. 
Nine Pillars of the Andes – estimate $3-4 million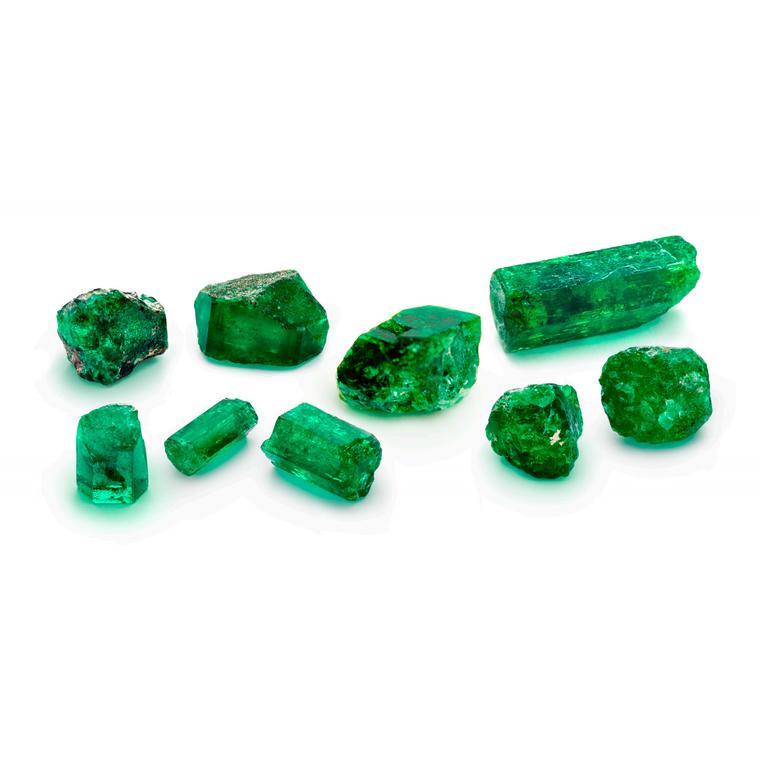 The nine untreated emeralds in the Nine Pillars of Andes collection, which are being auctioned together, are among the finest of the 7lb of rough gems recovered from the sunken Nuestra Señora de Atocha. Before the Atocha sunk, they were in transit to Spain, specifically King Philip of Spain, who intended to use them to pay for his fleets of ships.
From the largest at 26.72 carats down to the smallest at 2.50 carats, the emeralds, which weigh a collective 91.69 carats, were discovered under 12 feet of sand in the depths of the Florida Straits. Who knows what wonders lay hidden within, but with an estimate of $3-4 million, whoever wins the auction, and with it the chance to cut and polish these rough emeralds, will have to have very deep pockets indeed.