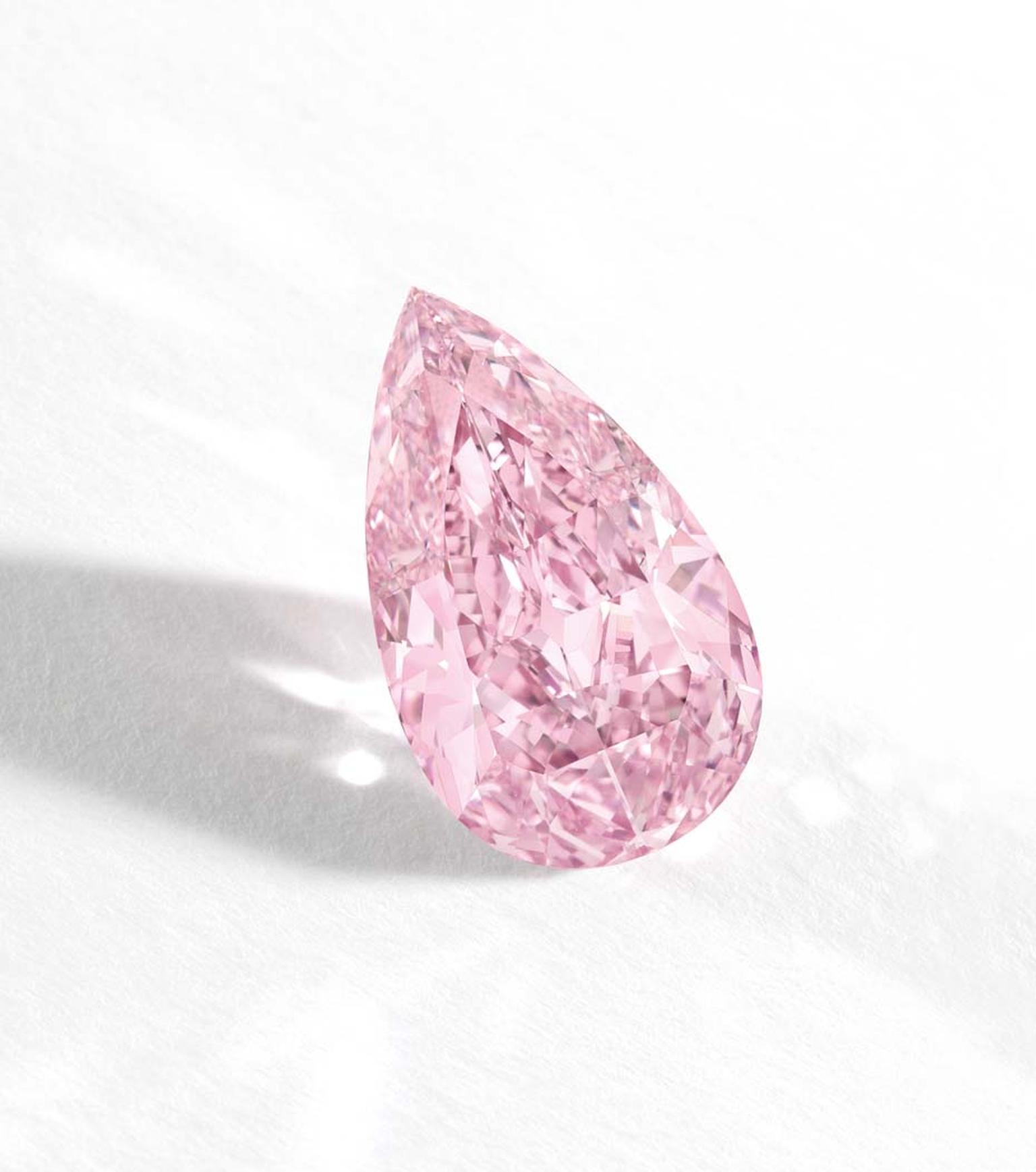 This could be it. The Fancy Vivid Purple-Pink Diamond, weighing in at 8.41 carats and mined and cut from a 19.54-carat rough by the world's leading diamond corporation, De Beers, could become one of the most valuable gems ever sold at auction.
As the highlight of Sotheby's Hong Kong Magnificent Jewels and Jadeite Autumn Sale this October, the pink diamond has an estimate of $12.8-$15.4 million. However, given its impressive clarity - graded as Internally Flawless (IF) - the estimate is bound to be surpassed.
The uniqueness of this stone, in addition to its beautiful colour, is the fact that it is Internally Flawless, a rare phenomenon in pink diamonds and virtually unheard of in "any significant pink diamond of Fancy Vivid or Fancy Intense colour grading ever sold at auction".
For the record, Fancy Vivid is the highest colour grading in a coloured diamond, the most vibrant and concentrated colour in a diamond, awarded by the Gemological Institute of America (GIA), above Fancy Intense and other categories.
Given their extreme rarity, pink diamonds are now the queens of diamonds, commanding prices far in excess of their white diamond sisters. The current record price ever paid at auction for a diamond, or any gemstone, is held by Lawrence Graff, who paid over $46 million for a Fancy Intense pink diamond weighing 24.76 carats at Sotheby's Geneva in 2010.
Taking into account that the pink diamond up for bids possesses a higher colour grading than the Graff stone and that it is flawless, we might be about to witness a new world record.
Quek Chin Yeow, deputy chairman of Sotheby's jewellery department in Asia, agrees: "This colour is one of the most beautiful and concentrated shades of pink in diamonds that I have ever seen and, combined with the exceptional clarity, it is not surprising that it would command the highest per-carat pre-sale estimate for any pink diamond to date."
This extraordinary Fancy Vivid Purple-Pink Diamond will be previewed in Singapore, Taipei, New York, London, Geneva and Hong Kong before heading to auction. So let's sit tight and see who buys this magical stone on the 7 October during Sotheby's Magnificent Jewels and Jadeite Autumn Sale 2014.
To view the most valuable diamonds ever sold at auction, click here.