Why do so many brands assume that women don't care about the movement, quality, accuracy, resilience and longevity of their watch? That all we care about is about is what a watch looks like superficially? Because these Rolex watches for women are proof that they are wrong. 
For many women, Rolex is the brand they turn to when they are looking for a watch they intend to wear day in, day out; a faithful, lifelong companion that will perform beyond the call of duty thanks to impeccable movements and top-quality materials – without having to compromise on style and femininity. 
From the simplest petite Oyster Perpetual watch in stainless steel to a luxurious diamond-set Pearlmaster, each and every model is backed by a level of quality and precision that ensure your watch will accompany you throughout your lifetime and, if properly looked after, become an heirloom for the next generation. There are no overt distinctions between men's and women's Rolex watches when it comes to performance or quality – the only real difference is in size.
When Hans Wilsdorf, founder of the Rolex watch company, dreamed up the world's first waterproof watch in 1926, he turned to a woman as his testimonial. Mercedes Gleitze, a swimmer who had made history as the first English woman to swim the Channel in 1927, was chosen as the ideal candidate, and although her second cross-Channel swim of October 1927 was marred by freezing temperatures and fog, the Oyster watch attached on a ribbon around her neck emerged from the icy waters after 10 hours and 15 minutes in perfect working order. Wilsdorf took out a full-page ad in the Daily Mail to publicise the "wonder watch that defies the elements" and show the world that the accuracy and waterproofness were by no means an exclusive male concern.
Water-resistance and self-winding/automatic movements that get their energy from your wrist's movements are the hallmark traits of the Oyster Perpetual family. Be it a resilient steel or luxury gold model, every single Oyster Perpetual watch is built to withstand depths of 100 metres, and every single model is equipped with an automatic movement evolved from Hans Wilsdorf's 1931 patented perpetual rotor.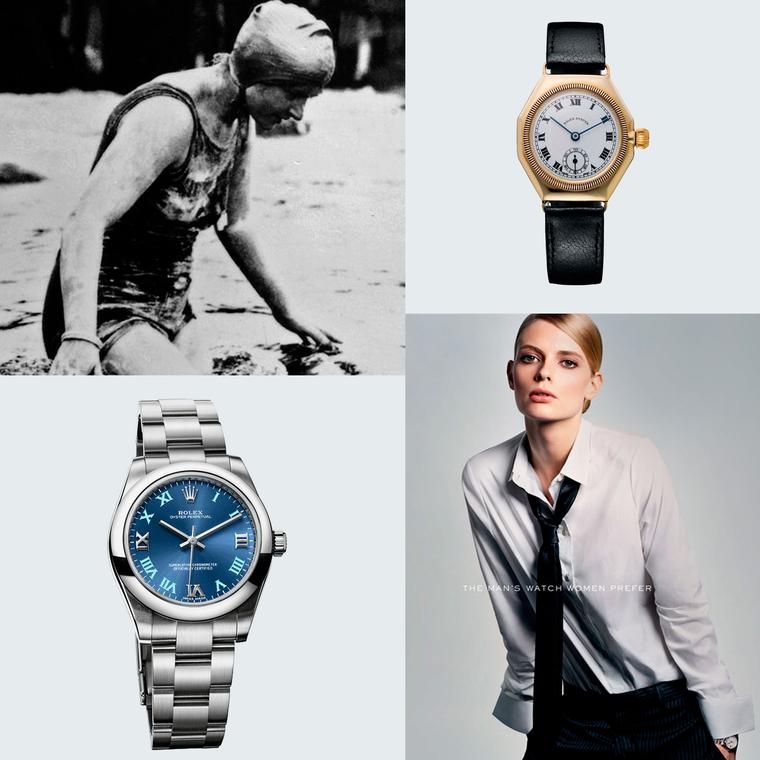 Revisited over the decades, the iconic Oyster Perpetual family has expanded to include models with smaller diameters to suit women's wrists.  With case sizes ranging from a petite 26mm to a large 39mm, a refreshed colour palette and a tempting price range starting at just £3,250, the Oyster Perpetual is one of the best value-for-money watches on the market. The 31mm size became hugely popular after an advertising campaign in the mid 2000s with the tag line "the men's watch women prefer". 
You can always recognise a Rolex Oyster Perpetual Datejust watch thanks to the magnifying lens – known as a Cyclops lens – covering the date window. Launched in 1945, the Datejust was the world's first automatic waterproof wristwatch to display the date in a novel window at 3 o'clock. In 2016, Rolex presented a new 28mm size Lady Datejust and designed a brand-new movement for the watch with the very latest silicon technology and a sturdy power reserve of 50 hours. Whether the sporty, two-tone steel-and-gold model or a feminine diamond-set model with a mother-of-pearl dial takes your fancy, the look is unmistakably Rolex.
The sleek good looks of the Yacht-Master watch have been slimmed down in a 37mm model Everose pink gold model especially for women. Designed as a professional nautical instrument with a rotating 60-minute bezel and superior luminescence, the combination of the Everose gold case and the contrasting black dial, bezel and strap is hard to resist. Featuring a newly designed and engineered Oysterflex black elastomer bracelet, invisible blades on the underside ensure your wrist won't get clammy in the heat.
Rolex also caters to women who enjoy a sprinkling of gemstones on their watches. The Pearlmaster collection, known as the brand's "crowning jewellery watch", dresses up the Oyster Perpetual watch with precious stones and is crafted exclusively from yellow, white and Everose gold cast in Rolex's in-house gold foundry. But don't be deceived by the Pearlmaster's luxury appeal. As a member of the Oyster Perpetual family, the Pearlmaster can fathom depths of 100 metres and, like all its brothers and sisters, is certified as a Superlative Chronometer by Rolex.
One thing is a COSC-certified chronometer – the most recognised independent Swiss chronometry testing institute, which allows tolerances or variations of -4/+6 seconds a day on the movement and which all Rolex watches display – but quite another is Rolex's new Superlative Chronometer certificate. As the bastion of the highest Swiss watchmaking and a benchmark for the business, Rolex is adamant in providing each and every watch that leaves its manufacture with the same high standards of chronometric precision. There are no distinctions in quality between men's and women's Rolex watches and, in addition to the standard COSC-chronometry certification Rolex' stringent chronometric precision tests only allow daily variations of -2/+2 a day on the cased watch in a variety of real-life conditions.
All these Rolex watches for women boast quality, performance, style and a five-year guarantee: why settle for less when you are looking for a lifetime companion?
This iconic Jubilee bracelet, composed of five-piece links, is made from a combination of steel and 18ct yellow gold, a material known at Rolex as Rolesor. 

The original 1926 Oyster waterproof watch and cross-Channel swimmer Mercedes Gleitze, and a more recent advertising campaign for the 31mm Oyster Perpetual.