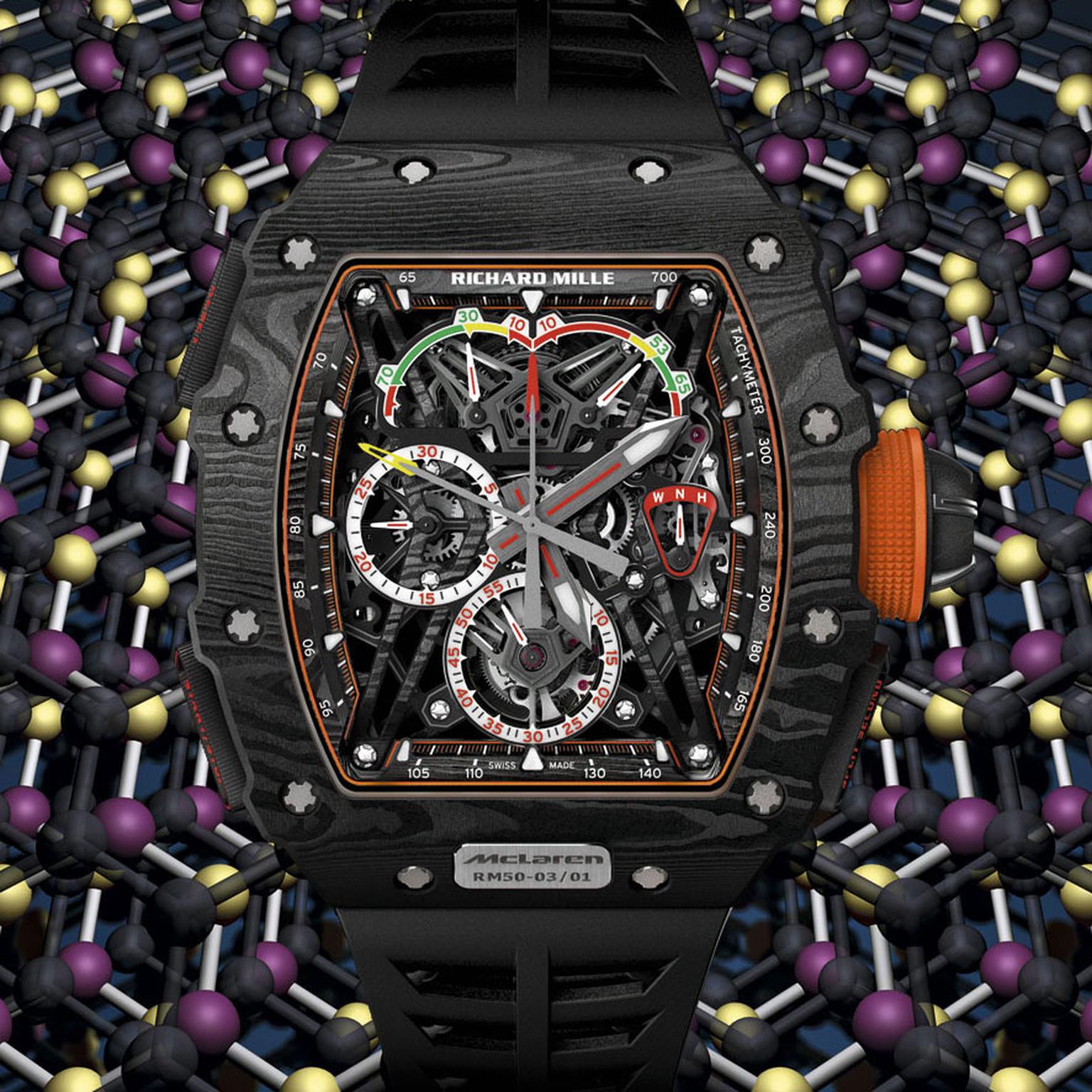 The one area of watchmaking that is in constant evolution is the use of materials. Today, a carbon fibre or even a ceramic watch case might strike us as pretty standard when compared to the exciting range of materials being deployed in the construction of watches.
Borrowing technology from aerospace and high-tech industries, watchmakers are constantly on the hunt for innovative materials to protect the movement from harm and add years of performance and endurance to the watch, plus give their products a contemporary personality in keeping with the times.
Featherweight beast
Lightness and resistance are mantras at Richard Mille and the new RM 50-03 McLaren F1 watch reads like a Guinness World Record entry. Weighing less than 40 grams - including the strap - with 600-plus parts in the movement, the RM 50-03 is the lightest split-seconds chronograph in the world.
Made from a nano-material known as Graph TPT™ - or graphene - the  material was first isolated by Andre Greim at the University of Manchester and earned him the 2010 Nobel Prize in Physics. By mixing titanium and Carbon TPT™ (classic Richard Mille concoctions) with Graph TPT™, the carbon's physical qualities are enhanced, creating a material six times lighter than steel and 200 times stronger.
Currently being used by McLaren-Honda for the construction of its Grand Prix cars, Richard Mille got to test-drive the material ahead of the races for the mind-blowing RM 50-03. The lightest chronograph of all time, the RM 50-03 is capable of withstanding shocks of 5,000g and, unlike the McLaren-Honda F1 car that will be driven by Fernando Alonso and Stoffel Vandoorne, doesn't need a drop of petrol to power its formidable chronograph engine.
The quest for transparency
Voyeurism is common practice in the watch world. Knowing that horophiles like to ogle the heart of their mechanical watch from every angle, the debut of totally transparent sapphire crystal cases was a fantasy in the flesh.
The second-hardest material on Earth after diamond, sapphire crystal is practically impossible to scratch, and Richard Mille (RM 056) and Hublot (MP-05 La Ferrari) were immediately seduced by the performance possibilities afforded by a completely see-through case.  
Bell & Ross, renowned for its aviation-themed watches, has also ventured into clear skies with its BR –X1 Chronograph Tourbillon, above. Determined to show off its watchmaking kudos, Bell & Ross has created a skeletonised chronograph movement complete with a flying tourbillon complication housed in a 45mm sapphire crystal case.
A metallic glass diving suit
Panerai has developed a brand-new material to shield its iconic Luminor Submersible diver on its 300-metre plunges.  Known as BMG-TECH™ (bulk metallic glass), the material is a metallic glass alloy that has not been allowed to crystallise, thus preventing the atoms from arranging themselves in regular geometric structures.
The chaotic structure is the secret to its success. Corrosion and scratch-resistant, robust and resilient to shocks and magnetic fields, and harder and lighter than steel, BMG-TECH™ is slightly greyer in colour than titanium and has been used as the armour of the case, bezel and distinctive crown of Panerai's Luminor watch.
Black-out effect
Famous for its "venetian blind" system of moving slats to indicate the time, MCT is a small, independent Swiss company with a gutsy avant-garde approach to designing watches. 
British sculptor Sir Anish Kapoor was invited to collaborate on the S110 Evo Vantablack watch, above, which is made from the blackest material produced by humankind, originally developed for military stealth missions. As Kapoor explained: "It's the blackest material in the universe, after a black hole; a physical object that is impossible to see." 
Vantablack is composed of nanotubes measuring one-millionth-of-a-millimetre thick and capable of absorbing 99.9% of the light that shines on it. The effect of using this high-tech material on the watch is enthralling, with the movement appearing to be suspended in space as a small Moon placed on the tip of the minutes hand appears and disappears mysteriously on its orbit.
Meltdown moment
Roger Dubuis is always erupting with novel materials and its Excalibur Quatuor Cobalt Micromelt® presented at the SIHH 2017 was no exception. Although the name might evoke a quadruple-decker cheese sandwich melting in a microwave, the truth is that the cobalt chrome alloy used for the 48mm case, bezel and crown is created under almost volcanic conditions.
Widely associated with aeronautics and supercars, and used to manufacture the landing gear of spacecraft, cobalt chrome has to undergo a Micromelt® experience by melting it at infernal temperatures, atomising it into a powder and then hot-working it to produce hot-rolled bars to the required size. A lot of work, but the results, they assure us, are remarkable since the material is 100% biocompatible, corrosion-resistant, durable and extremely shiny.