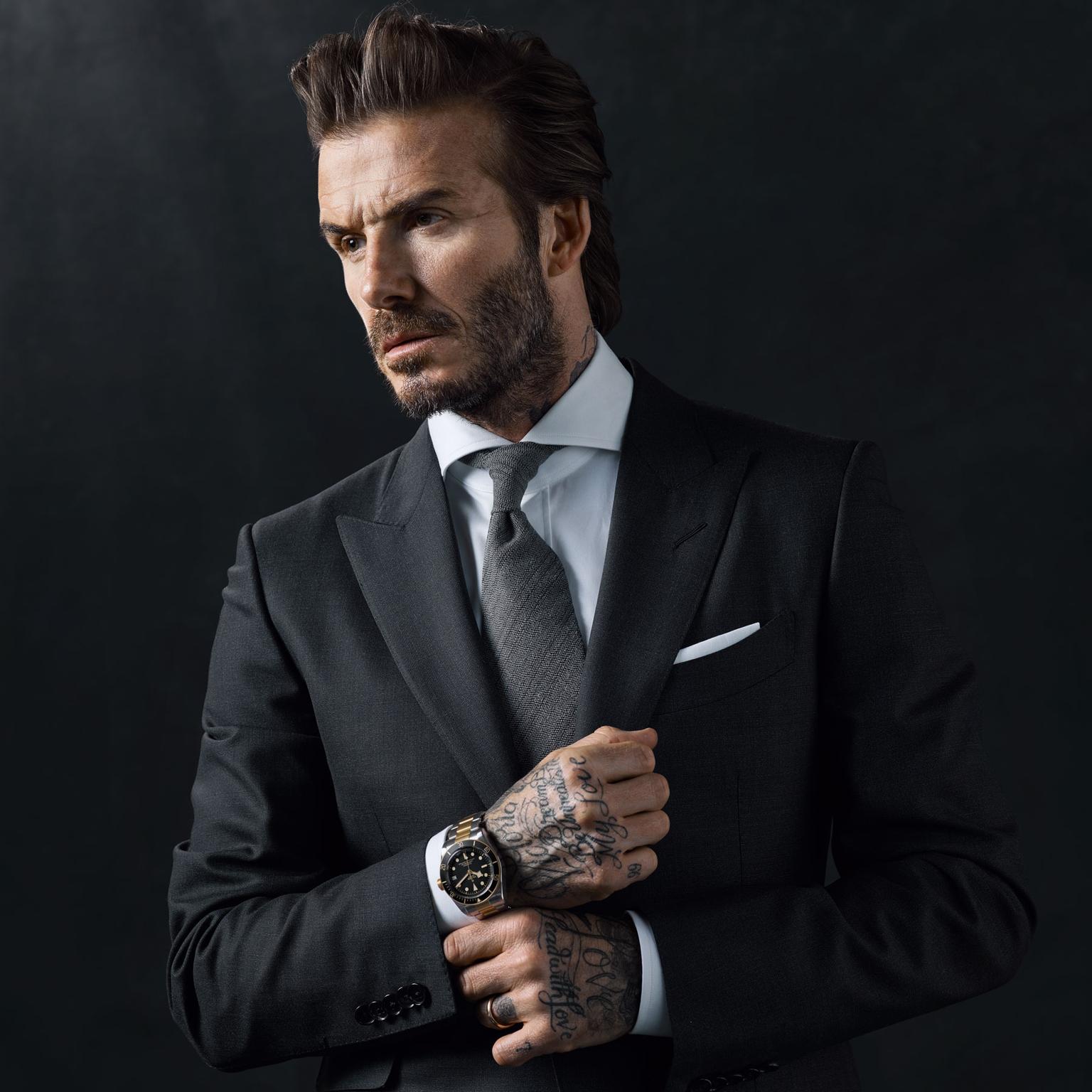 Tudor has recruited English footballer and megastar David Beckham as its ambassador for the brand's Born to Dare campaign. The message, in brief, is about Tudor's ongoing commitment to produce rugged watches for fearless action men who "reinvent themselves every day". What better match than David Beckham, a man whose tenacity has paid off on the football pitch and whose good looks and impressive physique keep opening doors for the retired footballer?
Nobody can bend it quite like Beckham and Tudor has recruited England's star footballer for its Born to Dare watch campaign.

"Especially as an Englishman, I think you really appreciate a nice suit and a nice watch. They go very well together," proclaims Beckham for Tudor's Born to Dare watch campaign.
A living legend
Awarded 19 major trophies during his 20-year football career, promoted by Pelé to the FIFA 100 list of the world's greatest living players, inducted into the English Football Hall of Fame in 2008, awarded an OBE by Queen Elizabeth II and husband to Posh Spice pop-star-turned-fashion-mogul Victoria Beckham, an ambassador of the stature of David Beckham is a winning catch for any watch brand. Mature enough not to create scandals yet devastatingly appealing, the 42-year old is always a contender for the Sexiest Man of the Year award.
Born to Dare
Described by the brand as a manifesto, Tudor's Born to Dare campaign is incarnated by daring individuals like David Beckham whose drive and tenacity converted his childhood dream into a reality. One of the most acclaimed and successful players in the history of football, David Beckham is "one of the hardest-working players in the history of football", reads the press release. "Never taking anything for granted, even when injured or on loan to another team, he trained harder than most. As a player, he reinvented himself every game."
Style icon
Not only does Beckham's hard-earned football fame fit nicely with the Tudor's brand message, there is no denying that he is one of today's leading style icons, bringing a touch of bad-boy glamour to a host of brands. Who can forget the photographs of Beckham and Victoria in their Emporio Armani briefs? 
Appearing on cover after cover of men's magazines, David Beckham is a dapper dresser and favours tight-fitting tailored suits to show off his toned physique. "Especially as an Englishman, I think you really appreciate a nice suit and a nice watch. They go very well together," he reports in the press release. Although he didn't wear a watch for his cameo appearance in Guy Ritchie's film King Arthur: Legend of the Sword, Beckham has a chameleonic ability to reinvent himself every step of the way and, to top it off, he has a big heart and is a long-time and active UNICEF Goodwill Ambassador.
The only way is forward
Although the extensive manifesto might be more of a motivational tool for people working at Tudor than for the general public, it does touch upon some key identity traits of the brand that were cemented by Hans Wilsdorf when he founded Tudor in 1946. Born in the shadow of its illustrious elder brother Rolex and conceived to deliver the accuracy and robustness of Rolex at a more attractive price, Tudor Watch Co. has overcome its separation and identity anxiety to forge a distinctive personality over the years.
Today, Tudor's realm is populated with robust watches designed for the modern-day adventurer with affordable prices and a dash of vintage styling. Dive watches like the Pelagos - water-resistant to 500 metres - or the immensely popular Heritage Black Bay watch, and the new Heritage Black Bay Chrono, are just some of the brand's star pieces. Taking things one step further, Tudor produced its very own in-house COSC chronometer certified automatic movement for the North Flag model in 2015 followed by the brand's first chronograph movement introduced earlier this year.