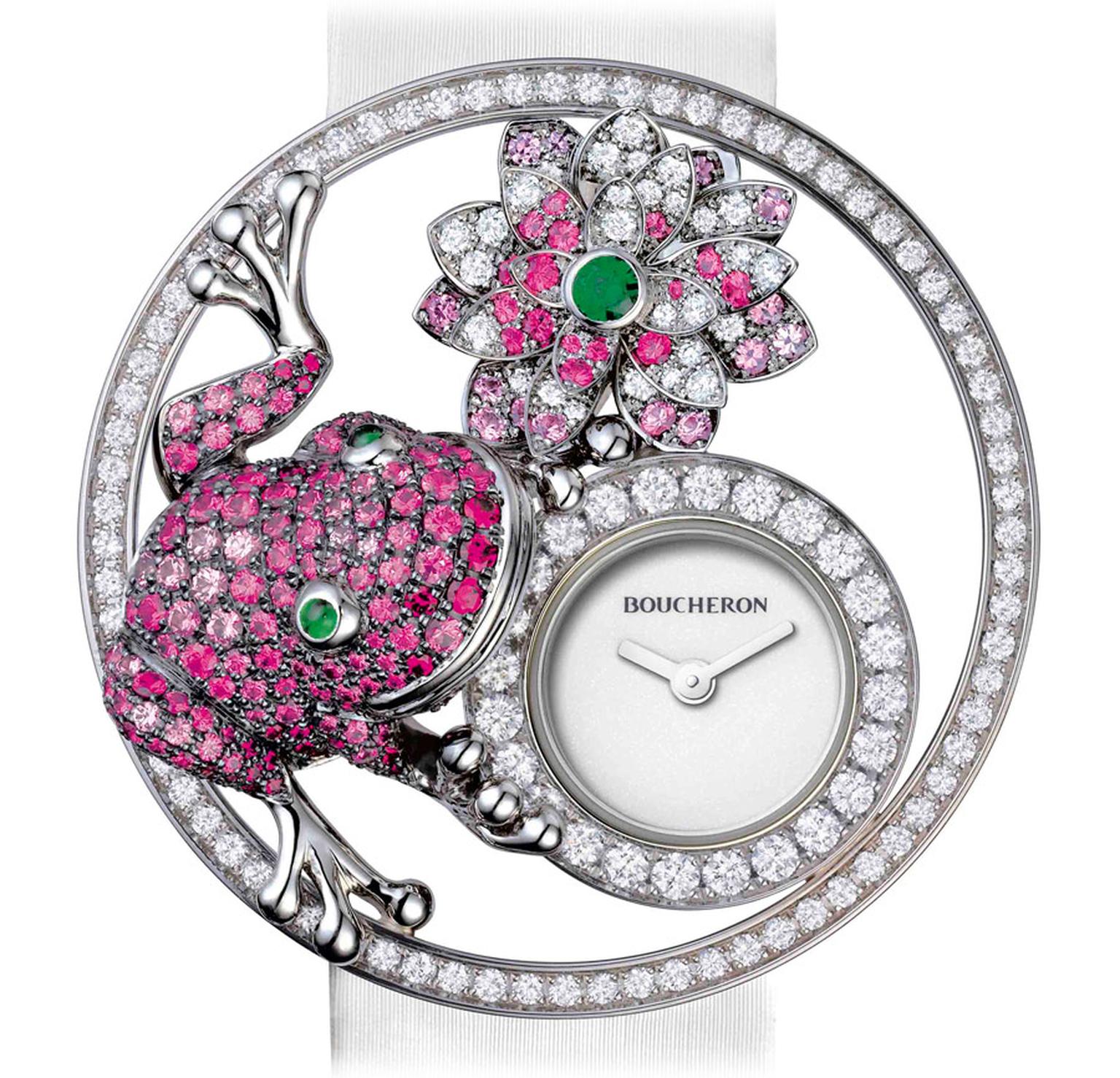 Calling all lovers of diamonds! The Jewellery Editor invites you to spend an afternoon in the company of some of the finest and most beautiful diamond watches all while sipping a cup of Earl Grey tea or a flute of champagne.
For the first time ever, The Jewellery Editor.com will take part in SalonQP, the most prestigious horological event in the UK held from the 9th to the 11th November at the Saatchi Gallery in London.  
Hoping to pique the interest of women visitors, Maria Doulton, founder of the Jewellery Editor.com and watch and jewellery journalist, will present a series of informal talks focussed on jewellery watches and bring a more feminine touch to SalonQP's wide-ranging and awe-inspiring world of watches.
Looking at the watch as a jewel in its own right, on show will be a dazzling array of thoughtfully selected watches from an impressive line up of the greatest names in luxury including Baume & Mercier, Boucheron, Bulgari, Chopard, Dior, Harry Winston, Hermès, Jaeger-LeCoultre, Piaget, TAG Heuer, Vacheron Constantin and Van Cleef & Arpels.
Limited to small numbers to ensure an intimate and hands-on experience, Maria and the diamond and jewellery expert Joanna Hardy will talk about the pieces and their salient features and of course, there will be the opportunity to try on these precious watches and see what they look like on your own wrist. A photographer will be on hand to capture you wearing your dream diamond watch, should you wish to remember the moment.
After this full-on diamond immersion session guests will know the differences between cabochons and baguettes, mystery settings and  pavé and aware of the bare necessities of watch know-how.
Maria Doulton says: "My aim is to create a unique environment in which women can really enjoy trying on and finding out about some of the most amazing jewellery watches that I have seen over the past year, all without the pressure associated with being in a jeweller's shop. With so many beautiful watches to chose from I hope to be able to offer advice and an insight into this alluring world."
The association between SalonQP and The Jewellery Editor recognises women's growing interest in watches, a trend that is being met by a wider offering of beautiful and, often, bejeweled timepieces. Maria is able to look at watches with the eye of a woman and what could be more feminine than a carefully curated selection of the most delectable diamond watches in the world?
To apply for a complimentary invitation, click here. 
TAG Heuer Formula 1 Lady Yin Yang.

Baume & Mercier Hampton watch set with diamonds for a more sporty day time look.

Boucheron Ajouree Chameleon watch.

Boucheron Ajouree Volute watch with diamonds set into swirling patterns of open-work white gold.

Vacheron Constantin Metiers d'Art with leather strap.

Vacheron Constantin Metiers d'Art diamond watch.

Boucheron Crazy Jungle Hathi Violette watch.

Harry Winston Rosebud secret watch.

Harry Winston diamond bracelet watch.

Harry Winston diamond watch.

Harry Winston diamond watch with an open lattice bracelet.

Harry Winston diamond bracelet watch with an open link design.