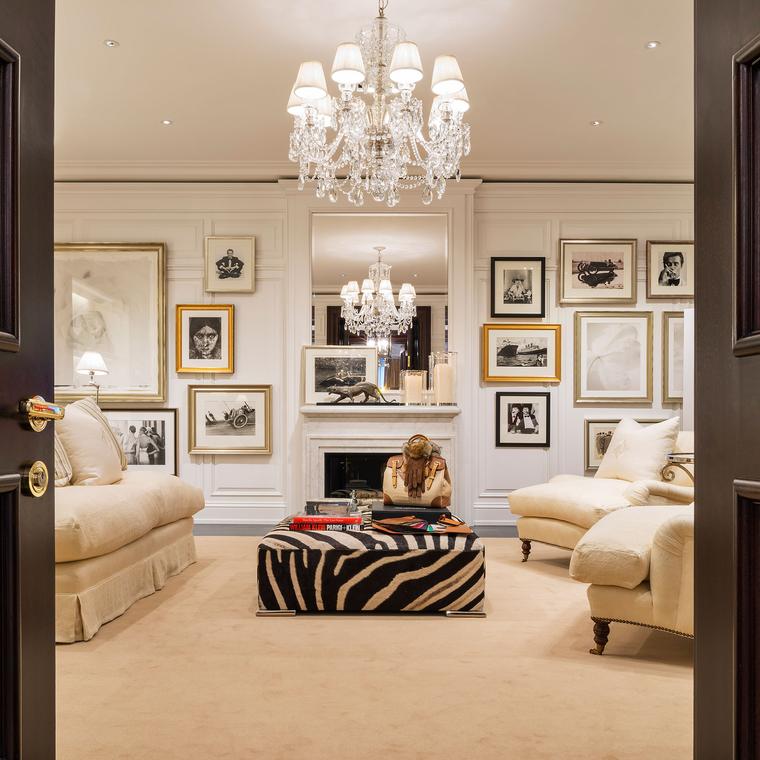 The grandiose Palazzo Ralph Lauren in Milan was a fitting venue for the launch of the RL888, a new collection of Ralph Lauren watches for women. Clad in green matte Pietra Serena marble, the 1941 Palazzo was formerly a family home in the rationalist style of architecture and is now Ralph Lauren's one and only private members' club.
Named after the women's flagship store at 888 Madison Avenue in New York, the RL888 follows on from the now iconic Stirrup, Slim Classique and 867 range of watches. And like all Ralph Lauren creations, it tells a story and captures a moment in time. What Ralph Lauren writes of a catwalk collection could also be applied to these watches, which he himself designs: "For me, a collection begins with a moment that provokes a dream, which builds into a movie in my head." And in the case of the RL888 it is the classic Ralph Lauren woman, who browses the iconic masterpieces up for sale in the 888 Madison Avenue flagship store, which epitomises modern glamour.
Art Deco has often been an inspiration for Ralph Lauren, who channels its elegance and symmetrical rigour in the new watch. But then he adds a twist, a touch of playfulness. At first glance, this slender round timepiece is classic in style but the pop of colour on the strap and the playful mix of Arabic and outsized Roman numerals adds a new dimension.
Available in two sizes - 32mm and 38mm - the RL888 is available in everyday stainless steel and luxurious rose gold, including a very opulent version with an all-gold bracelet. The gold versions have an amethyst set into the crown - a reference to the firm's top-end Purple Label. But here is what I really like about this watch: a choice of more than 40 different strap options, from candy bright to tender pastels. Each strap matches the colour of the hugely successful Ricky handbag with its seasonally changing hues. The straps are easily switched so you can change the look of your watch with one simple manoeuvre, as Ralph Lauren understands that having only one watch strap is as limiting as having only one handbag or one pair of shoes.
Luc Perramond, President & CEO of Ralph Lauren Watch & Jewelry Co., explains the thinking behind the new watch: "The RL888 is for a younger customer who wants to buy a watch for herself and is looking for something cool, yet very wearable."
The RL888, like all Ralph Lauren watches, has solid Swiss watchmaking ticking away behind the dial. In fact, it was the tradition of craftsmanship that first attracted Ralph Lauren to making watches. Coming up to its 50th anniversary, the firm waited decades before launching its first collection in 2009 in collaboration with luxury conglomerate Richemont. This teaming up afforded Ralph Lauren access to the best craftsmen in Switzerland using centuries-old techniques.
To quote Mr Lauren again, who speaks of fashion but could equally be speaking of the RL888: "It has no time, but it is definitely of the moment."
The inspiration for the RL888 is the classic Ralph Lauren woman, who epitomises modern glamour.

The comfortable Palazzo in Milan is Ralph Lauren's one and only private member's club. 

The Ralph Lauren RL888 watches were inspired by the vibrant 1920s Jazz Age and the 888 Madison Avenue flagship store.