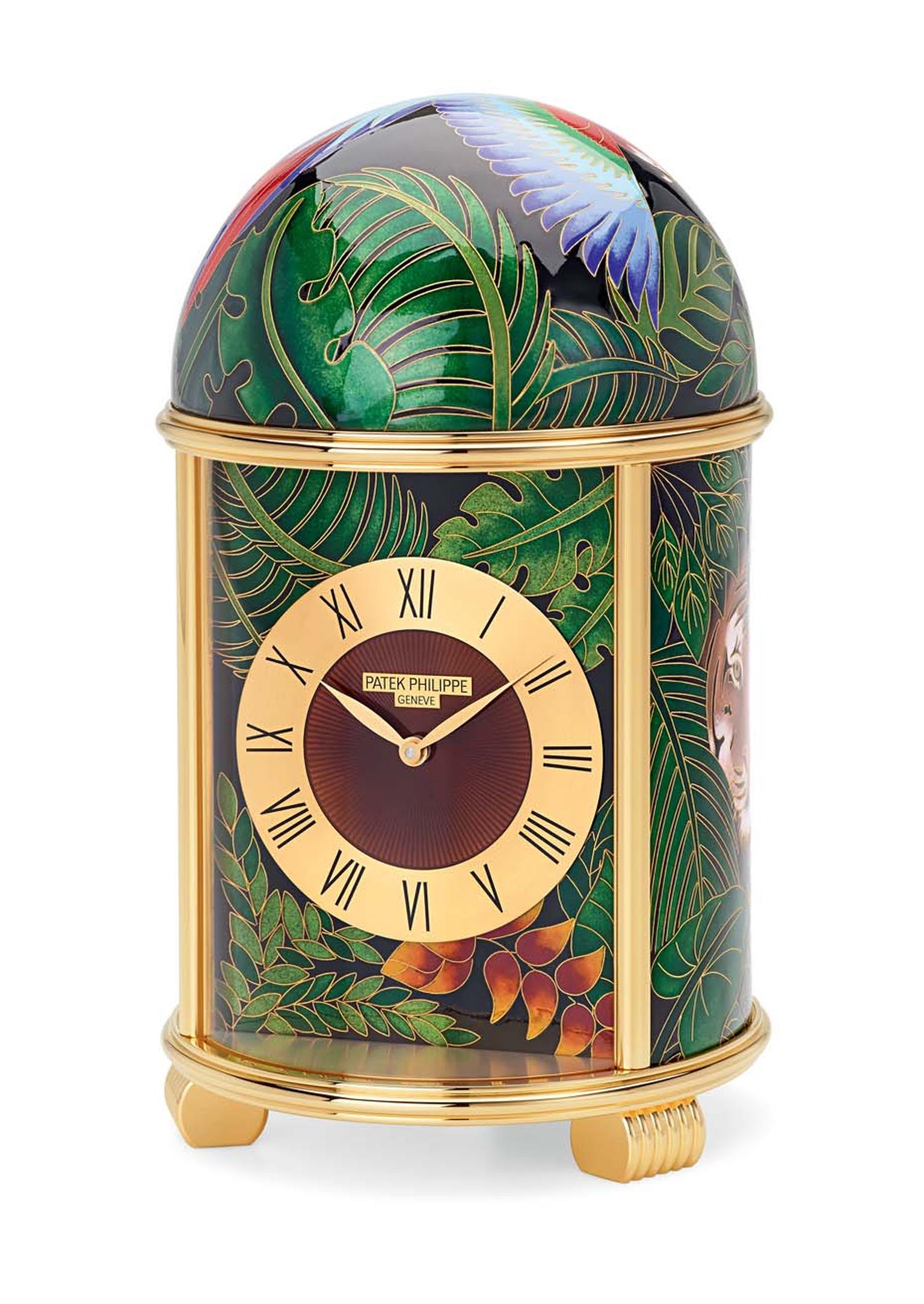 Decorated watches are one of Patek Philippe's specialities, which is why each year you will see new timepieces embellished with the rich and deep colours of enamel, the subtle strokes of a paint brush or intricate engravings that catch the light. Like everything this Genevan watchmaker does, its dedication to finding the very best is a long-term commitment that has taken decades of persistence.
For over 30 years the house has actively but quietly sought out and supported craftsmen who are still able to master arcane skills that allow them to adorn watches and clocks with an impressive range of techniques. From the more familiar enamelling, engraving and gem setting to other lesser-known skills such as wood marquetry, the range of rare handcrafts allows for a freedom of expression that only masters of their art can hope to attain.
This year, Patek Philippe is sharing the richness of these time-honoured skills with the launch of a rare handcrafts microsite dedicated to the skills it has fostered over the years. A good starting point to understanding the world of rare handcrafts chez Patek Philippe is to hear Philippe Stern, Honorary President of Patek Philippe, talk about the history of decorated timepieces.
We learn that in the 16th and 17th century, Geneva became the centre of watch decoration when Huguenot French artisans settled there, bringing with them their superior savoir faire. Under the Calvinists, luxury products were banned, so these highly accomplished artisans focussed their skills on embellising pocket watches.
Adorning timepieces is at the very heart of Patek Philippe's history. When, in 1839, two Polish men, Antoine Norbert de Patek and François Czapek, first set up the watch business that would eventually become Patek Philippe, the pair began by buying watch components and finishing them in their workshop, engraved by Genevan craftsmen with patriotic scenes that appealed to their Polish customers.
In time, enamelled decorations were incorporated into their watch offerings, reflecting the artistic tendencies of the era, from romantic themes to art nouveau and beyond. Geneva became the centre of artistic watchmaking, where enamel techniques such as the fondant method, which gives a glossy transparent depth to miniature paintings, were developed.
Miniature painting flourished as a way to personalise a pocket watch - the ultimate possession in the 18th century, representing the apex of technology at the time. Soon royal patrons began to commission portrait watches, and the vogue for this type of personalisation persisted well into the turn of the 20th century. By WWII, industrialisation, combined with a new economic reality, saw the decline of these refined skills and, by the 1980s, many of the crafts were in danger of disappearing forever.
Such was the range and beauty of skills offered by the Genevan craftsmen, and those from further afield, that Philippe Stern established the Patek Philippe museum to showcase and save for posterity the remarkable art of decorating these small surfaces. But as well as preserving the past, Patek Philippe saw the need to nurture the trades themselves and, since the 1980s, has invested in bringing as many specialists as possible into its workshops.
"Patek Philippe has always tried to preserve the artistic crafts, even when there was no demand. So we always provided artisans with work so that they could maintain their dexterity and traditions. There was a time in Geneva when chainsmiths were all the rage. Unfortunately, demand doesn't exist anymore, but despite this we have two chainsmiths and, if demand picks up one day, we will be ready to begin making chain bracelets again." Philippe Stern believes preserving, developing and perpetuating these crafts in-house is a guarantee for the future of the firm.
The artisans visit the Patek Philippe museum to be inspired by the masters of old, and each year the house creates a "Contemporary Collection" of 40 one-off clocks, watches and pocket watches to give collectors a chance to own a modern masterpiece. This year's offerings include five enamelled clocks, whose larger domed surfaces allow the artist a broader canvas.
Themes range from a tiger with eyes burning bright in the jungle, birds in flight against a colourful foliage, Greek goddesses, medieval instruments and delicate patterns reminiscent of Chinese ceramics. Different enamel techniques employed include cloisonné, which uses thin gold ribbon to separate the different colours of enamel, much like a stained glass window, and pailloné, where gold or silver leaf is covered in layers of translucent enamel for a shimmering effect. Opalescent, opaque and translucent enamels are used to create a variety of effects.
Five new pocket watches demonstrate the variety of skills Patek Philippe has to draw from. The Matryoskha Dolls pocket watch captures the bright colours of these Russian toys in cloisonné enamel. Horses is a tour de force of cloisonné enamel work that depicts the animals with an intriguing likeness to life. Geisha Under a Cherry Tree uses a mixture of cloisonné, miniature enamel painting, engraving and gold spangles to add lustre and texture to this oriental tableau, while Elephant in the Jungle uses hand engraving to capture each crease and detail of a majestic elephant emerging from glossy lustrous green cloisonné enamel fronds.
Winter Owl is a stunning combination of crafts. Set against a snowy winter scene, hand engraved in white gold, the bird's piercing eyes stare out at the viewer. His head, body and feet are the work of a miniature enamel painter, while his magnificent plumage and the branch on which he is perched are made up of a small-scale puzzle of 220 pieces, crafted from eight different species of wood.
A look at these masterpieces confirms that not only is Patek Philippe a guardian of rare crafts but a master of them also. Whats more, the house is employing them to captivating and exciting new effects, opening our eyes to the beauty of these crafts, which very nearly disappeared forever.
Patek Philippe Matryoshka Dolls Enamel Pocket Watch reference 982/130J in yellow gold open-faced pocket watch, decorated with cloisonné and miniature enamel.

Patek Philippe's Matryoshka Dolls Enamel Pocket Watch.

The reverse of Patek Philippe's Winter Owl Pocket Watch depicts an owl on a winter's day with miniature enamel, hand engraving and wood marquetry

Patek Philippe Horses Enamel Pocket Watch in white gold with hand engraving on the case and bow - the 'hook' at the top of the pocket watch to hang it on the stand.

The reverse of Patek Philippe's Geisha Under a Cherry Tree – Mixed Techniques Pocket Watch reference 982/140G in white gold, decorated with a beautiful Geisha in cloisonné and miniature enamel and hand engraving.

The reverse of Patek Philippe's Cloisonné Enamel Jungle Dome table clock.

Patek Philippe Dreamers Dome table clock, reference 1659M - a unique piece in cloisonné enamel depicting beautiful young dreamers in a nighttime garden scene.

Patek Philippe Peonies Dome table clock, reference 1652M - a unique piece in cloisonné enamel depicting a scene of peonies and birds.

Patek Philippe's Elephant in the Jungle pocket watch reference 982/161G white gold, which incorporates a variety of rare handcrafts.

The reverse of Patek Philippe's Elephant in the Jungle pocket watch depicts an elephant with hand engraving, cloisonné enamel and hand engraved guilloche.

Patek Philippe Winter Owl Mixed Techniques Pocket Watch reference 982/146G in white gold.

Patek Philippe's Geisha Under a Cherry Tree pocket watch.