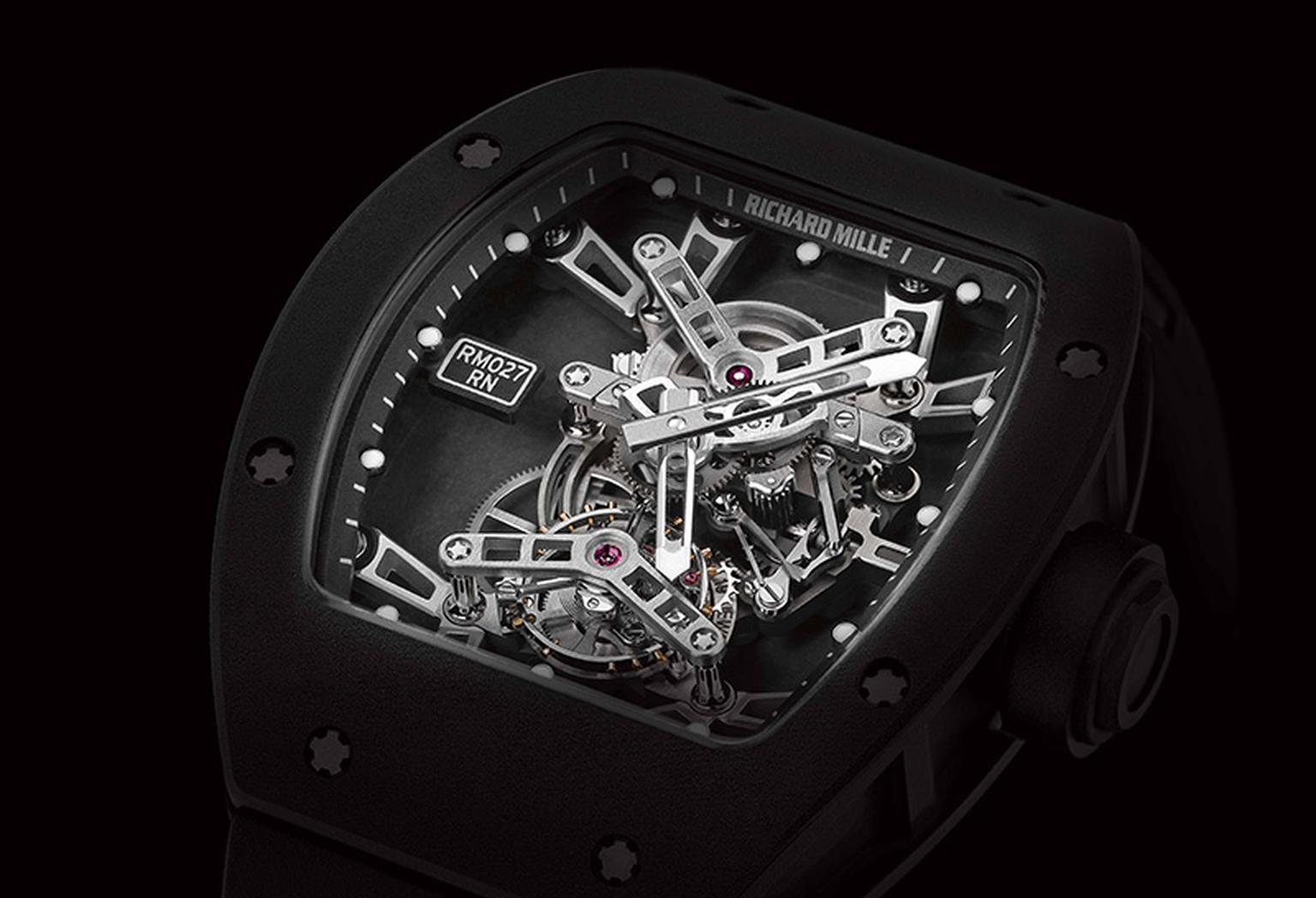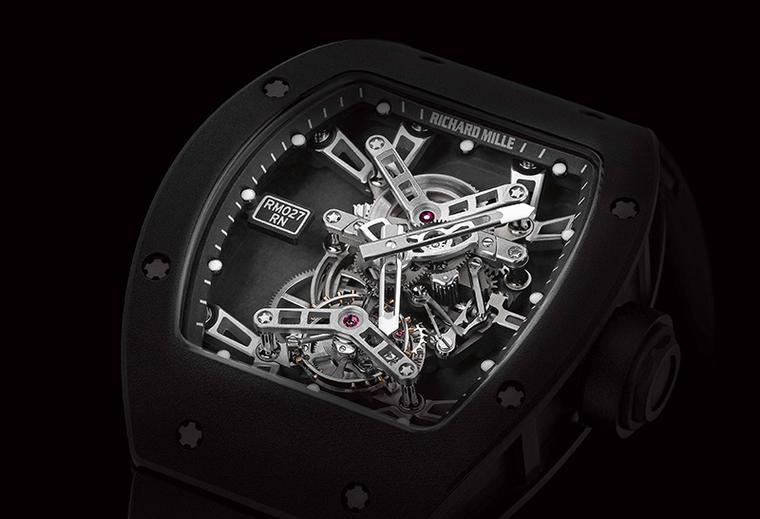 A lot has been written in the press recently about Rafael Nadal's Richard Mille watch particularly when its theft from his Paris hotel room as he slept after his Roland Garros victory gave journalists a headline-grabbing story. And along with the great number of stories about this mysterious watch were many misconceptions. 
My favourite mistake is the story that reports Nadal's watch is 'a jewel encrusted gadget'. "How else," the journalist must have thought "could a watch be so expensive?" Nothing to do with jewels but one very complex watch, more of which below. The other interesting and persistent mistake is the value of the watch. Most papers reported the value of the RM 027 Tourbillon at 'an eye-watering £240,000'. The watch is in fact worth £424,000 - were you able to buy one as all 50 ever made have sold out. And to boot, most papers published a picture of the RM 035, the second generation of the Nadal watch.
So let's put straight some of the facts about the Richard Mille RM 027 Tourbillon that was made specifically for the Spanish tennis ace who at 23 has already out-performed Bjorn Borg's six titles.  The Richard Mille press release tells us how this independently owned micro-niche brand that makes outstanding watches for the very few, got into sports.
"Richard Mille decided to invest in this sport in 2010 to meet the new technical challenges it offered and to test new solutions in the world of Haute Horlogerie. Following in the footsteps of Pablo Mac Donough in polo, Felipe Massa, Jules Bianchi, Martin Brundle and his son Alex, Romain Dumas, Charles Leclerc and Adrian Tambay in motor racing, Bubba Watson in golf, Rafael Nadal wears the RM 027 Tourbillon during his tennis tournaments. This timepiece was created specifically for him to put its technical excellence, performance and shock-resistance to the test. Since 2010, the RM 027 has unflinchingly resisted Rafa's unrelenting game while leaving him free to move, and is the lightest mechanical watch in the world, weighing no more than 18 g including the strap."
The first thing to point out which may seem screamingly obvious to horolophiles is that this watch is not only a mechanical watch which means it is not powered by a battery but by the movement of the wrist but also incorporates a very sophisticated tourbillon escapement. The tourbillon, is a device invented at the end of the 19th century to improve timekeeping in pocket watches seems out of place in the high impact game of tennis.
Though to the uninitiated Nadal's watch may look like a black plastic Swatch it is a highly sophisticated and expensive mechanical watch. Not only is it unusual to see a tennis player wearing a watch on court, it is even more odd that it is a highly complicated tourbillon, more often seen in the more sedate atmosphere of a board rooms, than being thrashed around a tennis court. 
It is the turbo, fuel-injection, 16 cylinder, all bells and whistles engine of the watch world, and Rafa seems remarkably fond it of it. Is Rafael really keeping his eye on the time or has his ultra-light Richard Mille watch become something of a good luck charm?  I assume, that like most men, Rafa is in awe of the micro-mechanical marvel of this machine, with the workings visible through the dial. The fact that this watch, like all Richard Milles, is based on the pared-down aesthetics of Formula 1 Racing, can only add to its appeal and is about as close to wearing a F1 engine on your wrist as it comes.
And it only weighs 18 grams, strap included, making the RM 027 Tourbillon is the lightest mechanical watch ever designed and the first watch to be worn by a player in a Grand Slam. Just as well that it is extremely shock resistant and comfortable on the wrist. While most brands would suggest you leave your delicate tourbillon watch in the changing room, Richard Mille took delight and saw the marketing potential of putting the watch on the wrist of a player in top level tennis matches. Unlike a traditional watch, Richard Mille has researched highly resistant, lightweight materials such as LITAL® that is used for the moving parts and a carbon-based composite for the casing and the baseplate is made from titanium. Months of experimenting and countless tests on the arm of Rafael Nadal, who fully participated in designing and developing the model, were necessary to refine and perfect this ultra-technical model which can withstand the most violent of blows. Rafael Nadal said "It is an honour for me that someone like Richard has chosen me as one of his ambassadors. I know that he has worked very hard to be able to create this very special watch. I am honoured and I am sure it will be a special and successful partnership."
As the RM 027 sold out, in 2011 Richard Mille launched a manual winding edition with the same look and feel of Nadal's tourbillon. The watch is called RICHARD MILLE RM 035 RAFAEL NADAL,CHRONOFIABLE® CERTIFIED and it sells for a more reasonable £68,000. Although it bears Nadals name this is not the watch that the Spaniard wears on court as he prefers to stick to his lucky watch that must have some special powers as not only has it been stolen and found again. Lucky Rafa!
The RM 035, the ultra-light tourbillon that replaced the original Rafael Nadal watch that sold out at £424,000 as only 50 pieces were made. The Richard Mille RM 035 Rafael Nadal Chronofiable® Certified is £68,000.

The Richard Mille RM027, as worn by Rafael Nadal, on The Jewellery Editor's wrist. And yes it is so incredibly light that it feels like a Post It on your wrist. A strange sensation.

Rafael Nadal celebrates his victory at the Roland Garros tournament in Paris last summer. Photo Credit: Ella Ling.

Rafael Nadal in the middle of a match at the Roland Garros tournament in Paris ast summer. Photo Credit: Ella Ling.

The Richard Mille watch that Rafael Nadal wears to all his matches. The limited-edition RM 027 Nadal Tourbillon had a price tag of £424,000. Watch out for Nadal wearing it at Wimbledon this year.