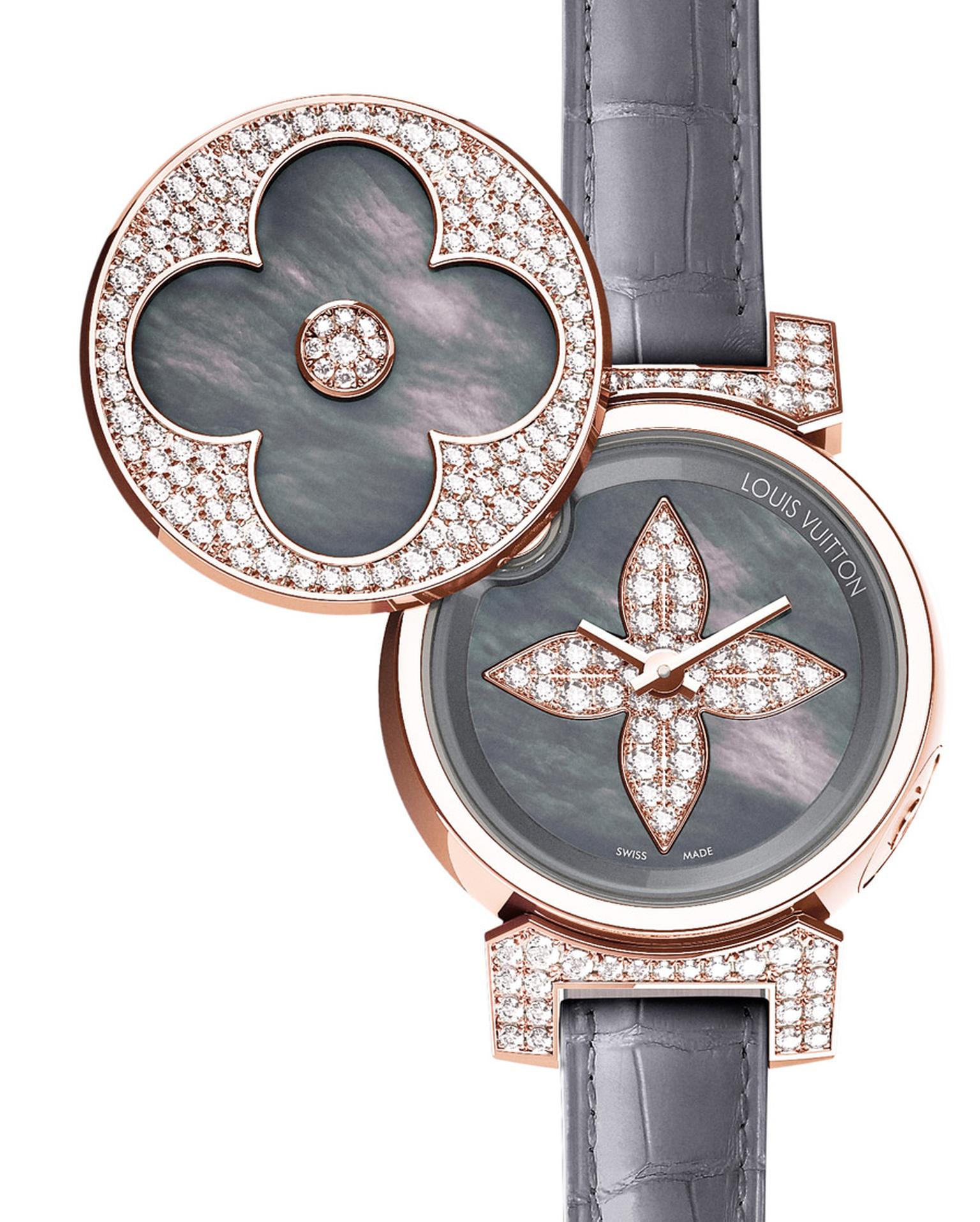 Now celebrating their first decade of watchmaking, Louis Vuitton has looked back to its original creations and marks the occasion in style. In 2002 they unveiled the Tambour watch, which was exactly what you'd expect when you combine a high-fashion house with the world of horology. The unusual deep drum-shaped case with sloping, bulging sides has become well established as the Vuitton case shape and its ample size allows for anything from high complications such as tourbillons to simpler quartz three hand watches.
Putting technology first is a must, but the house hasn't forgotten what makes a Louis Vuitton piece so unique, as Hamdi Chatti, CEO of Louis Vuitton says, "We also draw deep on our heritage, revisiting our history with refined details. From the lustrous brown of its dial and the flawless saddle-stitching of its strap to the discreetly engraved Monogram motif, everything about Tambour spells Louis Vuitton. Any watch brand now has to have at least one distinctive look - their own icon".
Taking their watchmaking seriously, Louis Vuitton acquired La Fabrique du Temps in 2011 that specialises in high-end watch movements. The tenth anniversary Tambour watches take advantage of this recent acquisition to produce new complications with a Vuitton twist. With a wide range of watches, from secret watches with a disc that slides open to reveal the dial, to diving chronographs the now iconic Tambour design has been re-invigorated for 2012. The Tambour Bijou secret watches combine diamonds, mother-of-pearl and rose gold with the Monogram strap. Similarly we see the Tambour Forever Ceramic, a sturdier version of the Bijou but without the playful secrecy. The monogram flower blooms on the watch face, and black and white versions are limited to 200 and 250 pieces respectively.
But if it's technology that Louis Vuitton are proud to put first with their watches, then look no further than the Louis Vuitton Tambor Minute Repeater. It features a chiming movement that tells your home time while allowing for a second time zone simply by adjusting the crown. However you set the watch, you can always see your home time and so never lose touch. This Minute Repeater sees a not so shy 44mm diameter case in white gold, with a 100 hour power reserve and a precise 21,600 oscillation per hour movement, not to mention 34 jewels set throughout. Not to be outdone by the Minute Repeater, the Tambour Spin Time makes reading time fun.   Jumping hours are shown on small rotating cubes engraved with the hour and an unmistakable 'V'.
Although relatively fresh to the watchmaking game, it's clear from this ten year celebration that Louis Vuitton mean business.
Tambour Bijou Secret and white gold bracelet set with diamonds, with the watch-face revealed © LOUIS VUITTON

Tambour Bijou Secret and white gold bracelet set with diamonds, with the watch face covered © LOUIS VUITTON

Tambour Diving II Blue steel housing extra large (44mm) bezel with dive time indicator and black rubber strap © LOUIS VUITTON

Tambour Diving Chronograph II, housing extra large molded rubber, ceramic bezel indicates the dive time, rubber strap © LOUIS VUITTON

Tambour Forever Ceramic White ceramic case and lugs set with diamonds, bracelet monogram Vernis white, limited edition of 250 pieces © LOUIS VUITTON

Tambour Forever Ceramic Black ceramic case and lugs set with diamonds, black bracelet monogram Vernis, limited edition of 200 pieces © LOUIS VUITTON

Tambour LV Cup Automatic Countdown, steel enclosure with extra large buttons and crown molded rubber, LV138 movement and navy blue alligator strap © LOUIS VUITTON

Tambour techno Mysterious white gold and black alligator strap © LOUIS VUITTON

Tambour watch America's Cup Regatta Quartz steel housing molded rubber, rubber strap © LOUIS VUITTON

Drum Minute Repeater watch, white gold case extra large, black alligator strap, with mechanical movement caliber LV 178 © LOUIS VUITTON

Tambour Spin Time Jewellery Automatic broad gauge LV96 box and pink gold buckle, 18ct dial and lugs set with black and white diamonds, black lizard strap © LOUIS VUITTON

Tambour Spin Time GMT Automatic extra large caliber LV119, case and buckle in white gold, with black alligator strap © LOUIS VUITTON