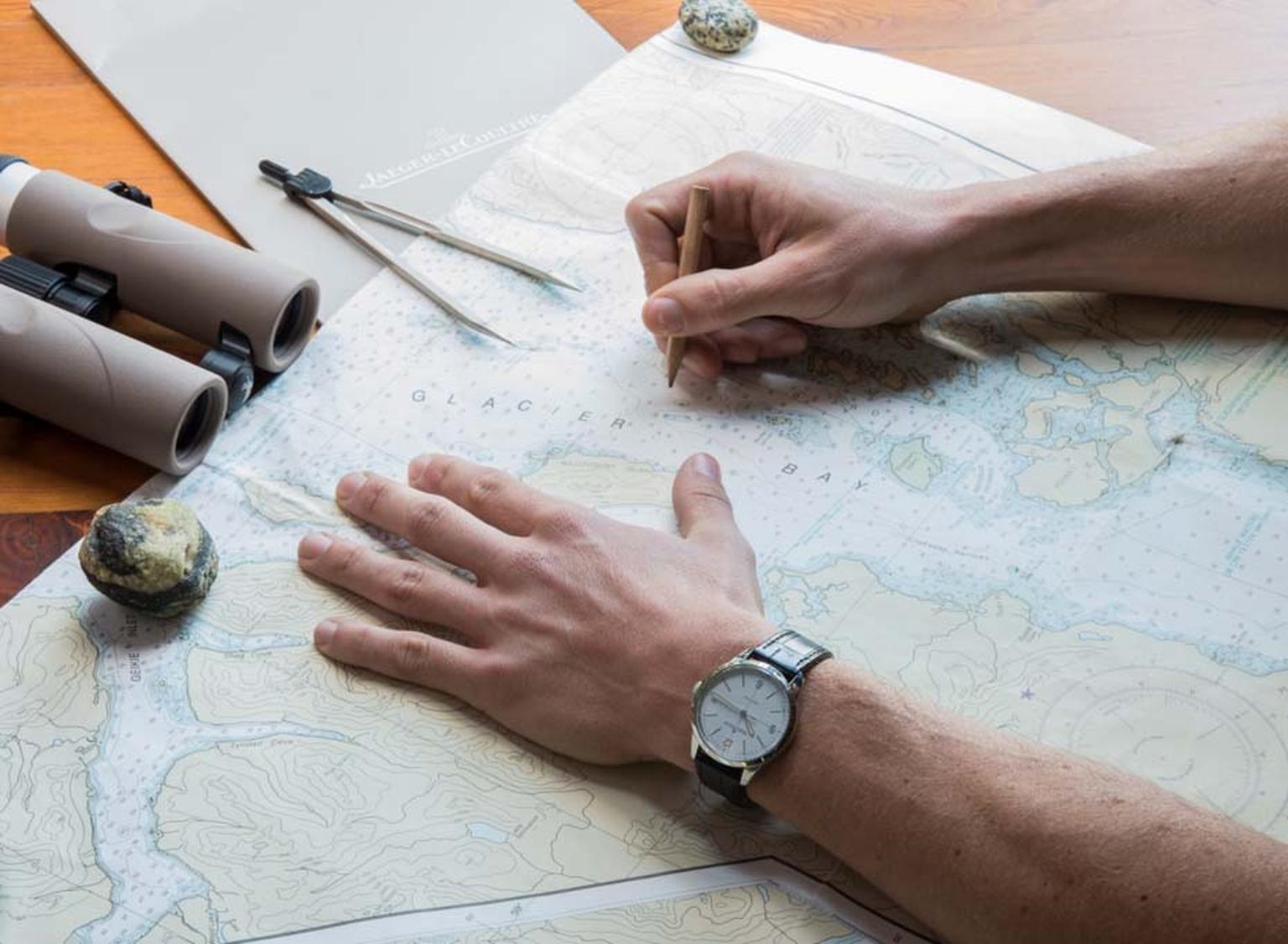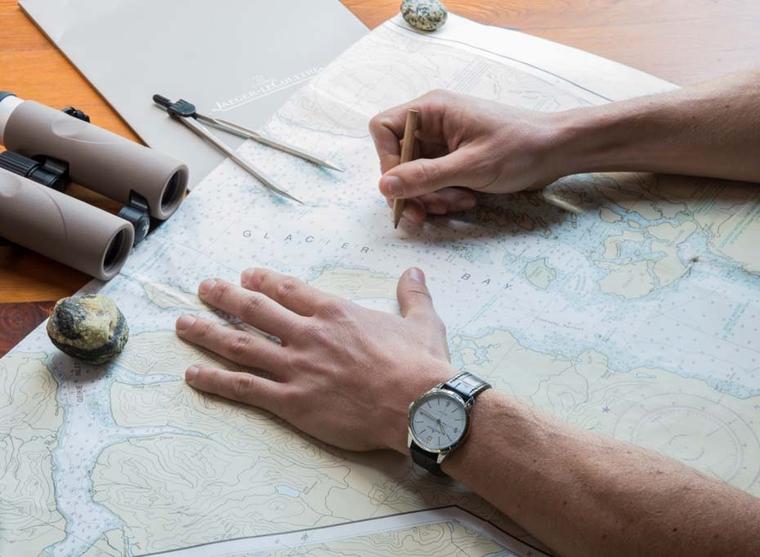 By Maria Doulton
The UNESCO World Heritage Centre represents the world's cultural and natural diversity, including 47 marine sites. Jaeger-LeCoultre has been supporting UNESCO since 2008 to help protect these unique underwater treasures for future generations.
This year, Jaeger-LeCoultre is helping raise awareness of UNESCO's marine site at Glacier Bay National Park in south-east Alaska with a short video. The National Park is a dream-come-true for wilderness fanatics who like dramatic and constantly changing scenery. Covering 3.3 million acres of land, it offers scenic locations ranging from snow-covered peaks, to some of the planet's last glaciers, and from temperate rainforests and wild coastlines, to sheltered fjords.
The video follows award-winning Alaskan photographer Mark Kelly as he captures the myriad marine ecosystems that thrive at Glacier Bay on camera. First aired on 22 April to coincide with the 45th anniversary of Earth Day, and with Madison Avenue Watch Week in Jaeger-LeCoultre watches New York boutique, Kelly's spectacular pictures summon the wild beauty of this remote, scientifically important region.
Roughly 20% of Glacier Bay National Park is made up of water, with glaciers, lagoons, inlets and channels supporting marine life including humpback whales and the threatened species of Steller sea lions, as well as providing fresh water for the bears, wolves and caribou that roam its vast expanse.
Jaeger-LeCoultre's mission for the last seven years has been to raise awareness and ensure the long-term preservation of these unique marine oases.
The brand's support has enabled the creation of an international network of marine site managers who share their expertise with one another and, in the words of the narrator, "are working towards one common goal: to be the guardians of the treasures of our oceans and safeguard them durably for future generations."
The Swiss watch brand is also about future generations, and designs and equips all Jaeger-LeCoultre watches with movements that last. We need look no further than its iconic Reverso watch family, still going strong after 84 years, and the continual regeneration of classics such as the Geophysic 1958 watch, which was re-launched in 2014 to the delight of watch aficionados.
The precision instrument, designed to resist magnetism, shocks and water, was originally created for scientists of the International Geophysical Year (1957-1958) - a scientific project involving 67 countries that marked the beginning of scientific interchange between East and West, interrupted during the Cold War. Three models of the Geophysic 1958 watch in rose gold, platinum and stainless steel, measuring 38.5mm, perfectly capture the design ethos of the original model with its austere, highly legible dial. Inside these Jaeger-LeCoultre watches, a mechanical, automatic in-house movement will keep the hours, minutes and seconds running for many generations to come.
In 1958, to celebrate the first International Geophysical Year, Jaeger-LeCoultre created the Geophysic chronometer, embodying the scientific knowledge of the time. A high-precision instrument, the watch was designed to resist magnetic fields, shock and immersion, making it an ideal companion for crews sailing to the North Pole, where magnetic fields are particularly strong. In 2014, the brand re-edited the model in platinum, steel and rose gold.

Glacier Bay National Park is home to many species, including the brown bear, which is free to roam the immense forests and drink from the unpolluted freshwater lakes.

As Scott Gende, senior scientific advisor of Glacier Bay, explains: "The scientific research conducted here is of the utmost importance. The zone was declared an American national monument in 1925 due to the unique possibility it affords of studying the succession of glacial periods. That is why the project leaders at Glacier Bay encourage both general research such as glaciology and the evolution of the landscape, as well as more applied studies focused on the consequences of incursions."

Marine animals live in perfect harmony at Glacier Bay thanks to a set of very strict preservation policies and management rules. The effective administration of the park has allowed species at risk, such as the humpback whale and the sea lion, to find refuge.

Glacier Bay National Park in Alaska extends over a territory of 3.3 million acres and has been categorised as one of UNESCO's 47 World Heritage marine sites since 1992.

Alaskan photographer and modern explorer Mark Kelley, who has spent more than 200 days in Glacier Bay National Park, recently joined Jaeger-LeCoultre and UNESCO on location, wearing the Geophysic 1958 watch, to capture the unique ecosystem of the region and the efforts made by scientists and project managers working to preserve the site.

To avoid collisions with large marine mammals like the humpback whale, all boats entering the park are inspected by the onsite teams. As they begin exploring the park, the boats have marine mammal biologists on board who are able to detect every whale in the zone using special binoculars.

The Geophysic 1958 watch, which was re-launched in 2014 to the delight of watch aficionados. This 38.5mm model in rose gold is faithful to its ancestor and has a great vintage appeal with luminescent hands and a legible dial.

Glacier Bay National Park is home to mammals such as porpoises, seals, sea lions and several species of whales, as well as the famous sea otter whose precious fur almost caused its extinction several centuries ago.

The Geophysic 1958 watch in a 38.5mm stainless steel case continues its legacy as a scientific watch, impervious to water, shocks and magnetic fields. Equipped with an automatic JLC calibre, the hours, minutes and central seconds functions will be running for many a generation to come.

Jaeger-LeCoultre watches has made a short video on Glacier Bay National Park, recognising the work of scientists and project managers that preserve the site. The video was screened at Jaeger-LeCoultre's New York boutique on Earth Day 2015. Scientists and mammal marine biologists have played a fundamental role in the preservation of endangered species in the park.