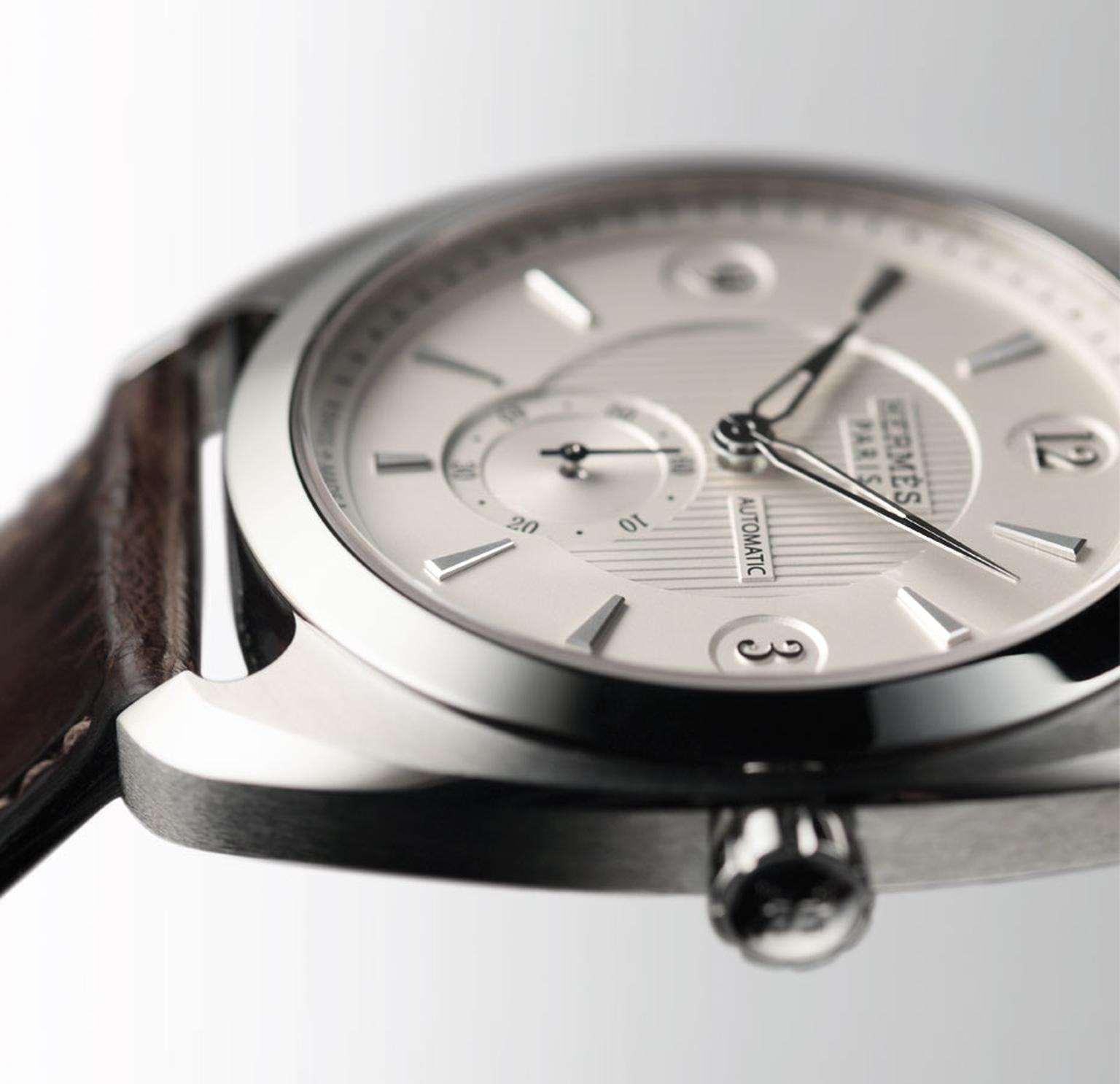 Hermès present a new family of Dressage watches (from £7050) unveiled at the BaselWorld watch show in Basel. These all mechanical watches are powered by the H1837 caliber, Hermès' first in-house calibre developed with Swiss movement manufacturer Vaucher that since 2006 the French house holds 25% of the shares.
 The calibre is named for the date of the founding of Hermès. The new automatic twin barrel movement improves reliability of the watch and is the base for future complications. The original Dressage was launched in 2003 and designed by the fabled Herni d'Origny who has designed from silk scarves to china plates. The pared down lines of the watchcase are inspired by the stirrup strap shackle of a saddle.
 But how exactly did Hermès get into watchmaking? A visit to the museum that sits atop the flagship boutique on rue Faubourg Saint-Honoré revealed just how Hermès went from saddlemaker to purveyor or luxury goods including watches.
 "We came to watchmaking via the straps," explains Guillaume De Seynes sixth generation family member and Vice President of Hermès. He brings out an age-dappled 1912 photograph taken on a summer's day of his then nine year old grandmother, Jacqueline Hermès. The young girl is wearing the very first Hermès wristwatch. It is in fact a pocket watch fastened to her arm by way of pig skin strap and case. "She was very energetic," adds Mr de Seynes, "so her father devised a way to stop her pocket watch falling out of her pocket."
 Since this innocent start, La Montre Hermès  S.A., founded in Bienne, Switzerland in 1978 has been producing timepieces of a more conventional kind including the top selling Cape Cod. The watches reflect Hermès historical links to harness making and leather goods.
The care taken over each hand stitched waxed linen cotton seam, buffed gold buckle and leather encased miniature padlock on a soft as a puppy's ear hand bag suggests Hermès will be at ease in the world of high horology. "We don't do things differently from others, we do them how they have to be done," is how Mr. de Seynes explains their fastidious approach and exquisite attention to detail.
Hermès history of watchmaking is colourful and unique.   When Emile Hermès took over the directorship of the house in 1878 , Hermès was a prominent supplier of high quality horse harnesses.  After WWI, the newfangled automobile replaced horse drawn carriages and their original business disappeared. Emile Hermès, did some lateral thinking, before the phrase had even been coined, and set his mind to finding new ways to use his leather workers skills in the fast changing world of transport. He decided to focus on the needs of the traveller, from luggage to scarves and timekeeping.
 In 1928, the first watch to bear the name Hermès on the dial, was sold from the faubourg Saint-Honoré boutique. The "Ermeto" produced in conjunction with Swiss watch house Movado was a handbag watch encased in an elegant rigid leather pouch that slid open to reveal a miniature travel clock. In 1945 Umberto II of Italy ordered a belt buckle watch for skiing on a box calf belt and by this time Hermès was offering a range of wrist watches developed with major Swiss watch houses such as Jaeger-LeCoultre, Universal Genève, Mido, Cyma, Audemars Piguet, Ulysse Nardin and Movado.
The original idea for Emile's daughter's watch was refined to create the "montage polonais" that allowed motorists to wear their pocket watch on their wrist. Made of soft pig skin with bridle stitching, it is beautiful yet simple, a style that was to permeate the look of the house.
Hermes. "Porte-oignon" strap, around 1912

Hermes. Belt watch around 1930

Hermes. Buttonhole pocket watch, around 1930

Hermes. Close up of Dressage Small Second Watch in silver, steel and black alligator strap. Price from £7,050

Hermes. Dressage Simple Calendar. Silver, steel and black alligator strap. Price from £7,050

Hermes. Dressage rose gold white dial. Price from £20 000.

Hermes. Dressage Small Second Watch in silver, steel and black alligator strap. Price from £7,050

Hermes. Miami wristwatch, around 1935.

Yvonne, Jacqueline, Simone and Aline Herme`s from left to right, as children in 1912.

Hermes. Close up of Dressage Small Second Watch in silver, steel and black alligator strap. Price from £7,050