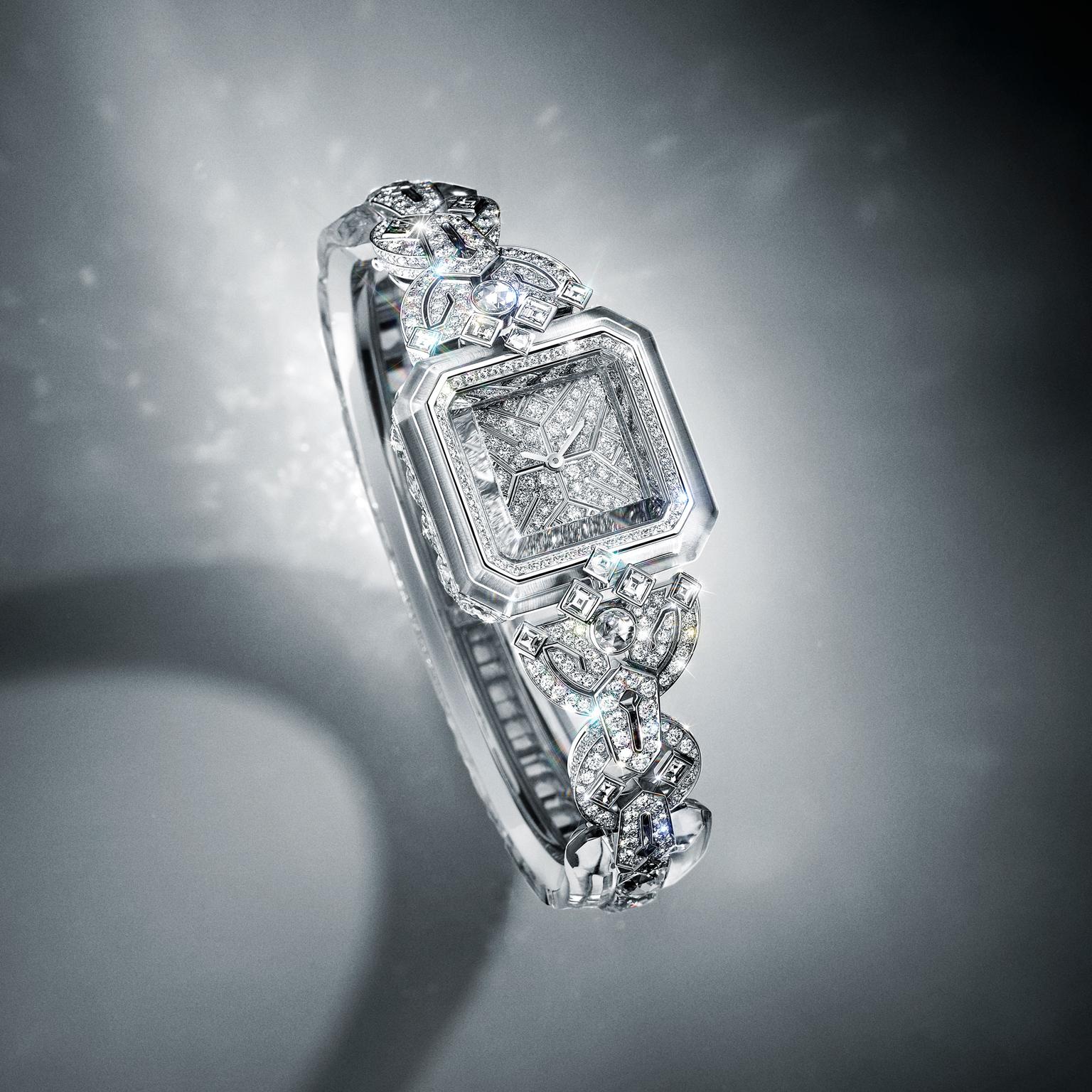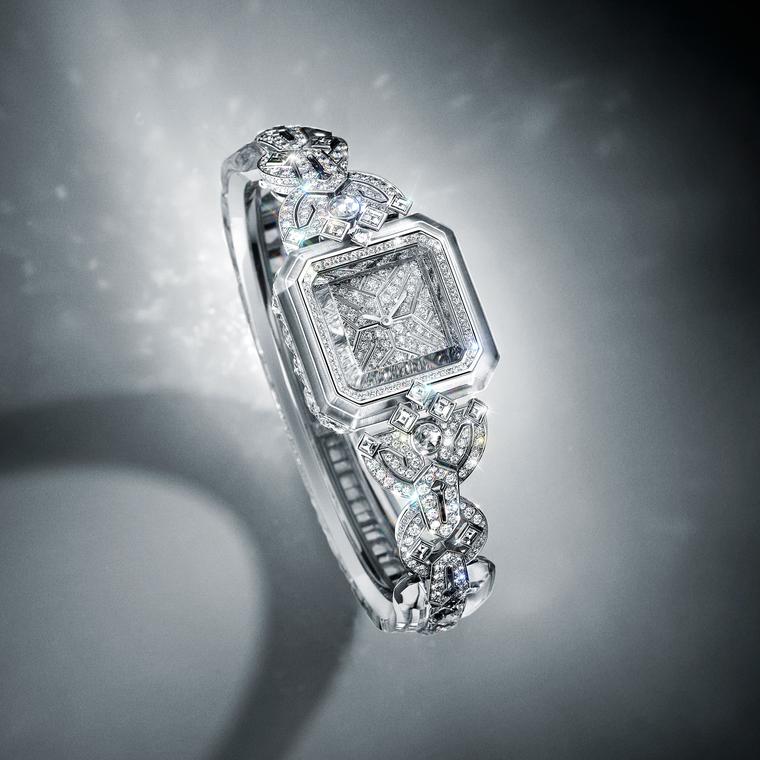 Three unique high jewellery watches unveiled at the Watches & Wonders salon in Hong Kong reaffirm Cartier's enduring artistry for creating the most desirable bracelet watches.
The High Jewellery Koinobori Secret cuff watch is quintessential Cartier and harks back to the abstract geometry that Louis Cartier embraced at the turn of the XX century. Louis Cartier was a profoundly modern man and well before the advent of Art Deco he was already experimenting with geometrical forms in his jewellery creations. The figurative Garland style of the late 19th century, which put Cartier on the Royal radar, was giving way to a new language of abstraction and clean lines closely related to architecture.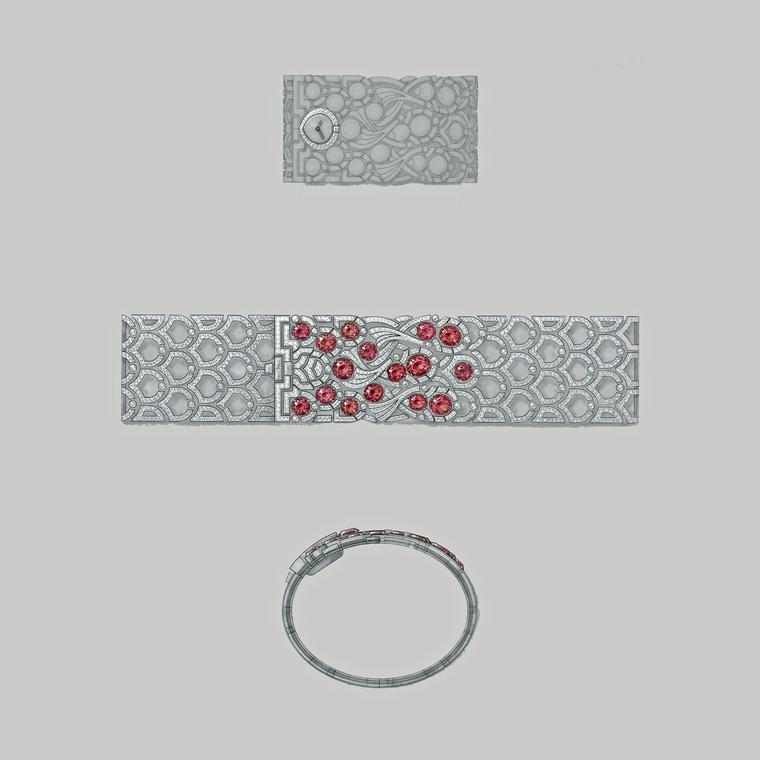 At first glance you can be forgiven for thinking the Koinobori Secret watch is a gorgeous diamond cuff set with wine-red rubies. Look again and you will notice that the rubies are congregated in one particular section and are in fact used to accentuate the shape of three stylised carp fish swimming across sparkling diamond waters.
See more luxury secret watches
As with many high jewellery Cartier watches, there is a poetic story behind this secret watch. The theme of this unique cuff is an allegory to the passing of time represented by the incessant journey of carp fish swimming upstream. The geometrically arranged diamonds - entailing more than 1,000 hours of gemsetting work - represent the steady flow of the river of life, while the more fluid shapes of the three carp fish are highlighted with oval rubies. The 16 faceted rubies - of nearly 1.00ct each - glow in subtle nuances of red and were sourced in Mozambique. The Cartier watch has borrowed its name from the lovely Japanese carp streamers or kites flown in Japan on Children's Day, where it is tradition for the eldest son to be represented by a red carp. The time can be consulted by lifting the diamond-set cover to reveal the dial of this precious one-off white gold watch.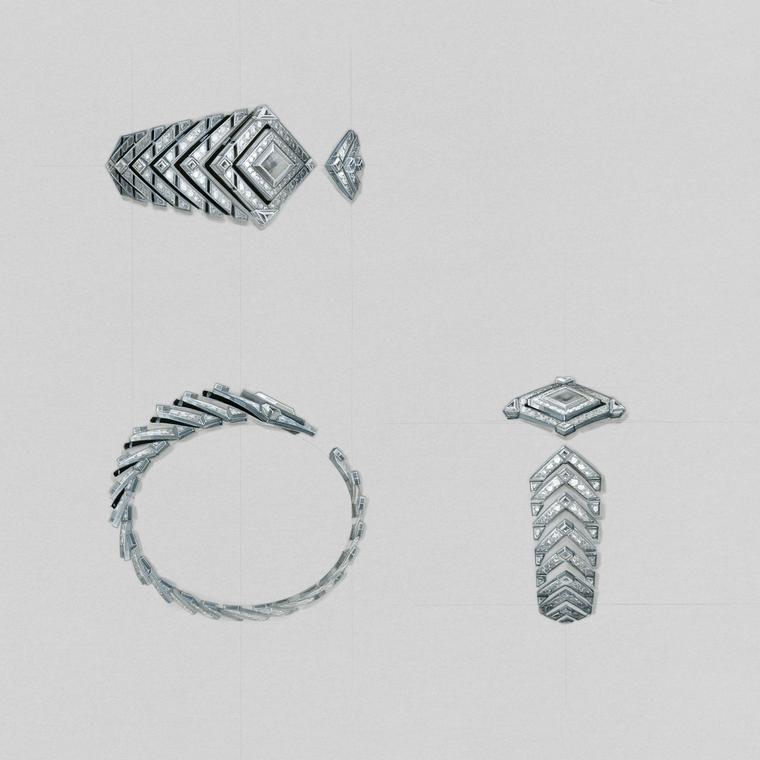 Flying across the Pacific on board Cartier's magical carpet, the next port of call is Peru where this dramatic white gold, diamond and black onyx watch evokes the tiered geometry of an ancient Inca pyramid. Like the pre-Colombian cultures and Louis Cartier's early experimentation with combining semi-precious stones with precious ones, the High Jewellery Inca watch alternates slivers of sculpted onyx with geometrically-set diamonds. The beauty of this unique Cartier watch is the supple and highly articulated nature of the bracelet that snakes and zigzags towards the summit of the temple where the watch dial sits.
Read more about Cartier watches
The third model in the High Jewellery collection, the Cristallin, plays with Cartier's fondness for optical illusions and magical timepieces that seem to float in space. Carved from rock crystal - a notoriously complex and delicate technique to obtain the desired prism - and studded with diamonds, the rock crystal alternates between transparency and opacity for a truly magical effect.
The High Jewellery Koinobori secret watch from Cartier depicts the journey of ruby-eyed carp fish up a geometrical river of diamonds. 

The Cartier High Jewellery Inca watch evokes the tiered geometry of an ancient Inca pyramid with superimposed squares of sculpted black onyx and white diamonds. 

The magical white gold Cartier Cristallin watch plays with optical illusions thanks to the use of rock crystal embedded with white diamonds. Photo Laziz Hamani@Cartier