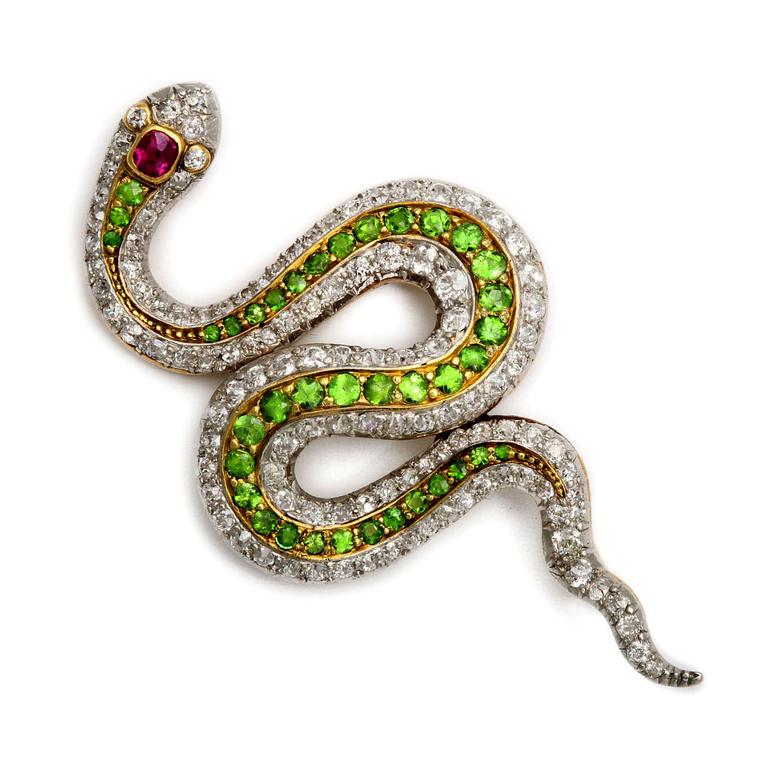 I can say with almost full certainty that most women do not want a live snake within 10 feet of them. I know because I am one of these women. At the age of 12, I came foot to face with one. My foot; the slithery creature's face. It was only a garden snake, but still, it was hissing at me at very close proximity. Yet, when it comes to wearing and collecting snake jewellery, I am quite thrilled to have one coiling around my finger, slithering up my wrist or sliding around my neck. 
Snake motifs are one of the earliest historical and culturally diverse mythological symbols, and figure prominently in jewellery. These intriguing creatures and the alluring pieces inspired by serpents through the ages, from the fall of Adam and Eve in the Garden of Eden, represent a host of meanings in different countries and civilisations. 
To the pharaohs of Egypt, snakes represented royalty and deity and they wore them as sacred pendants around their necks. The Romans had different interpretations ranging from everlasting love to a symbol of wisdom. The Greeks also looked toward the serpent as a symbol of wisdom, and to Aesculapius, the god of medicine, who had a snake wrapped around his staff - a motif that continues to remain the symbol of the medical profession. The Hindus, Hebrews, and African and Native Americans have all endowed the slinky creature with various meanings, ranging from rebirth, transformations, sexuality and desire.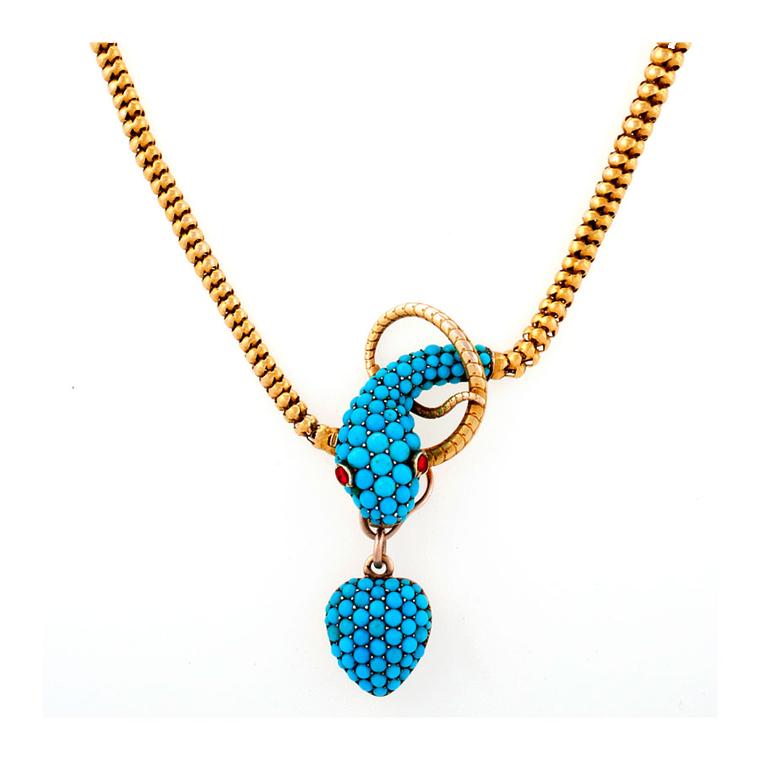 And speaking of desire, Cleopatra might be well known for her head-to-toe accessorising in snake jewels but it was in 1839 that lore and legend made way for the snake to become one of the most iconic motifs in jewellery. This was when Queen Victoria was engaged to Prince Albert and received a continuous snake ring, which signified everlasting love for eternity, with an emerald, her birthstone, centered in its head. Queen Victoria's ring set a trend throughout England, and eventually throughout Europe, for a range of snake rings, coil-style flexible necklaces and bracelets with gem-set heads, as well snake brooches, cuffs, bangles, and hoop and drop earrings that featured a snake slinking around a gemstone.
Through the Art Nouveau period of naturalistic and animal/insect motifs, the snake continued to be an inspiration in more figurative designs. In the 20th century houses such as Cartier, Bulgari and Boucheron, they translated the serpent with their own aesthetics and sensibilities.
The most famous Cartier snake necklace was made in 1968 for the Mexican actress María Félix and was mounted in platinum with 2,473 diamonds. The underside is enamelled in red, green and black, so the piece is completely reversible.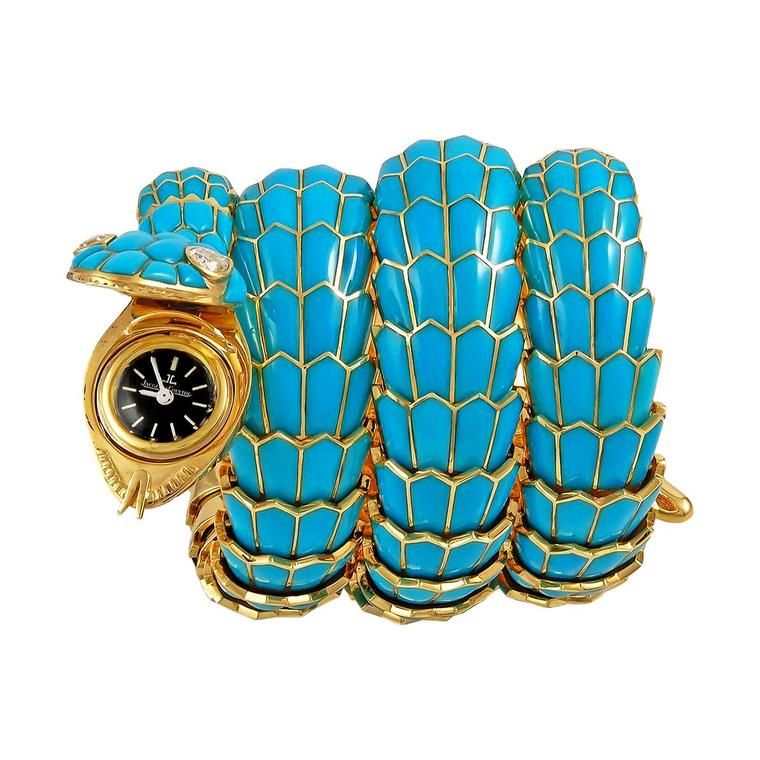 Bulgari also produced some of the most intricate snake jewels of the 20th century, with the house's Greek and Roman heritage inspiring the Serpenti collection in which a technique called Tubogas was employed to allow the bracelet to wrap around the arm with ease. From the 1940s through to current times, Bulgari has created scaled enamel, vibrantly gem-set Serpenti bracelets and rings, and a watch set into a snake's head. It also created one-of-a-kind bracelets for celebrities such as Elizabeth Taylor, and a belt that turned into a necklace for then Vogue editor Diana Vreeland, who typed a memo in 1968: "Don't forget the serpent... it should be on every finger and all wrists... the serpent is the motif of the hours in jewellery... we cannot see enough of them". 
This statement holds as true today for collectors and designers of modern pieces, as it did in Queen Victoria's day and when Ms. Vreeland sent off this declaration to her staff. The snake is one motif that will continue to be eternally loved and endured.
Discover more contemporary snake jewellery here
A La Vieille Russie Victorian old mine-cut diamond and ruby coiled snake bracelet.

Bentley & Skinner Victorian turquoise snake necklace featuring turquoise cabochons, rose-cut diamonds and garnet eyes.

Doyle & Doyle Victorian emerald and diamond snake necklace with ruby eyes and locket back drop.

Fourtane Victorian enamel, ruby, pearl, diamond and gold snake bangle.

Kentshire gold and pavé turquoise serpent bracelet with ruby eyes, in sterling silver and gold. France, circa 1838.

Macklowe Gallery English antique gold serpent necklace set with cabochon turquoise and cabochon ruby eyes, circa 1860.

Macklowe Gallery French Art Nouveau diamond, sapphire and gold double-headed serpent ring.

Sandra Cronan Belle Époque diamond-set snake bracelet with diamonds, emeralds, and a trapeze-shaped diamond head. Signed Gattel.

Tadema Gallery Art Nouveau Karl Rothmüller eternal entwined serpent brooch in gold with peridot centre.

Yafa signed Bulgari Serpenti bracelet watch with turquoise, diamonds and a Jaeger-LeCoultre mechanical movement, circa 1960s.

A La Vieille Russie American Victorian snake brooch of diamond and demantoid garnets, set in platinum and gold, and with a ruby-set head.