Imagine a winter's forest or a moody landscape of fern-like branches with fog that seems to be lifting in sepia tones, or that single, perfectly formed tree of life - these are the motifs that can be found in dendritic agate jewellery. 
There has been a tremendous amount of interest shown towards agates of late, both in antique and period styles, as well as among independent designers who work with organic materials and feature one-of-a-kind or specially cut gems.
Read about the best antique jewellery of 2015
Extremely popular in Georgian, Victorian and Art Nouveau jewels, no two agates are exactly alike. Throughout the years they have been referred to as either tree, picture or landscape agates due to the naturalistic patterns they portray. Ironically, they are not true agates but, instead, range from a translucent colourless to whitish-grey variety of chalcedony quartz, with markings known as dendrites, which derives from the Greek word dendron for tree. The plant-like structures in black and brown display an organic appearance, but the markings are actually inclusions with traces of iron or manganese, which crystallise inside the agate's fine surface fractures and create the branch and single tree, or multiple woodsy, motifs. 
Moss agate is similar in its formation but the inclusions are traces of green hornblende rather than iron and manganese. Found in Brazil, India, Madagascar, the USA, Mexico and Kazakhstan, both dendritic and moss agates are highly sought after by antique jewellery collectors - the rarest are those that are more translucent than milky. 
Read more on milky gemstone jewellery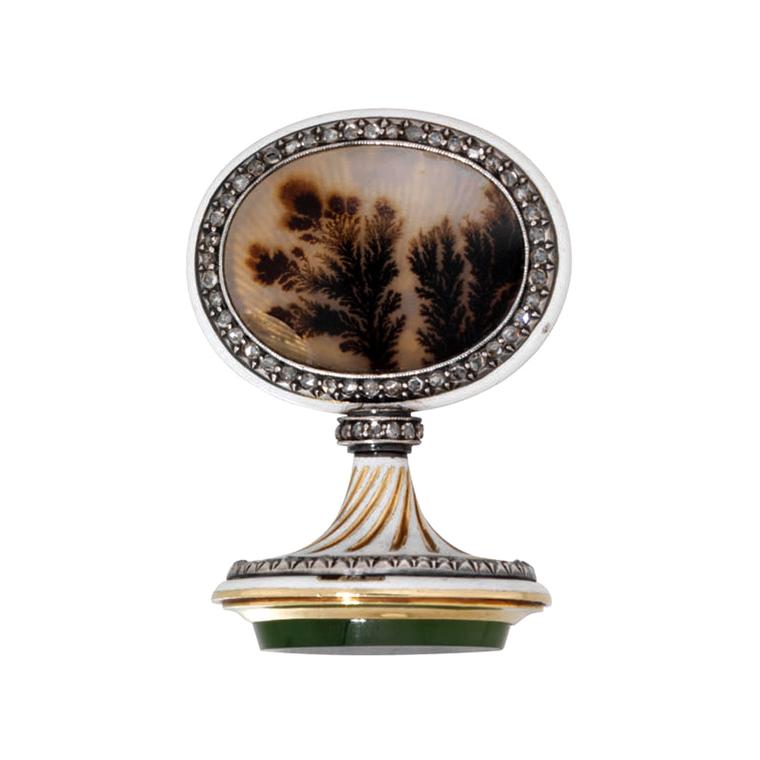 Lapidaries dating back to Georgian times have cut them to bring out the beauty of the multiple or single-tree patterns, featuring them in agate rings, pendants and brooches. Carl Fabergé, renowned jeweller to the Russian Imperial Court from 1885-1915, created many spectacular pieces with dendritic agate along with diamonds and other precious stones.
Recently, agate jewellery enthusiasts and collectors joined in a discussion on Instagram about a Georgian dendritic agate brooch, when the proud new owner showed it in a post and remarked that it reminded her of the "moors of Wuthering Heights and the brooding Heathcliff." This fuelled a number of humorous responses; many women saying they had once been attracted to the moody, tortured type of guy, but had moved on to a more balanced man, and the brooch was dubbed the "Heathcliff agate". The poetic scenes in these stones, as well as the stories that can be conjured up, create conversation both in the antique jewellery styles and the modern interpretations. The Georgian and Victorian versions were often surrounded by flat-cut garnets or old mine-cut diamonds, adding dimension and even more meaning to the stones, which symbolise prosperity and abundance.  
In Art Nouveau times, jewellers were enamoured by the stone's magical motifs and designed around them for the shoulders and shanks of rings, and the bezels of agate brooches. Today's designers often allow the stones to speak for themselves in simple, high carat settings or with accents of black, champagne or white melee diamonds.
As popular as dendritic and moss agates are, they aren't the only agate witnessing a resurgence of interest among collectors - banded and bull's eye agates are also piquing the interest of modern and antique jewellery aficionados. All agates with the exception of dendritic and moss agates are actually banded, but the cut of the stone and various colours and types of agates create vertical stripes, or a stripe-like layer, which encircles the stone.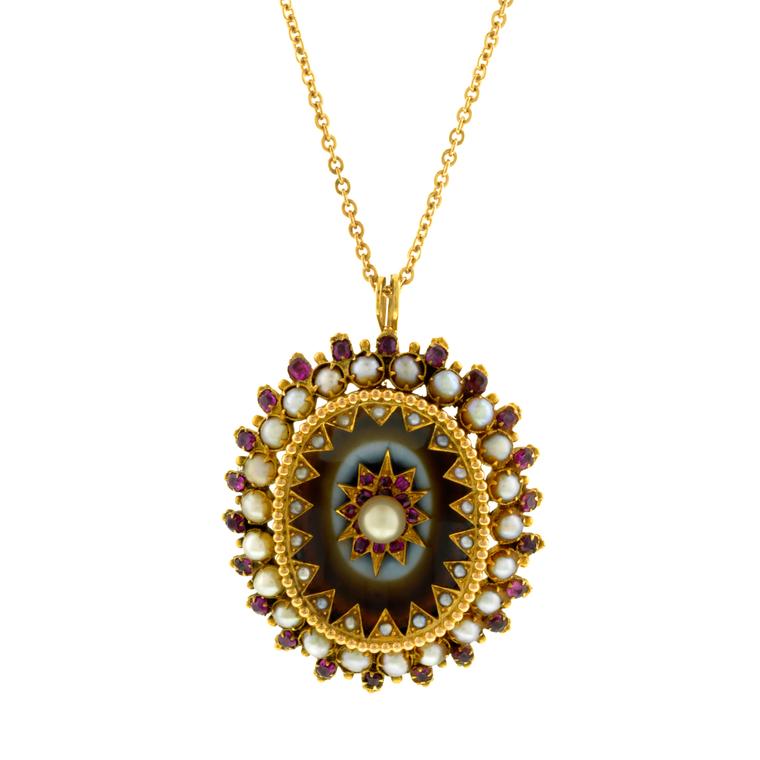 Earlier agate rings featured banded agate as one of the hard stones, which was used in intaglios and cameos that continued into the Victorian period. Banded agate, with its white or blue stripes or layers, were very much in vogue in fashionable jewellery during the Victorian times, and also in some mourning jewellery. Banded agates were also cut into flowers such as forget-me-nots, which bring out the blues, browns and blacks in the stone, and shell shapes that feature the blue and black hues. Simpler styles featured these cabochon cuts in the Etruscan Revival style for agate bracelets, brooches, rings and pendants.
Whether you prefer antique versions or modern varieties, taking the scenic route or sticking within the lines, there is a piece of agate jewellery out there that will fit into your wardrobe, personal aesthetic and lifestyle.
Read more on antique jewellery
Glorious Antique Jewelry Victorian, diamond, bow-topped moss agate pendant with diamond surround.

Bentley & Skinner Fabergé gold and hard stone seal, with a moss agate panel and rose-cut diamond-set border, St Petersburg, circa 1910.

Romanov Russia Fabergé moss agate brooch, with a pink gold, ribbon-tied, reeded frame set with tiny rose-cut diamonds. 

Doyle & Doyle Victorian banded agate, pearl and ruby pendant.

Véronique Bamps Victorian, dendritic agate demi-parure of earrings and necklace, with the agates surrounded by seed pearls.

Macklowe Gallery star banded agate and pearl motif earrings, in the original fitted box, signed D & J Wellby, London, circa 1850s.