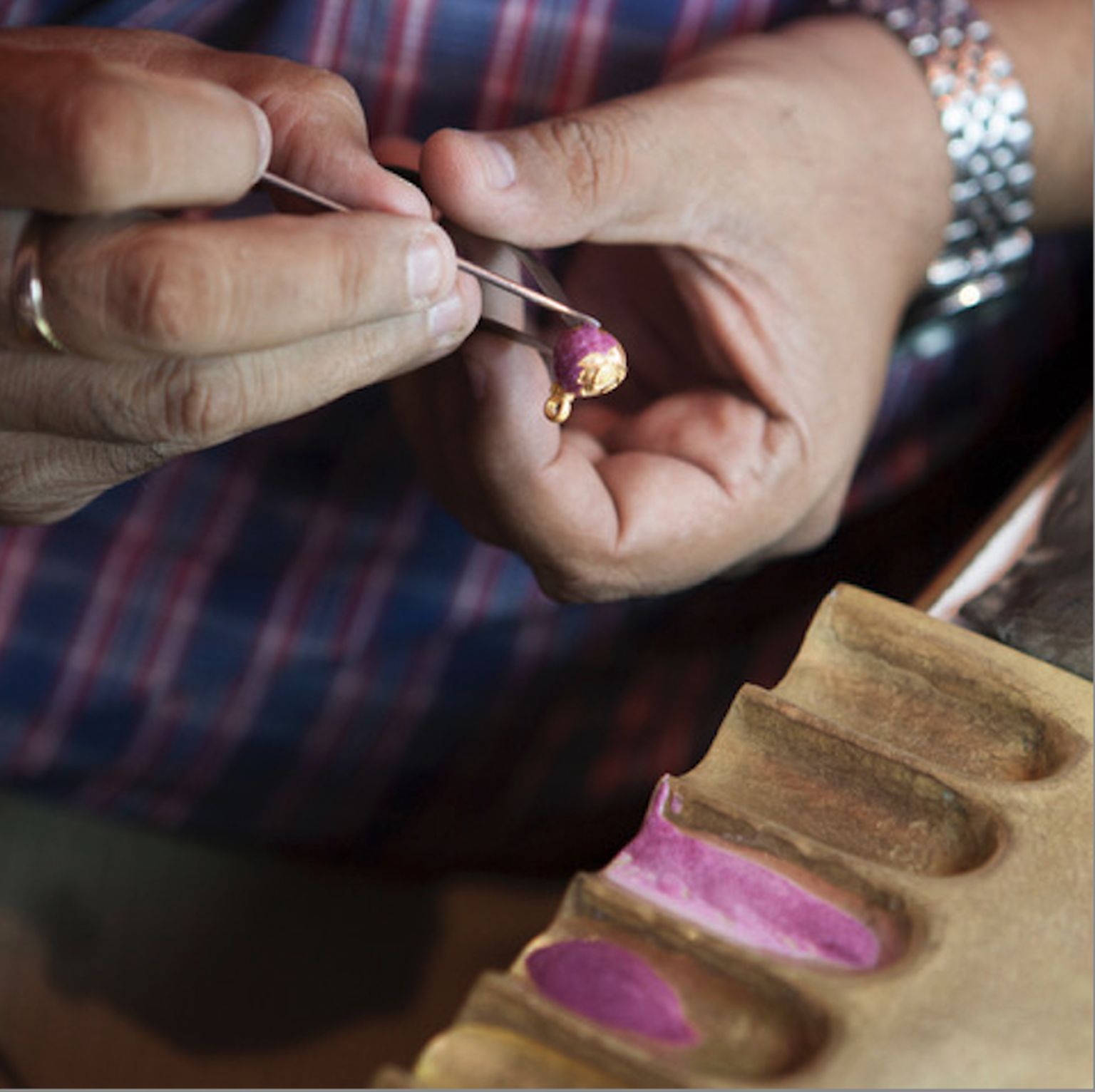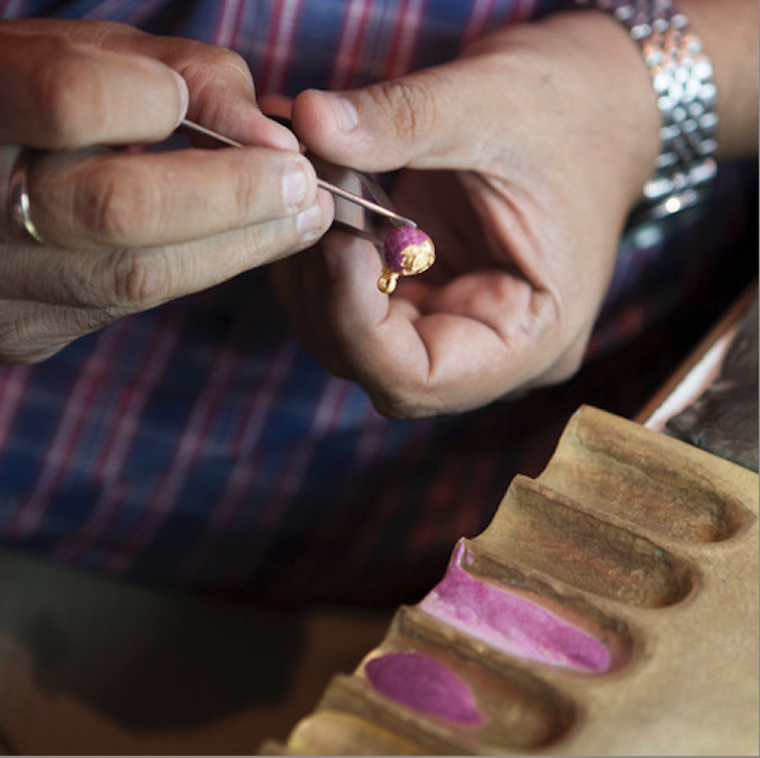 An ancient art form that has been used to decorate everything from classical Byzantine religious objects to Fabergé's iconic Imperial eggs, enamelling has been revered throughout history. Practiced for centuries as a form of artistic expression, it is the jeweller's art that enamelling is perhaps most closely associated, be it India's colourful meenakari jewels – coloured using a technique that originated in Persia more than 5,000 years ago – or the floral Art Nouveau jewels of France's René Lalique.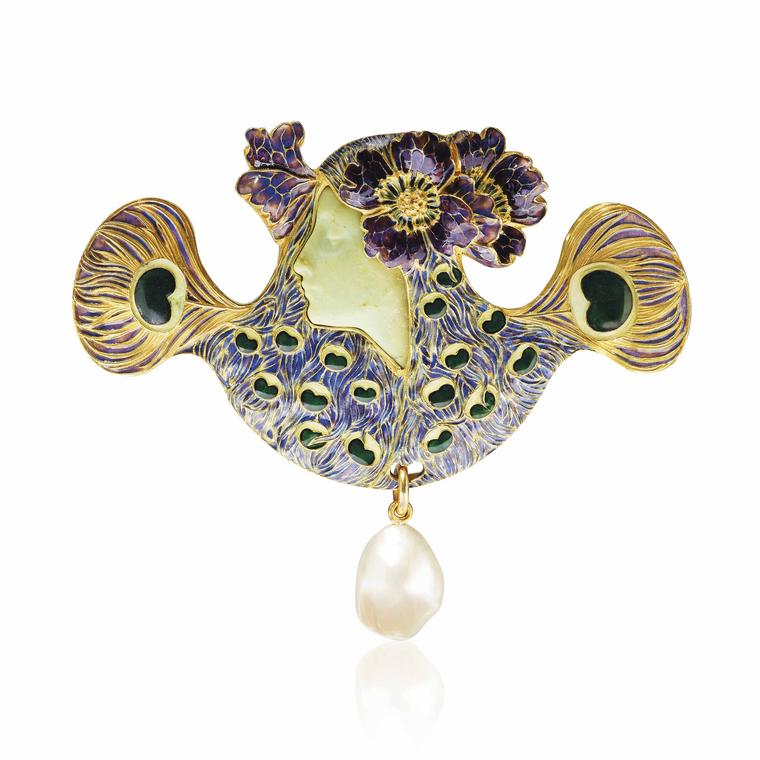 With fine jewellery, once again, taking a decidedly vibrant turn (Read: It's radical! Enamel jewels go pop), let's delve a little deeper into the art of enamelling, in particular the different types of enamel – hot (vitreous) and cold (lacquer) – that are being used to bring vivid colour to jewels today, and the designers who are pioneering its use.
The artistry of hot enamel
When you see the term enamel being used in relation to fine jewellery, it is most often describing hot enamel –an ancient decorative technique that employs vitreous enamel to "colour in" areas of a jewel by fusing it to metal and firing it at very high temperatures. Also known as grand feu enamel, the technique dates back to the 13th century BC, the era in which a collection of six rings were discovered in a Mycenæan tomb in Cyprus, decorated with vitreous coloured layers fused on to the gold.
Because of its famously tricky nature, the application of hot enamel has long been considered an art form. The process is time-consuming and involves dry-sifting a very fine glass powder – combined with metal oxides, which add colour – onto the surface or wet packing the enamel into channels in the metal. After application, the powder is heated until it softens and flows. 
Once cooled, it transforms into a solid, glassy mass, with multiple applications and a series of firings in the kiln required to achieve the depth of colour and magical translucency that are signatures of this technique. A highly technical process requiring both a scientific understanding of melting points in the kiln and sensitivity to the material that is only acquired with practice, it takes years of training and great skill to become a master.
Temperatures in the kiln can reach 750 to 850 degrees centigrade or more, with the exact temperature dependent on the colour. Red, for example, is one of the hardest to achieve because of its unpredictability when fired. Part art, part science, there are lots of factors that can lead to success or failure, including the thickness of the glass powder, the firing temperature and the length of time in the kiln. 
Vitreous enamel can be used to achieve an opaque finish, like cold enamel (see below), as well as translucent or transparent effects, and it can be applied using a plethora of artistic techniques. These include classic painted enamel; cloisonné, which entails soldering delicate metal strips to a metal surface to form a design and filling the spaces with enamel; plique-à-jour, where the enamel is applied into cells with no backing so that the light shines through it; and guilloché, a particularly laborious method of placing translucent layers of enamel over an intricate, machine-engraved pattern.
Peter Carl Fabergé is considered a pioneer of the art form, lavishing large amounts of time to creating dazzling effects in enamel. By layering as many as six coats of enamel and firing them at decreasing temperatures, he was able to achieve a beautiful iridescent "oyster" finish that resembled the inside of an oyster shell and quickly became his trademark. 
Today, a small number of artists continue the tradition of hot enamel, including several jewellers who have chosen to specialise in the technique. One of them Ilgiz Fazulzyanov, an award-winning vitreous enamellist who designs under the name Ilgiz F. One of just a few craftspeople in the world who is a true master of the hot enamel technique, Ilgiz's main source of inspiration is the natural world around him. Be it a dragonfly, a flower or a mountain, enamel is central to his expressive, naturalistic aesthetic, applied using his favourite technique of champlevé, which involves cutting grooves into the surface of the metal and filling them with enamel before firing. His intricate, incredibly detailed masterpieces can be admired on 1stdibs.com and at Bentley & Skinner in London. 
Another designer who has been instrumental in bringing vitreous enamel jewellery to a wider audience is Britain's Alice Cicolini, whose vibrant creations are made by traditional Jaipuri artisans in India using the ancient enamel technique of meenakari (similar to champlevé in Europe). The technique her enamel master Kamal Meenakar – one of Jaipur's last remaining masters of meenakari – uses to create her jewels is a closely guarded secret, with Alice divulging only that the jewels are fired "quite a few" times in the kiln, but Alice points out that it is not just the technique itself that is important. The way it is applied is crucial to the finished look: "Kamal is an artist, not a producer, and in that regard, he brings a particular interpretation or mood to a jewel when he's working. Giving the master craftsman space to bring themselves into the work brings a unique poetry to jewellery."
Alongside established enamel jewellery designers like Cicolini and Ilgiz F., others are just beginning to experiment with vitreous enamel, with beautiful results. Nada Ghazal is best known for her sensuous, curvaceous jewels decorated with undulating waves of coloured gems, but she has taken a different direction with her My Muse Glory pieces – part of the new My Muse collection. Inspired by the patterns on the ceiling of the Grand Theatre in Beirut, her home city, Nada's craftspeople have used the champlevé technique to introduce colour to necklaces, ring, earrings and pendants, carving the gold and filling the cavities with vitreous glass powder, which transforms in the kiln into glossy purple, red and pink accents. 
The vivid beauty of lacquer enamel
Because of the artisanal nature of hot enamel – even after years of practice, it is so temperamental that you never know what might happen in the kiln – jewels decorated using this technique are often one of a kind, with a price tag to match. Easier to apply is a technique known as lacquer enamel (also referred to as cold enamel), which is proving popular with designers who want to incorporate flashes of colour into repeatable collection pieces. While it can't replicate the beautiful iridescence and depth of hue of hot enamel, cold enamel is an exciting material to work with because you can achieve intense colour in a rainbow of hues.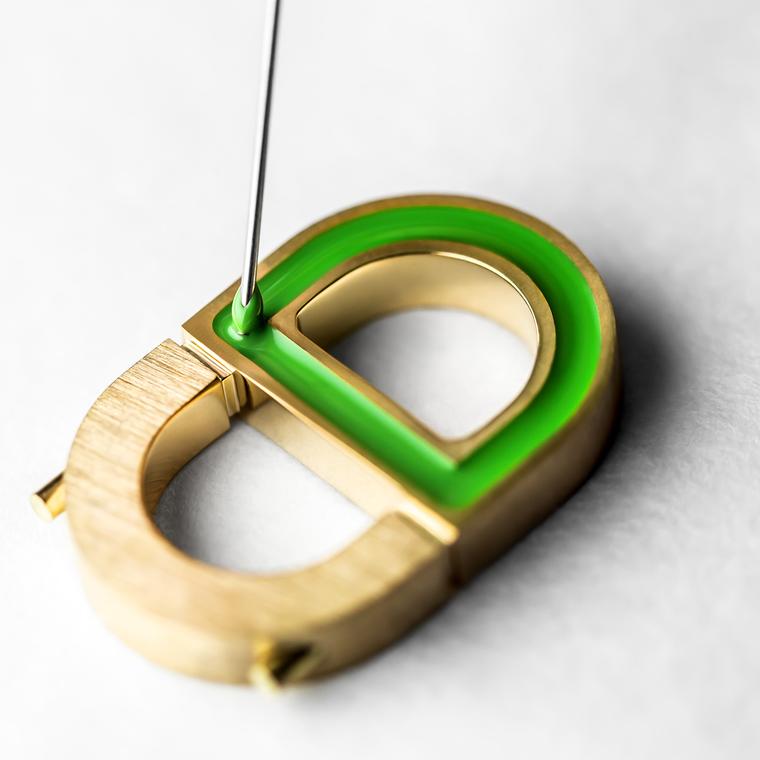 Lacquer in the traditional Eastern sense was made from tree sap, but lacquer enamel is a much more modern technique. Using a pigmented resin to achieve a glossy block of colour without the use of high temperatures, the cold enamel is layered onto metal, often multiple times, until the desired depth and shine is achieved, or poured into a cavity, drying to a hard finish that is filed and polished to a high shine. Often perceived as an inferior product to vitreous enamel, it is true that even a novice can experiment with cold enamel. Less volatile and time-consuming it may be, but Alice Cicolini doesn't consider it a lesser medium – it really depends on the artisan who is applying it. 
For Alice's new Sari collection, which is inspired by India's rich sari tradition, she plays on the strengths of lacquer enamel that hot enamel can't deliver. Pairing playful stripes, patterns and polka dots with punchy coloured gemstones, the vivid hues and crisp geometry have a very different look and feel to her hand-engraved champlevé enamel jewels. "I have been lucky enough to find a master craftsman in Stanislav Reymer," she says, "who is also inspired by what lacquer can do that vitreous cannot." Working with an expert in his field, there is opportunity for innovation too. Together, they have invented new ways of setting colour inside colour without requiring metal barriers, creating marble enamel and moulding enamel forms, none of which would be possible with hot enamel. 
Showing just how much fun can be had with the technique, Boucheron's Serpent bracelet from the new Ailleurs high jewellery collection glitters with tsavorites, with the pattern of its scales crafted in lacquer enamel. The playful nature of the lime green enamel gives this slinky snake a cartoon-like feel, but don't be fooled: this is serious jewellery, for serious collectors.
In the past year, vivid enamel jewellery has been sweeping through social media feeds. Now it is making its way into the rarefied world of high jewellery, there is no doubt these mood-boosting splashes of colour are here to stay.
An artistan applying lacquer enamel to Dior's new Color Dior jewels in neon hues. 

Ilgiz F. cutting grooves into the surface of a jewel, which will be filled with vitreous enamel before being fired at extremely high temperatures.

An enamel, chrysoprase and pearl brooch by French Art Nouveau jeweller René Lalique, who was a master of the plique-à-jour enamelling technique. Credit: Christies

Alice Cicolini's vibrant creations are made by traditional Jaipuri artisans in India using the ancient vitreous enamel technique of meenakari. Photographed by Briana Blasko