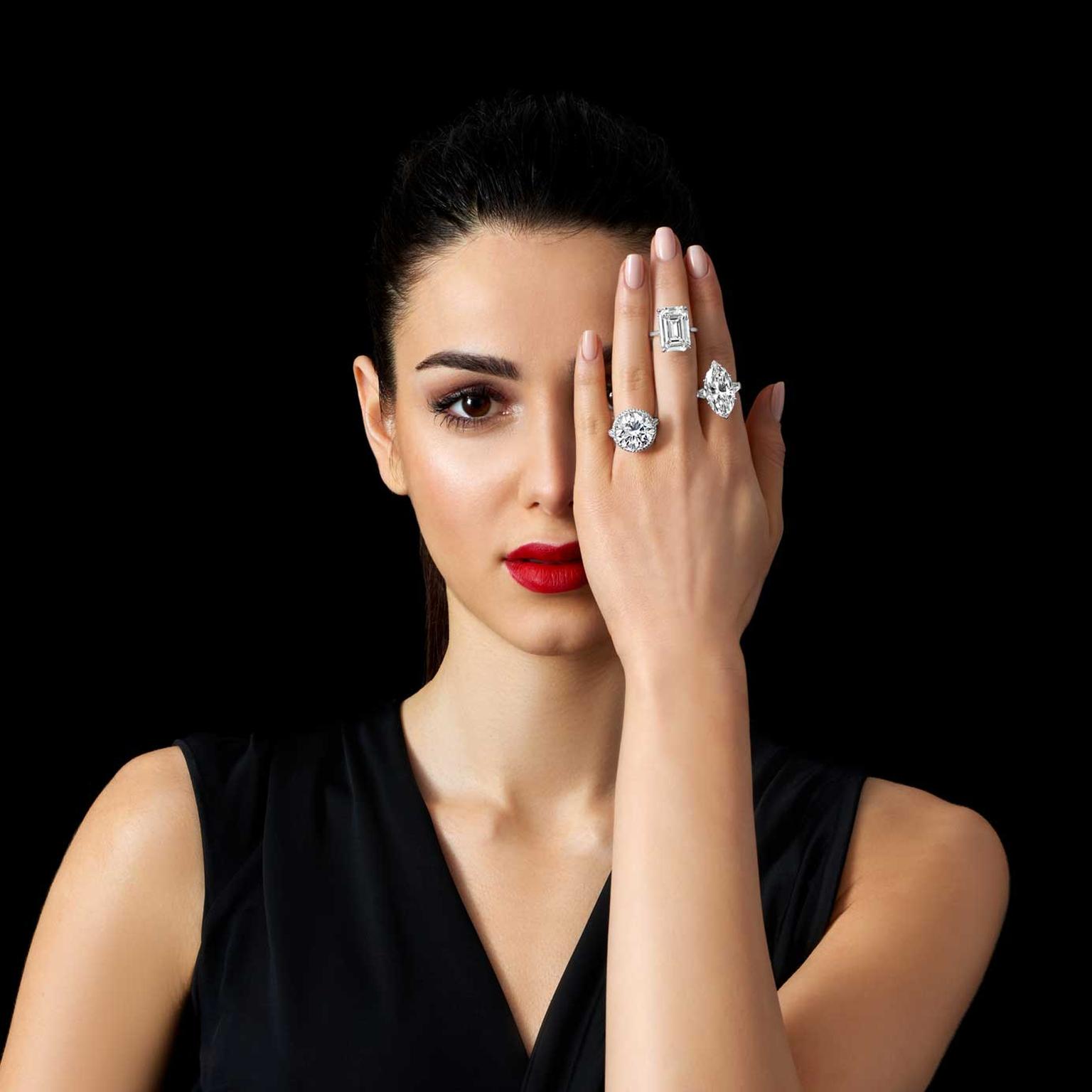 Nour by Jahan  was launched at the beginning of 2020 by Nour Jahan who is 22 years old. Nour Jahan is an eighth generation jeweller from the Jahan Genève family with a history that spans back 170 years, being the jewellers of choice to no less than 35 kings.
Nour's ancestors are the Jahan dynasty who gained the trust of many of the royal houses of the Middle East and beyond. Their highly personal service and discretion paired with a near-miraculous ability to source the most magnificent and rare gems meant that over the generations, their business has thrived and today has a global presence offering unique and fascinating designs to new generations of clients. 
I caught up with Nour Jahan in the family's Geneva headquarters to find out more about this bright new brand with an enviable heritage.
What inspired you to start Nour by Jahan?
Each generation brings something new to the family business and I feel that it is my duty to expand our operations. Being born into the world of jewellery and craft, I have always loved it. I grew up seeing my family's devotion to creating such magnificent jewellery and instantly knew it was something that I wanted to be a part of, which is why I am taking this step to create my own line, Nour by Jahan.
In fact, I started sketching the first Nour jewels when I was in London and continued to do so throughout my studies. I always had in mind that my designs should be truly unique and contemporary. Each of my jewels needs to be special, something out of this world.
I presented my collection for the first time at an important jewellery exhibition this year and all the pieces were sold out. This was the sign that I had to launch my brand.
How did your love affair with jewellery begin?
Every day after class I would head straight to our Geneva workshop to watch beautiful jewels being created by my uncle Shahpour, CEO of the Jahan Company. I would sit by his side as he analysed gemstones and refined his designs. With the gemstones laid out before him, he would explain to me who they were for and what he intended to do with each stone. I was fascinated by his boundless knowledge and appreciation of gemmology.
Shahpour Jahan played a huge role because of his inspirational devotion to his craft and his unbelievable attention to detail. The more I learnt about our craft, the more determined I grew to become a world-renowned jeweller.
When he finished a piece, he would gaze at it proudly, holding it carefully as he inspected it to ensure it was absolutely perfect. But as soon as he was done admiring it, he would start working on the next one. It was amazing to see his drive and tireless passion for creation.
I believe my passion comes from spending so much time around beautiful jewellery and helping out from a young age. I eventually began drawing my own designs as I have always loved the creative side of jewellery. I would then take my designs to Shahpour, who would give me ideas on how to improve them and explain what I needed to do before he could make the piece. Even though I was just a child, he would always talk to me as an adult. I think receiving structured feedback helped me gain an appreciation for designing jewellery and shaped my ideas.
Can you talk me through your design process?
Nour translated from Persian and Arabic means 'the divine light' and I see the art of creating jewellery as my way of sharing my inner light with the world. When you wear Nour By Jahan jewels, I want you to feel special. I want my jewellery to reveal your unique radiance.
Just like every woman, every diamond and gemstone has a magical inner light. With a confident hand and the finest of expertise, every cut and polish brings forth the gemstone's inner beauty and accentuates its unique radiance throughout my designs.
As for inspiration, I find it every day in the beauty of the world surrounding us, as my jewels capture the essence of a moment. For example, the Kiss collection is a celebration of falling in love. The idea came to me as a couple walking ahead of me stopped and kissed. They were right in front of the middle of a lake that was shimmering in the sunlight. I captured this amazing moment in the design of interlacing lines of rose gold set with round brilliant diamonds. I see each of the diamonds like the steps in your life and at one point your path overlaps with someone else's and that is love. Some moments are so special you want them to last a lifetime. Simple yet breathtakingly beautiful, the elegant aesthetic pays homage to the delicate and precious moment of a first kiss.
I design all the Nour by Jahan pieces and I personally check every step from start to finish of the creation process. I sketch with pen and paper and then I take it to be converted into a 3D computer-aided design to refine and perfect every detail.
You launched Nour by Jahan with five different collections. Can you tell me about them?
Kiss as I explained, is all about the magical first moments of falling love. The Nour By Jahan Signature collection sets different shapes of sapphires and diamonds as if they are floating in the night sky and the stones sit directly against the bare skin. Jolie uses different shapes of diamonds to create new effects. I believe that like diamonds, we are all multi-facetted and this collection captures many different ways to discover the beauty of each diamond. All my collections hold one thing in common: showcasing and radiating light, through its designs and to the wearer.
Movement is a key element in the Nour By Jahan jewels. For Dancing Diamonds, my inspiration comes from the sun's energy and strength as it lights up the whole sky; dazzling in its beauty and illuminating everything it touches.
The innovative and intricate design is delivered by superior Swiss craftsmanship and technical excellence. Each brilliant-cut diamond dances playfully along its own band of pure gold, beaming out like a ray of light against the skin. The movement of the diamonds as they flow from side to side creates a dazzling effect against a warm backdrop of the gold. Just as the sun brings its brilliant glow to everything it shines its light on, so do you as you wear the Dancing Diamonds collection.
It took a long time to get this just right and it requires the expertise of master jewellers with many years experience at the bench. I am fortunate to have decades of the Jahan family knowledge and craftsmanship behind me to be able to produce technically complex pieces like these.
Likewise, the Play collection is also full of movement with baguette-cut diamonds elegantly capturing a playful spirit. As they fluidly glide along, each centrepiece diamond is suspended in an innovative and unique invisible setting, allowing the stones to move, play and catch the light as you wear the piece.
The different collections can be mixed and matched, and I wear the multi-colour sapphire Signature Nour bracelet with the Play bracelets and rings.
Tell me about the quality of your gemstones and how you source them.
I only choose gems from the best mines in the best locations around the world to ensure the highest quality. I am lucky enough to be able to source these from Jahan's private stock that has been amassed over the years. I handpick each stone myself so that it is exactly the right size and colour. I particularly like using blue, pink and purple sapphires as well as diamonds. My next designs will feature emeralds. I love this gemstone as it brings positive energy, with its green colour as a symbol of hope.
I use smaller stones than those that Jahan Genève is famous for so that my clients can wear jewels on a daily basis but still have something special and impressive. I also do some high-end pieces for special events. But I set myself apart from Jahan Genève by engaging with a younger audience.
What sets Nour by Jahan apart from other jewellery brands?
It's the combination of a unique accumulation of knowledge, the jewellery making skills that I have at my disposal and my passion for jewellery. I am truly blessed to have this dynasty and heritage behind me. Jahan's solid and respected reputation gives Nour by Jahan a huge advantage. Each Nour by Jahan jewel is made to the very highest standards with all the assurances you would expect from my family. And for me it is really important that each design has a special meaning, a story to tell and I want each jewel to be the wearer's favourite piece.
Where can we find your jewels?
Nour by Jahan is sold in all Jahan stores so you can find them in London, Geneva, Riyadh and Jeddah. All Nour By Jahan collections are available to shop online via the website and we deliver worldwide.