Strong and committed to the cause, Ukrainian jewellers are creating beautifully crafted jewels both to keep their businesses afloat as well as supporting their country's economy  following the Russian invasion. 
The jewellers all have tragic stories to tell but despite extremely challenging circumstances, they share the values of resilience, optimism and strength. They talk about 'a before' and 'an after' February 2022 when the Russians army invaded Ukraine. They explain how their life changed so dramatically and how, 'before', was mainly about their pride in making impeccably crafted jewels, a testimony to Ukrainian creativity.  'After', is another story.
Stanislav Drokin, is a renown jewellery artist, designer, gemmologist, winner of numerous Ukrainian and international competitions and a member of the National Union of Artists of Ukraine. From his Kharkiv atelier, Drokin has been experimenting with new forms and colour gemstone combinations for more than thirty years. 
Since the beginning of the conflict, Drokin lives in his workshop while the rest of his family has taken refuge in Germany. He became a volunteer as soon as the war started and since then, his atelier has been used as a warehouse for a nearby military hospital.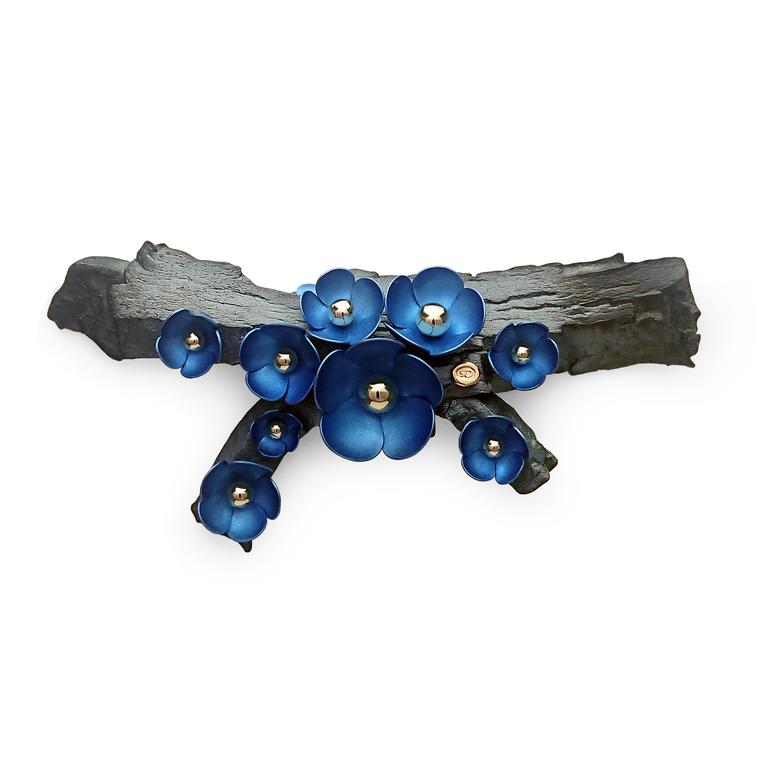 Drokin says: 'In May, I began to create jewellery using fragments of shells that exploded in the city of Kharkiv and its surroundings. This is how the international project Forget Me Not was born.'
Drokin states that the creative drive behind the project is to preserve the memory of the war and those who have died, as well as paying homage to the courage of its defenders and the cultural, historical and scientific heritage that has been destroyed. The project was inspired by the gratitude of the Ukranians for all the international legal, humanitarian, medical and military aid given to them and symbolises hope blooming amongst tragedy. 
The brooch is a steel fragment from a Russian projectile with nine stylised blue titanium forget me not flowers. Drokin donated it to be sold at  Sotheby's auction on the 10 November 2022. It was presented alongside nine other jewels curated by Olga Oleksenko and Natalia Kietiene founders of   Strong and Precious, a platform that supports Ukrainian jewellers. The auction raised CHF 53.424 that was given to the Superhumans rehabilitation centre in Ukraine, a specialised prosthetics and rehabilitation clinic. 
Oberig is a Ukrainian brand founded in 2009 by Tatyana Kondratiuk. Slavic traditions are deeply rooted in its DNA and each jewel is a precious talisman that embodies Ukrainian symbols and creativity. They are often inspired by the pattern of "vyshyvanka", the traditional embroidered shirt of the national costume. 
The brand was working on new collections when the war started and since then has had to endlessly adapt. The workshop in Kharkiv ceased operating for months while the city was under constant artillery shelling. The boutique in Kiev has been permanently closed and most of the team is working to  support the Ukranian Armed Forces with multiple fund raising initiatives while attempting to continue running the business. 
Kondriatiuk explains: 'In May 2022, we re-opened our production facility to start a very important charity project for the defenders of Ukraine: wedding rings. The rings are sent free of charge, to soldiers who are getting married during the war.  We realised that we could help our defenders with what we do best: making jewellery. The scheme is very popular and our team delivers them to all regions of Ukraine, even to the hotspots in the East and South of the country.'
Kondiratiuk's optimism for the future is infectious and, as she talks about the inevitable victory of Ukraine, she hopes that her country's heritage that she cherishes so much, will continue to inspire future creations.
Founded in 2016 by former ELLE editor and media presenter Valeria Guzema, the Ukrainian brand creates timeless pieces with a minimalist and chic style. 
Its simple and delicate designs have been worn by supermodel Milla Jovovich and the Ukrainian First Lady Olena Zelenska. The brand is based in Kyiv, and every piece of jewellery is hand-made in the Ukraine. 
The Guzema Foundation was established in 2020 and since the start of the invasion, has been fundraising to provide medical treatment for children and women's empowerment programs. The Foundation donates 100% of its profits for the acquisition of ammunition for the Ukrainian Armed Forces and the Territorial Defence of Kyiv. 
Valeria states: 'The war had a devastating impact on our production, sales volumes and development strategy. We entered foreign markets abruptly and quickly, in order to keep the business afloat, defend our economy, and support our team. I have had to adapt to new realities and I continue to work simply because there is no other choice. We work despite regular airstrikes, the threat of rocket fire and power outages because every one of our team knows we are working to win.  In 2023, we plan to win. All of our business activity is aimed at supporting the Ukrainian army as well as our economy. We will continue with our charitable projects as well as donating our profits to the army.' 
In spite of everything, Guzema is producing new designs to remind us jewellery lovers, that buying from Ukraine is a way to support the country. The recent Spadok Collection is inspired by viburnum, the evergreen plant that is a symbol of the country. It looks like embroidery and at the same time references the pattern of the Ukrainian soldiers' uniforms, to make everyone remember that the struggle for independence continues.
Since 2008, Anton Boyko has been making bespoke commissions for private clients as well as designing sleek and finely crafted jewels from his atelier in Kyiv.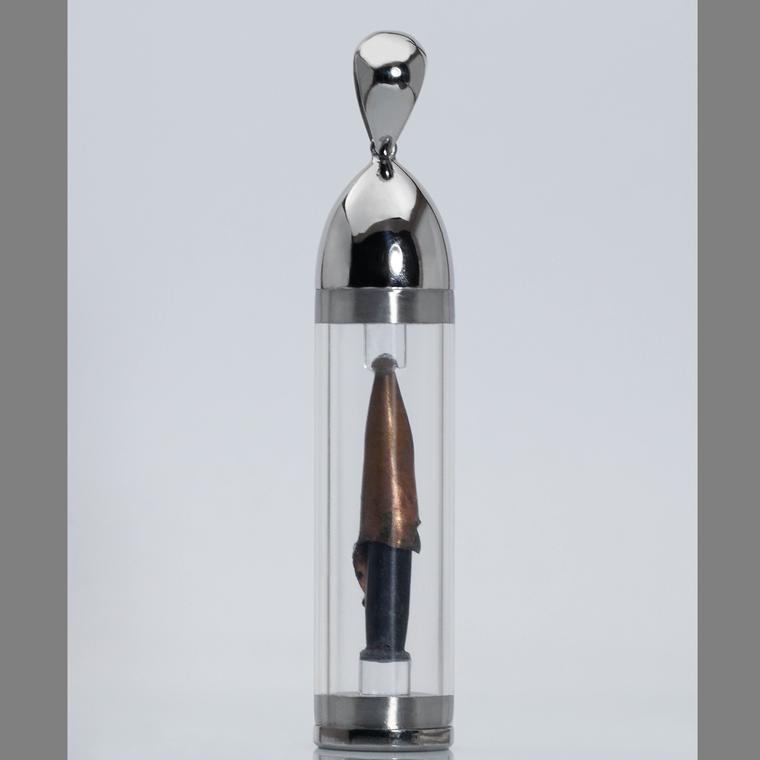 Like everyone else in the Ukraine, Anton's work is affected by the war. But even if he can't spend as much time as before at his workbench, his Instagram account allows us to follow from afar his beautifully made creations. One piece in particular stands out:  a pendant in the form of a tiny transparent phial containing an  AK-74 bullet that was extracted from the arm of a Ukrainian soldier who survived the assault. 
CDD, founded by architect Daryna Chernyshova in 2019, fuses artisanal craftsmanship with computer assisted design. The method is called Voronoy after its creator, the Ukrainian mathematician Georgy Voronoy.  Chernyshova is fascinated by parametric design, a method in which shapes are formed by algorithms that results in  jewels with pure and minimalist lines. 
In March 2022, the war closed her  workshop in Kharkiv and she is hoping to soon find a new place in a city less affected by the war. For the moment, she is concentrating on selling her existing jewels through her website and despite the hardship of creating in a war environment, she is working on new capsule collections . 
Chernyshova says: 'The main challenge is to not let people forget about the horrible events that started last year. We should look into supporting Ukraine and Ukrainian employees even though this is much more difficult due to the war.'
Alyona Kiperman is the Odessa-born founder of Nomis.  She launched her firm in 2020 during the Covid pandemic and showing resilience, passion and endurance she has continued to design new collections despite the war. 
When ask what motivated her to launch her own jewellery line, she gives a very pragmatic answer: nobody in her family had pierced ears and they all wanted to wear earrings, so she designed ear cuffs for all of them.  Three years later, Nomis offers much more than just ear cuffs and the range of jewels are innovative, playful, gender-fluid, multifunctional and set with lab-grown stones.
Kiperman says: 'I believe that the joy of jewellery comes from discovering the unexpected and witnessing innovative techniques and ideas, diversity of colours, shapes and functions that revamp existing stereotypes. Nomis' motto is: wear it how you want."
Today's reality is very different though. Constant difficulties, worries and fear caused by the war not only disturb Nomis' production and logistic but also affect creativity.
Kiperman states: 'What Russia is doing is terror, aimed not only at destroying lives, ecology and hopes but, also at crushing the ability to make plans and creates. Finding inspiration takes a lot of effort in such context but Ukraine will be stronger and light will prevail.'
Ukrainian mother-and-daughter duo, Elena and Dana Drutis, turned their hobby into a business based in Odessa and London. The playful and modern jewels are inspired by their family history and among other things, a growing collection of kaleidoscopes.
While the founders live in London, most of the team is based in the Ukraine and inevitably, production is severely affected by the war. Safety is a constant worry, and the lack of electricity or heating makes it hard to work normally. 
Dana says: 'We remain positive and more motivated than ever to showcase our brand and our Ukrainian talent, creativity and original designs to the world. This New Year's Eve, millions of people made one wish and when this wish for peace in our country comes true, we will return to full speed with even more ambition than ever!'
In the meantime, the brand is doing its best to sell existing pieces and to design the jewels of tomorrow which will be unique, creative and bold, like the people of the Ukraine.
The elegant ring in silver and amber was designed and made by Anton Boyko from his atelier in Ukraine for a private commission from a client. 

The Boomerang earrings from the new collection designed by Tatiana Kondratyuk, founder of Oberig who says:  "The Universe is not indifferent to our actions. Only we ourselves have the power to build a life that reflects the way we see it in our dreams. To craft our very own boomerang of happiness with both thought and action" 

This impressive ring, set with moonstone, spinel, tanzanite, sapphire and opal, was completed in 2022 by Stanislas Drokin, despite the challenge of working during the shelling of Kharkiv by the Russian army.