Meaning "you and me" in French, their name alone puts toi et moi rings in the running for the most romantic jewel of all time. But what gives this style of ring the amorous edge is its heritage. Inextricably linked with a love story of historic proportions, Valentine's Day is the perfect time to look at the meaning and significance of this classic design, which is enjoying a popular revival.
Toi et moi refers to a ring with two gems that sit side by side or close to each other, symbolising two souls becoming one. A classic toi et moi ring features two stones of a similar size and cut, but in recent years designers have been playing with the concept, juxtaposing different motifs and materials, as well as gems.
The tradition of giving toi et moi rings to represent the love between two people dates back centuries, but it was one very famous couple and their scandalous relationship that brought the look to the attention of a wider audience. In 1796, Napoleon Bonaparte, at the time a revolutionary soldier in the French army, proposed to Joséphine de Beauharnais. She married him a mere three weeks later, but Napoleon's family were fiercely against the union. 
An at-the-time shocking six years older than him, Joséphine was also a widow with two children from her previous marriage. But the future Emperor of France was smitten, and it was a love story that has gone down in history as one of the most passionate of all time.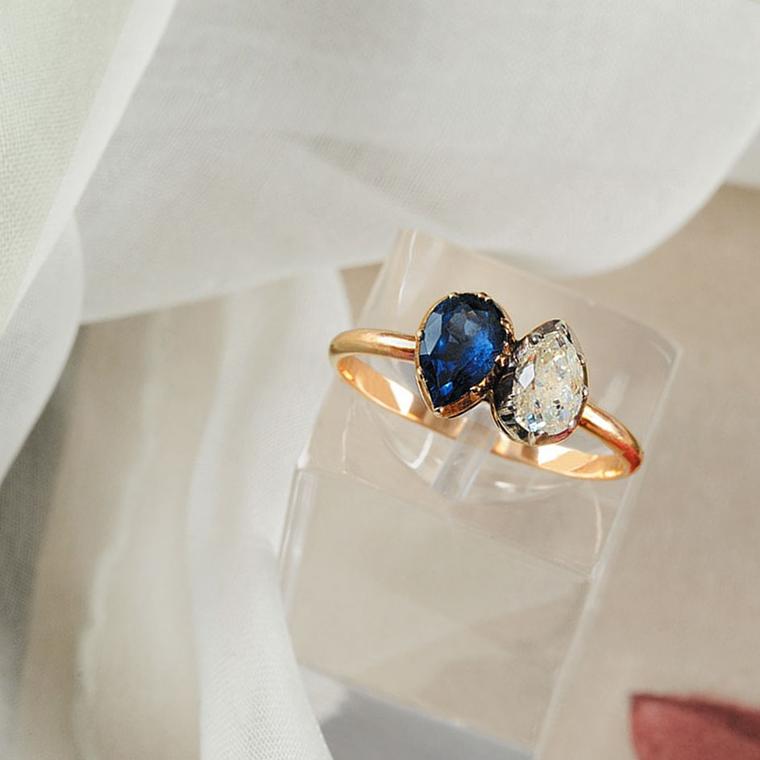 The ring, above, which made the news when it was auctioned by the French jewellery house Osenat in March 2013, comprises a blue sapphire and diamond, both cut in a pear shape and set on a slim gold band. A classic toi et moi with the gems nestling next to one another, the ring had a pre-sale estimate of just €10-€15,000, but it sold for close to $1 million thanks to its outstanding provenance.
Other famous rings include the emerald and diamond toi et moi given to Jacqueline Onassis by John F Kennedy in 1953, but the popularity of this two-stone style of engagement ring was at its peak during the Edwardian and Belle Époque periods.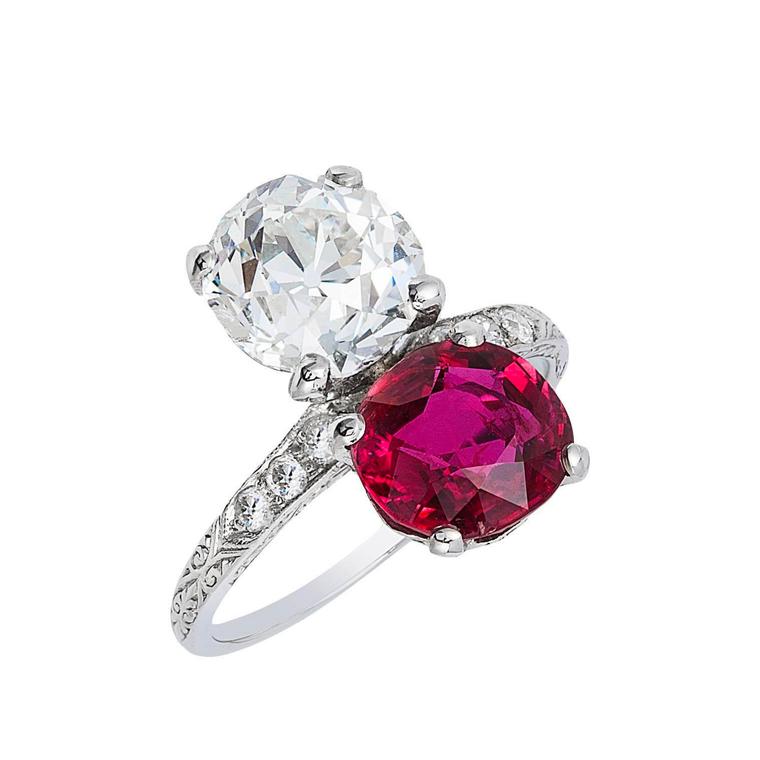 The significance of two stones was considered particularly romantic because not only did they represent the union between two people, the stones themselves carried symbolism too. Especially popular was the pairing of a diamond with a ruby, the diamond representing love and prosperity, the ruby passion and devotion.
Today's toi et moi rings range from David Morris' classic design, with white and green oval-cut diamonds set on a twisted platinum band, to Chaumet's pretty Rondes de Nuit ring, top. Some jewellers have done away with cut gems altogether and replaced them with motifs, with blooms at Louis Vuitton and bees at Theo Fennell, below.
Toi et moi rings are a speciality of the French diamond house Messika. During Couture Week in Paris recently I tried on several beautiful designs, which put a cool spin on the style by tilting the gemstones so they sit at unusual angles on the finger.
The charming non-conformity of the My Twin ring, below, makes it easier to wear than a traditional toi et moi. "I wanted to present a modern interpretation of the classic toi et moi by marrying two contrasting cuts of diamonds: the pear and the emerald," explains founder Valérie Messika.
Rather than being consigned to history, it is creative jewellers like Valérie who are fuelling the comeback of the toi et moi by bringing a magnificent modernity to a true classic.
Browse our gallery of the most beautiful toi et moi rings below.
Sold for $949,000, the historical, sentimental engagement ring given by General Bonaparte to Josephine de Beauharnais is set to be auctioned on 24 March 2013 in Paris. The gold ring is set with a diamond and sapphire, cut in a pear shape and set in a "you and me" style.

Early 20th century ruby and diamond toi et moi ring, available from 1stdibs.com (£64,866).