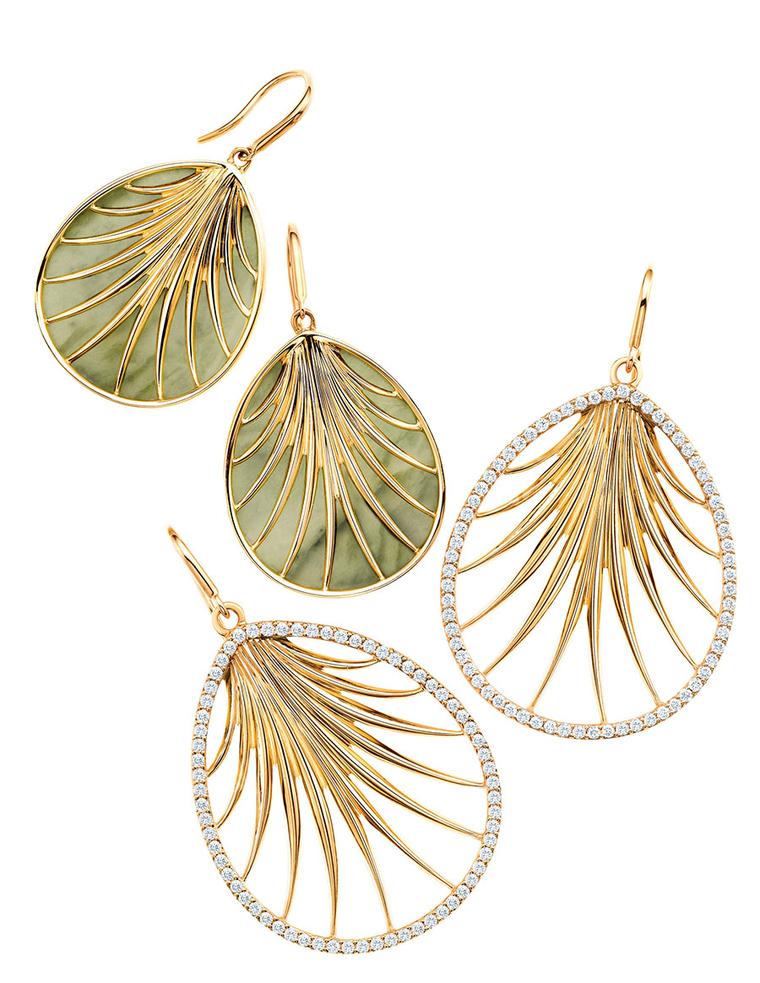 Manhattan takes you to Morrocco, South Africa and Japan thanks to Tiffany & Co's latest pieces by designer Paloma Picasso: the Villa Paloma jewellery collection. Having designed pieces for the company since 1980, these new pieces were inspired by idyllic gardens visited all over the world by Paloma herself, "The garden is a gateway to nature," she says. "I wanted to create jewellery that captures the pleasure of discovering its infinite beauty and diversity".
The natural forms of tropical plants are evident even at first glance, with the palm providing the creative catalyst for two varying motifs, not just in shape but also in colouring too, particularly the nephrite green jade complimenting the 18ct gold forms of the Villa Paloma palm earrings. Taking cues from the ancient textile pattern of Persia and India, the Paisley palm is imbued to a different effect in the 18ct gold bangle, available with green tsavorites or pink sapphires.
Further permutations on this botanically inclined collection see a confident mix of precious metals and stones with patterns that manage to conjure romance from the natural geometry so prevalant in tropical vines and flowers such as the bougainvillea that provides yet more inspiration from warmer climes. The work of the craftsmen is evident in a boldly delicate combination of sterling silver or 18ct gold with, jade, onyx and scintillating lapis lazuli in necklaces, pendants and earings, each one representing a different facet of the idyllic gardens Picasso harkens to.
With over three decades now since Tiffany & Co and Paloma Picasso first came together, the Villa Paloma pieces continue not only a fruitful relationship but one that has seen Paloma create pieces that immediately breathe with their own individual character- be it the colourful gemstones or symbolic doves of previous work, or the clean, bold, and flowery shapes on display here. Her father may have been one of the greatest painters of all time, but Paloma Picasso is ensuring a dynamic and precious legacy of her own.
The Villa Paloma collection is available at select Tiffany & Co. stores worldwide and prices range from £205 to £37,600.
Tiffany Villa Paloma Bangles priced from £620

Tiffany Villa Paloma pendants (from left to right): in 18k gold, large -£1,700; in 18k gold with black onyx, large - £2,025; and in 18k gold with lapis lazuli, large - £2,025

Tiffany Villa Paloma palm earrings in 18k gold with nephrite green jade, medium - £1,825; Tiffany Villa Paloma earrings in 18k gold with diamonds, large - £5,800