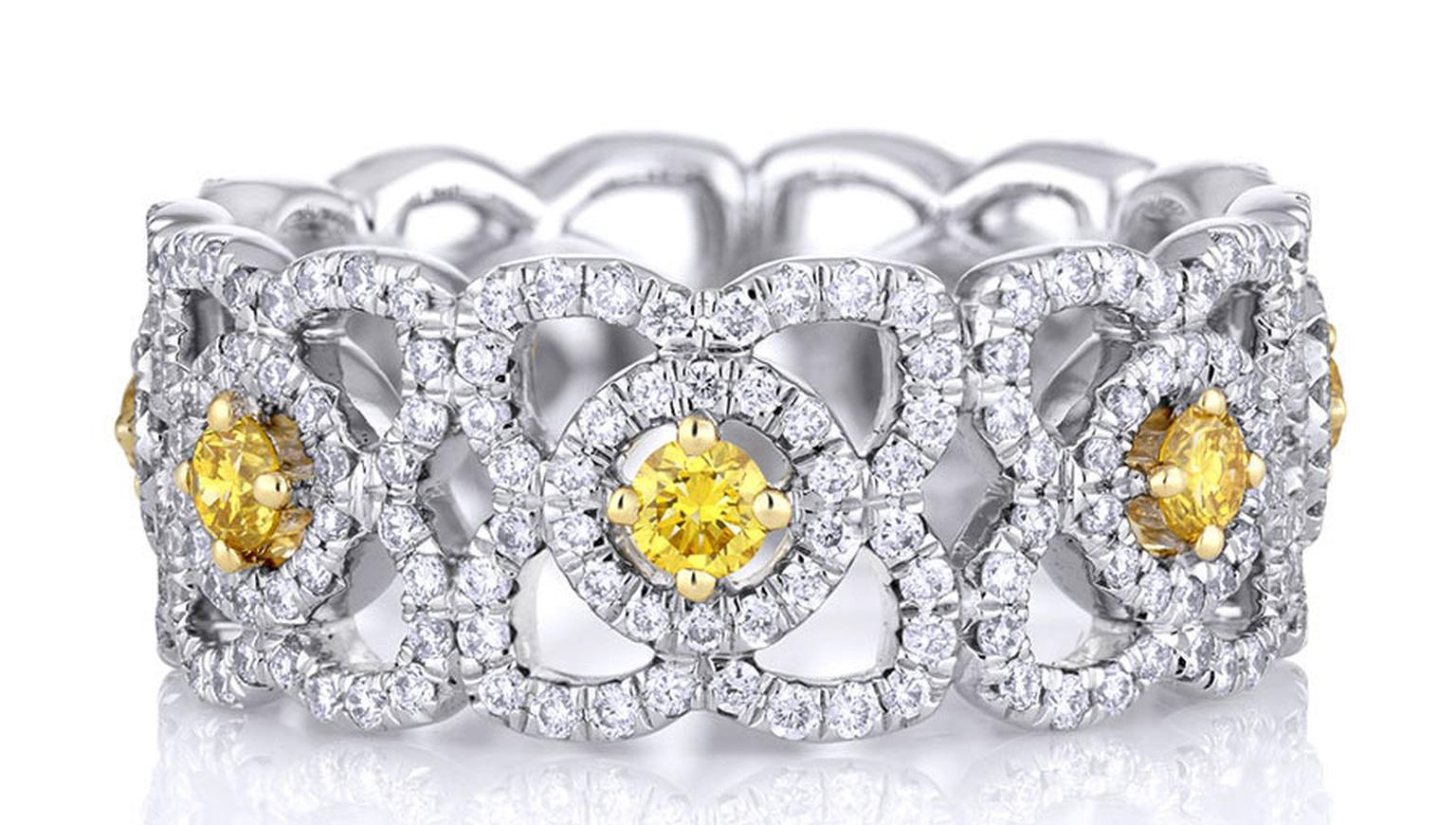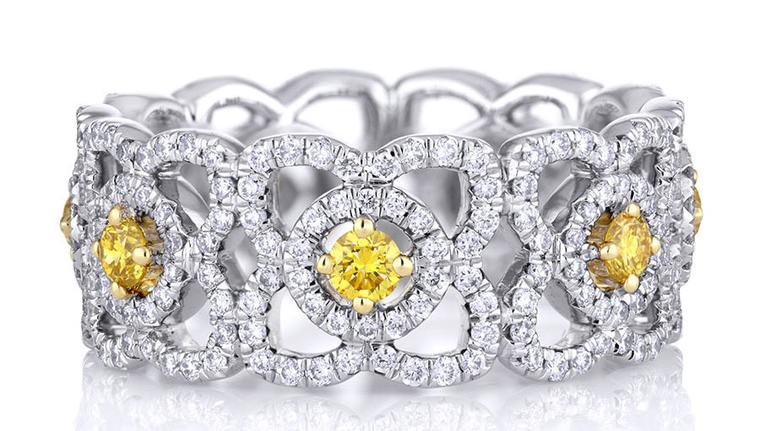 De Beers' new Enchanted Lotus collection is the latest diamond jewel collection from this house. The classic De Beers diamond pavé flows in continuous lines around the precious centre stones to give the effect of the Lotus flower itself, albeit one steeped in diamond luxuriance.
The motif runs through every piece but in surprisingly different ways. In the bracelets, earrings or necklaces the design allows for different palettes to flatter all skin tones, be it the brazen glow of pink gold around fiery yellow diamonds, or the cleaner light of a white diamond next to your skin. The lotus flower is symbolic of renewal and the cyclical nature of the sun, with both the pink gold and yellow diamonds paying homage to sunrise and sunset.
Another interesting quality is not only the duality of the colours used, but the fact that the collection is such a mix of bold bracelets and delicate necklaces, the contrasting forms suggesting the frailty yet eternal power of this symbolic flower. For example, the dew drop effect of the Enchanted Lotus Sautoir is achieved with sparkling diamond drops delicately suspended between the solitaire diamonds in the lotus motif. In contrast to this subtle blend is the bold styling of the pink gold Enchanted Lotus band with the motif recurring again and again in a seemingly never-ending circle.
If there is one piece though that really stands out from all of them, it would most certainly be the Enchanted Lotus Pendant. It may not be the only one to make use of a round fancy vivid yellow diamond, but it is certainly the most dramatic of the collection:  with the diamond set at the centre of a fine white diamond thread pavé.
De Beers have set out to make a luxury collection of contrasts around an eternal theme and being De Beers the brillance of the diamonds is evident yet the overall effect is elegant and handled with the lightest of touches.
De Beers Enchanted Lotus Band with White diamonds. Price TBC

Enchanted Lotus 3 motifs bracelet with white diamonds, set in white gold. Total carat weight 0.84 at £4,700

Enchanted Lotus 1 motif bracelet with white diamonds, set in white gold. Total carat weight 0.18 £1,275

Pink Enchanted Lotus Diamond Band with white diamonds, set in pink gold. Total carat weight 1.06 at £5,050

Pink Enchanted Lotus Diamond Baby pendant with white diamonds, set in pink gold. Total carat weight 0.16 at £1,300

Pink Enchanted Lotus Diamond Sleeper Earrings with white diamonds, set in pink gold. Total carat weight 0.42 (£1,925).

Enchanted Lotus Dew Drops Sautoir with white diamonds, set in white gold. Total carat weight 2.53 at £13,400.

Enchanted Lotus Yellow Diamond Sleeper Earrings with yellow diamonds, set in white gold. Total carat weight 0.47 at £2,675.

Enchanted Lotus Dew Drops Necklace with white diamonds, set in white gold. Total carat weight 1.27 at £9,350.

Enchanted Lotus Yellow Diamond Pendant with yellow diamonds, set in white gold. Total carat weight 0.83 at £9,900

Enchanted Lotus Band with yellow diamonds, set in white gold. Total carat weight 1.21, at £7,850