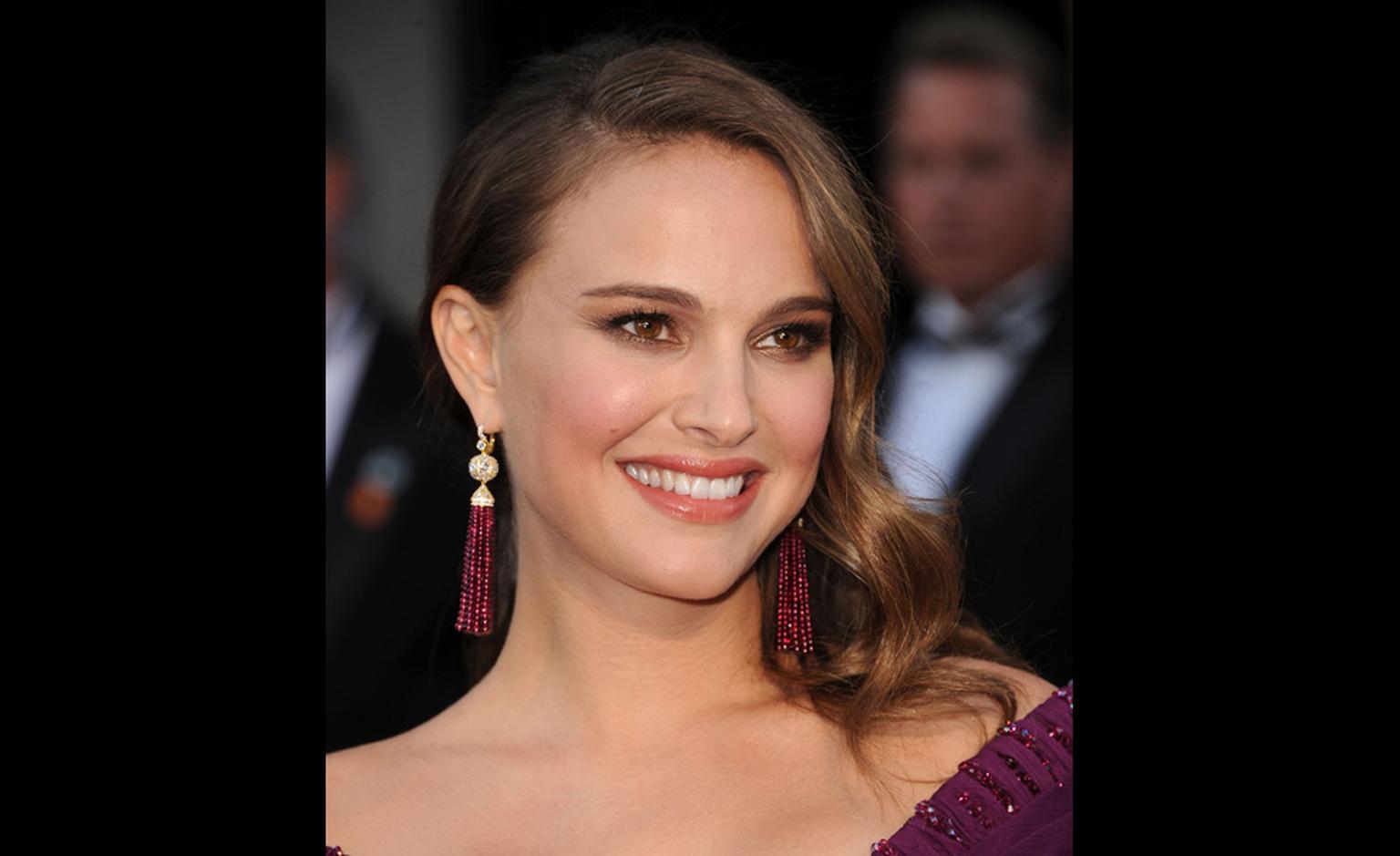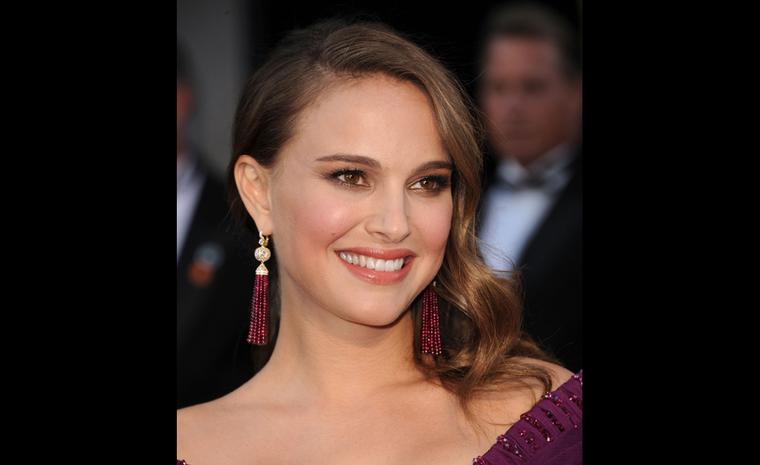 While Anne Hathaway wore a cool ten million dollar Tiffany Lucida Star necklace down the red carpet, queen of the night, Natalie Portman chose a more modest approach. See what these all-American girls chose for this most American of events and how widely in price their choices varied. First of all, hats off to Tiffany for dressing both the queen of the night, Natalie Portman who won an Oscar for Best Actress in "Black Swan",  as well as Anne Hathaway who was hosting the event. While Anne Hathaway wore ten million dollars worth of diamonds around her neck and near enough another million between the ring on her finger and her earrings, Portman chose a pair of tassel earrings in more modest rubellite. She also wore a diamond ring on her hand ($63,000) and a pair of gold and diamond Jean Schlumberger design earrings ($9,550) in her hair. Perhaps she chose the feathery earrings because they reminded her of  the swan wings that brought her to the red carpet on this occasion. Given that we don't have a price for the rubellite earrings and that my maths is appalling, let's round the figures up and say that Anne Hathaway wore close to 11 million dollars worth of jewels while Natalie Portman wore less than $100,000. Now I might have my knuckles rapped for saying this, but I think that Natalie Portman looked more original in her mauve rubellite earrings. The flash of colour and the movement of those beads caught my eye and immediately had me wondering what they were. Anne Hathaway's diamonds were more predictable and what you could call investment grade jewels, the kind that hold their value and are passed down from generation to generation. Natalie Portman's earrings, though serious jewels, were more of the moment and lighthearted. The difference comes down to the women's personalities.  The choice of gems tells me that Natalie Portman likes to have fun while Anne Hathaway is more old-school and traditional. Or maybe it is because Natalie Portman just wanted something to match her mauve dress. Who knows, but it's fun to speculate. And have a think, what would you choose for the night if Tiffany's safe was opened up for you? Are you a Hathaway-style princess or a cool Portman chick? For the record, I would probably come out looking like a Christmas tree.
The Tiffany Lucida Star diamond necklace valued at US$ 10,000,000 as worn by Anne Hathaway at the Oscars 2011. The platinum necklace is set with 94 carats of diamonds.

Rubellite Tassel earrings by Tiffany as worn by Natalie Portman to the Oscars. Unfortunately no price for these, but I would wager they are a fraction of the cost of the Lucida Star necklace worn by Anne Hathaway

Tiffany Schlumberger earrings as worn by Natalie Portman at the Academy Awards 2011. Portman wore the earrings in her hair. The earrings cost $9,550.

Tiffany Dome diamond and platinum ring as worn by Natalie Portman at the Academy Awards 2011. The ring is worth $63,000.

Tiffany Legacy diamond ring with 5.13 carats diamond as worn by Anne Hathaway at the Oscars. The ring is worth US$285,000.

Anne Hathaway who presented the Academy Awards wore the Tiffany Lucida Star necklace valued at 10 million dollars and a $285,000 Tiffany Legacy diamond ring and Tiffany Novo 10 carat diamond earrings on the red carpet.

Natalie Portman, who won 'Best Actress' Oscar at the Academy awards for her role in Black Swan wears Tiffany rubellite tassel earrings on the red carpet.