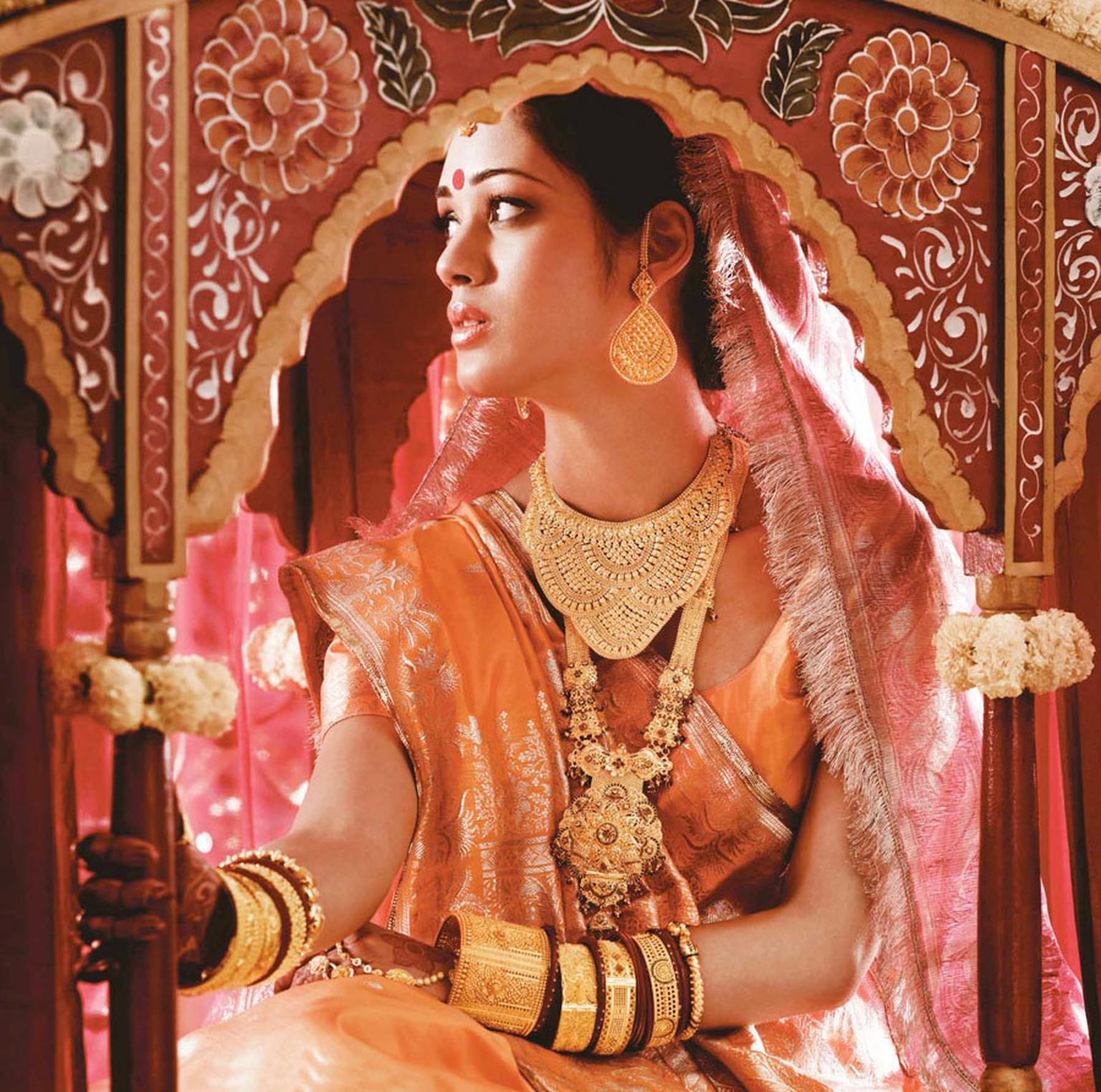 Text by Preeta Agarwal
Indian bridal jewellery is well known for its visual appeal, but the reason why every bride or married woman adorns herself with beautiful jewels goes deeper than that. It is said that Indian cultures change every 100km and so do its people, rituals, language, food and everything in between. However, the tradition of wearing bridal jewellery - which dates back 5,000 years - has strong roots across all cultures and remains an integral part of the Indian lifestyle.
Tanishq, part of the Tata Group, was coined from a combination of Tata/Tamil Nadu and Nishq(meaning a necklace of gold coins) and, again, from Tan, meaning body and Ishq, meaning love. Launched in 1994, Tanishq has become synonymous with  craftsmanship, exclusive designs and exceptional quality. With over 6,000 individual pieces made from 18 and 22ct gold, Tanishq is India's first and largest jewellery retail store, with 138 exclusive boutiques in 80 cities and a website, www.tanishq.co.in, where you can buy online.
Specialising in jewellery that makes you want to marry, Tanishq went from being simply The Indian Jeweller to Tanishq - The Indian Wedding Jeweller. True to tradition yet contemporary in design, Tanishq jewellery captures the beauty of an occasion, from your engagement to your wedding reception, with fabulous, ornate creations in gold, diamonds, Kundan, Polki and precious stones in every colour.
The Tanishq bridal collection is divided into themes, based on the regions in which different styles of bridal jewellery are worn. In the north Indian state of Punjab, theVivah (wedding) is an all-night celebration filled with love, laughter, the exciting sound of thedhol (drums) and spirited bhangra dancing. Befitting of a spectacular Punjabi wedding, Tanishq's Amritsari Jadau necklace is crafted using the age-old tradition of working with gold sheet, creating an illusion that the stones are not set into the precious metal but part of it. The maang tikka (hair ornament) rests on the forehead, while a regal-looking necklace and earrings, plus exquisitely carved bangles, complete the set.
In the west, Marwari (state of Rajasthan) & Gujarati weddings are extravagant occasions, with ornate decoration, lavish feasts, spectacular outfits and elaborate wedding ceremonies. This opulence is brought to life beautifully in a wide variety of neckwear, earrings, rings, borlas (head ornament), naths (nose ring), baju bandhs (arm bands), chudisandkangans (bangles).
Since the days of Rajput royalty, Rajasthan has been famous worldwide for the antique craft of Kundan, an intricate form of jewellery-making incorporating gold and uncut diamonds, making it a popular choice for weddings. Gujarati versions feature intricate work with gold sheet, with less of a focus on the Kundan style. Perfect for either occasion, Tanishq's Kundan Polki jewellery is handmade by a craftsperson with decades of experience, blending modernity and tradition while remaining true to its origins.
The Maharashtrian Lagan (wedding) reflects the state's vibrant and playful culture. The region has a long coastline, and the locals have formed a strong attachment to pearls. Thenath- introduced to the Indian culture by the Mughals -traces its origin to the Middle East and has become an emblem of marital blessedness. In the north and west, brides wear a round gold ring while, traditionally, Maharashtrian brides choose a pearl and coloured stone, ambi (paisley) shaped nath. Tanishq offers contemporary versions of the nath and themundavalya (strings of pearls or flowers worn on the forehead), made from gold beads, diamonds and precious stones and pearls.
The eastern Bengali wedding is defined by its rich and distinctive heritage. The sound of a conch-shell blowing, accompanied by the unique ululation of the womenfolk, sets the mood for the pre-wedding ceremonies and rituals. TheBiyaah (wedding) in Bihar mirrors the simplicity of the earthy roots in which the state takes pride. Tanishq's intricate gold jewellery will appeal to brides' fondness for plain gold adornment in both of these states, with necklaces that look fabulous worn in layers and row upon row of broad gold bangles.
Travelling south, weddings are rich in customs and details yet rooted in simplicity in the states of Tamil Nadu, Kerala & Karnataka. Here, the aroma of fresh jasmine, the abundance of rice grains and the rich colour of turmeric all signify sacredness. Tanishq's gold and ruby-encrusted Mangamalai (garland of mangoes) symbolises abundance, the traditional armlet Vanki  ensures no part of the bride's arm is bereft of gold finery, and the Shringar patti (head ornament) - set with deep-red precious stones and pearls - will transform a demure bride into an elegant princess. These Tanishq pieces feature artistic depictions of Gods, flora and fauna worked into the famous Nakashi (stampwork) style. The exquisite Lotus necklace, in gold, diamonds and precious stones, pays tribute to the sacred lotus flower, which represents purity and peace.
Read about the new Inara collection from Tanishq
The spectacular Amritsari Jadau necklace with Rubies, Emeralds and Pearls encrusted in gold sheets.

An enthusiastic Punjabi bride wearing the Amritsari Jadau necklace, kundan necklace, earrings, maang tikka and bangles.

An extravagant ensemble of polki in kundan setting and rich ruby drops forming a splendid necklace.

A Marwadi bride looking graceful in a kundan necklace, Emerald Rani haar, earrings, rings, borla (head accessories), naths (nose ring), chudis and kangans (bangles).

Crafted from handmade gold and uncut diamonds, Tanishq Kundan Polki necklace with rubies and pearls.

A kundan collar necklace with polki diamonds and rubies with a silk cord tie up at the back.

A Gujarati bride in stunning Tanishq necklaces, earrings, naths, rings, bangles, bracelets and more in gold, diamonds, kundan, polki and precious stones.

Tanishq Rani haar is a modern depiction of ancient regal polki work and Emerald beaded string that delightfully embellishes the princess of the ceremony.

A Maharashtrian bride in traditional gold jewellery by Tanishq and pearl forehead accessory and ambi nath.

A Bengali bride with traditional gold jewellery, a wire frame gold nath and multiple gold bangles interspersed with red glass bangles.

A variety of intricate gold bangles and cuffs by Tanishq with minimal use of precious stones and enamel.

A South Indian bride with Shringarpatti, Mangamalai, lotus necklace, Vanki and other gold jewels.