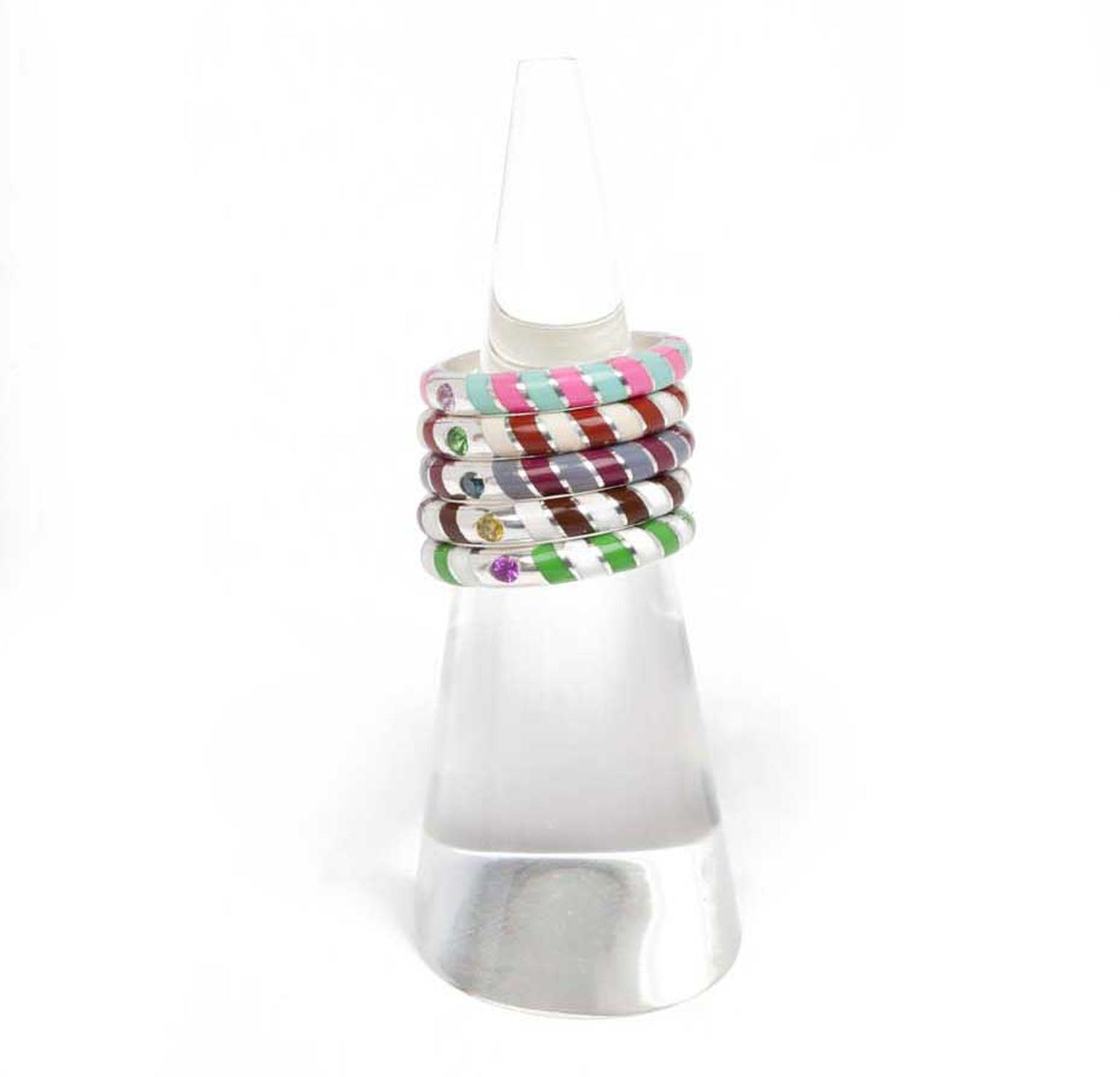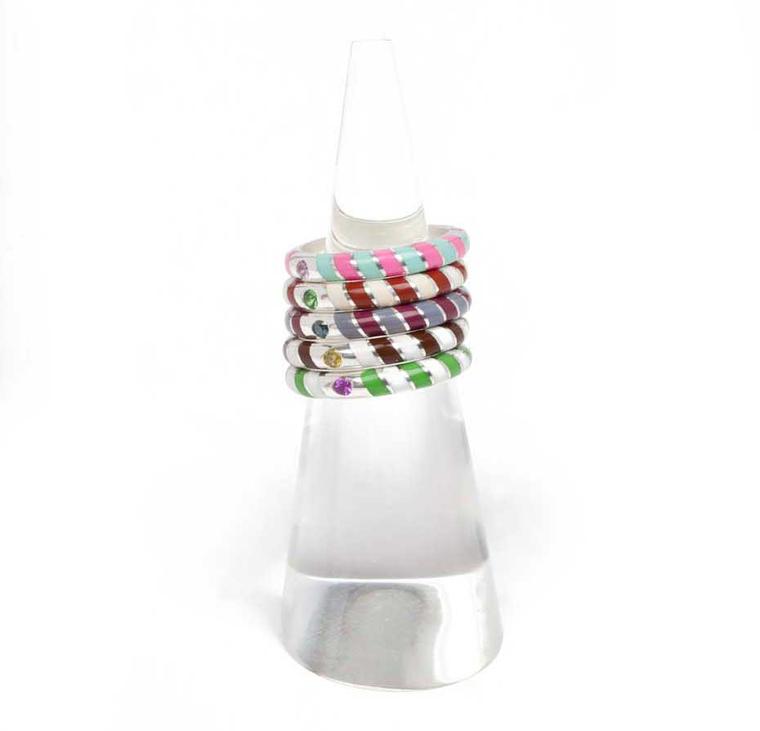 Far from being a flash-in-the-pan fad, stacking rings have become a luxury fashion staple that is here to stay.
Incredibly versatile, stackable rings offer the wearer endless possibilities when it comes to creating an individual look. And with an increasing number of fine jewellery brands getting in on the act, there are some extremely pretty offerings around.
The opportunity to create your very own look by combining different styles  - such as mixing gem-set bands with rings with big stones - is what makes the stacking ring trend so appealing. Annoushka offers an easy way to create this look with its colourful Dusty Diamonds collection, which incorporates both eternity ring styles and cocktail rings, all of which can also be combined with the jeweller's existing range of stackable rings. Go as bold as you dare with vivid gemstones in every colour of the rainbow or stick to a subtler palette of white or yellow gold.
The new octagonal 'O' rings from Octium in rose or yellow gold feature the brand's signature geometric shape, with a faceted mirrored finish and a choice of all gold, full or half diamond pavé.
The aptly named Memphis Candy Bands by Alice Cicolini are a fun take on stacking rings. Made from Fairtrade silver and gold, these rings, which look good enough to eat, are lacquered by hand in various colours and set with either a pink sapphire, blue diamond or green tsavorite. They look great worn together or mixed in with your existing jewellery for a vibrant flash of colour.
The stacking Nudo ring collection from Pomellato offers a myriad of opportunities to create a personalised look combining blue topaz, lemon quartz, amethyst, garnet and prasiolite. With a collection that now includes the recently launched diamond encrusted and petite versions, as well as the classic and maxi styles, customers really are spoilt for choice.
Brand new from Margery Hirschey is this unusual and eye-catching boulder opal and diamond ring. This year's winner of the Fashion Group International's 17th Annual Rising Star Award in Fine Jewelry, Margery has an uncanny knack for creating beautifully modern pieces.
For Autumn/Winter Azza Fahmy has again collaborated with fashion designer Matthew Williamson on a range of jewels, this time incorporating the star motif prevalent in his ready-to-wear collection. Stacking rings that form a constellation of stars around the wearer's finger are available in sterling silver or a silver and gold combination.
The flower-shaped Bon Ton rings with their gently rounded petals appeal to the romantic in me. A family-run company set up in 1997 by Pasquale Bruni, all jewels are made in Valenza, Italy. Named after the French for 'high society' or 'sophisticated style', the collection is dedicated to Clori, the Goddess of Flowers. The latest styles feature a flower made of milky quartz set in pink gold with diamonds or covered entirely in brown and white diamonds.
The 'pick and mix' variety of stacking rings is something that will speak to women of all ages and styles. So, go on: channel your inner stylist and create the perfect ring stack to reflect your taste and mood.
Annoushka Dusty Diamond Eternity rings featuring a centre citrine ring outlined in green diamonds and stacked with an Alchemy Daisy ring above and a Poppy Seed ring and yellow diamond ring below.

Robinson Pelham stackable diamond rings in yellow gold with yellow sapphires, white gold with white diamonds and rose gold with brown diamonds.

Azza Fahmy for Matthew Williamson sterling silver Star Diamond ring.

Azza Fahmy for Matthew Williamson sterling silver gold Stars Stack ring.

Amrapali gold and diamond stacking ring.

Margery Hirschey stackable opal and gold rings.

Octium Stacks and Facets rose gold and diamond rings.

Pasquale Bruni Bon Ton rings with brown and white diamonds or milky white quartz with diamonds.

Pomellato Stackable Nudo white gold and diamond rings in amethyst, blue topaz or lemon quartz.

Created using Fairtrade silver or gold, Alice Cicolini's Memphis Candy lacquered rings are set with vibrant gemstones, including pink sapphires, tsavorites and blue diamonds.