At the same time as Paris becomes the centre of fashion at the end of January for Haute Couture Week in the city, many of the jewellery Maisons in and around Place Vendôme take the opportunity to present their latest high jewellery creations. This year was no different, with most big names unveiling new creations or revealed new chapters to existing collections. Inspired by various themes, from nature to couture, archival designs to impressive stones, what these collections have in common is their ability to reach perfection and to transport us to dreamland. Before these works of art vanish before our eyes into the hands of connoisseurs, let us share with you some of the wonders we were introduced to and give permanence on our pages to these incredible jewels. 
With "Histoire de Style, New Maharadjah", Boucheron's Artistic Director, Claire Choisne, perfectly executed the vision of what a contemporary high jewellery collection should be, as defined by Hélène Poulit-Duquesne, CEO of the French brand. The result is very impressive as it highlights Boucheron's heritage as well as its daring style, as seen with the innovative Carte Blanche, Holographique collection of last summer.
For a bit of background, in 1928, Boucheron was commissioned by the Maharajah of Patiala to design pieces that would satisfy his wildly extravagant taste for jewels. His request would become the largest special order in the history of Place Vendôme. Ms Choisne says:  "This commission seemed like a fairytale; it is the stuff of dreams. In our archives, we have kept the 149 original designs from which I got my inspiration for this collection. I wanted to transpose these designs into the 21st century, and to reinvent them for today's Maharanis and Maharajahs. For these women and these men who want to express their personality and their own style". 
This goal is clearly achieved as the jewels, which feature diamonds, pearls and rock crystal, translates an impression of purity, transparency, delicacy and modernity. The majestic and delicate New Maharani necklace can be worn as a choker or as a ribbon and is set with diamonds, rock crystal and a 4-carat cushion-cut diamond. The New Maharadjah necklace, meanwhile, with matching brooch and earrings is the only set featuring colour courtesy of a collection of imposing Columbian emeralds.
Bulgari portrays its iconic snake with a sensual and impressive high jewellery masterpiece featuring two reptiles lying languidly next to each other and encircling the neck in an elegant embrace. Made of pink gold beads and decorated with rubies and diamonds, the Dual Sedution Serpenti necklace, designed by Creative Director Lucia Silvestri, required over 800 hours of meticulous craftmanship by the Roman jeweller's skilled goldsmiths. 
Chapter III of Sixième Sens by Cartier masters the art of volume, contrast and colour combinations. One very interesting jewel is a ring inspired by a sea anemone. It features a 7.89-carat Sri Lankan sapphire surrounded by a corolla of emeralds and diamonds that were cut in-house by Cartier's highly skilled gem-cutters, with the ring's innovative cube shape allowing the wearer to admire the beauty of the stones from the top but also from the side. 
At Chanel, we time travel to 1932, the year Mademoiselle Chanel first applied the principles of Haute Couture to High Jewellery.  She created the first high jewellery collection in history called "Bijoux de diamants", an ode to precious stones with 55 dazzling and opulent jewels. To celebrate this important anniversary, the French brand is to unveil in May a new high jewellery collection called "1932". While we must wait a few more months to explore how the brand revisits the past to create the future, Chanel revealed the signature jewel from the collection to whet our appetite: the Allure Céleste necklace, which required 3,800 hours of work. The transformable necklace celebrates the celestial symbols so dear to Mademoiselle Chanel with a custom-cut 55.55-carat sapphire – honouring her favourite number – chosen to represent the moon. 
At Chaumet, the Maison presented Déferlante, a capsule collection inspired by the movement of water and the formation of waves. Like waves breaking on the shore, the designs are strong and dynamic, yet also delicate and graceful Animated by the power of water, the Déferlante necklace features three rows of diamonds that intertwine and break into drops of water of all sizes and shapes, among them two impressive pear-shaped diamonds, the Maison's signature cut.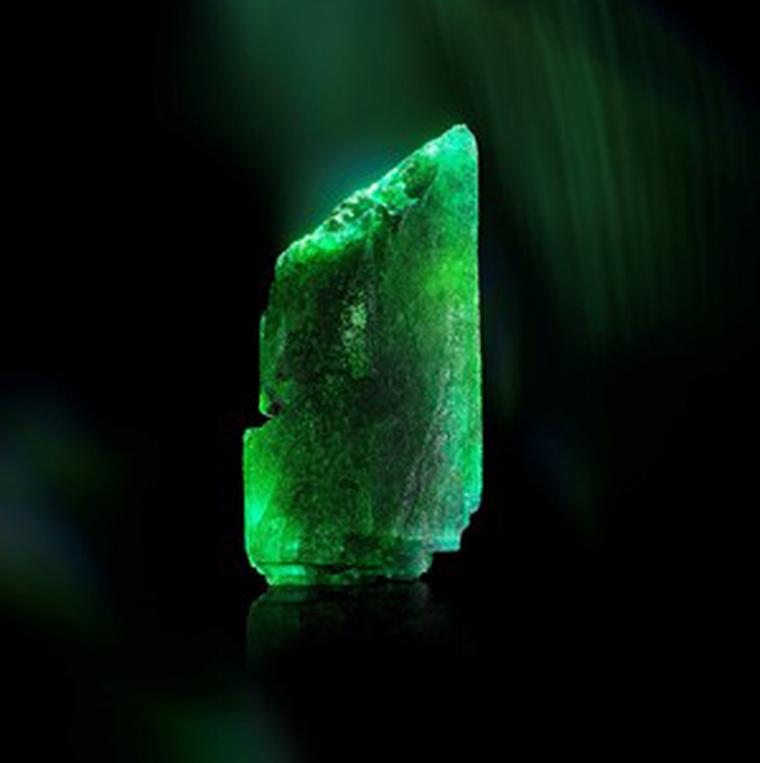 When visiting Chopard, it was impossible to take your eyes off of the "Insofu" emerald illuminating the central showcase. Meaning "elephant" in Bemba, the language of Zambia, where it was discovered, the name reflects on both the shape and the extraordinary size of the stone. Weighing 6,225 carats, the rough stone was discovered in 2010 in Gemfields' Kagem mine and is the first emerald of this size and purity to meet Chopard's scrupulous sustainability requirements.
Committed to traceability since 2013, Caroline Scheufele, Chopard's Co-President and Artistic Director, explains:  "By purchasing a raw stone, we are able to follow its entire journey through to final creation. Chopard will cut the raw emerald and collect all the cut gems emerging from it, which our ateliers will use for our jewellery creations. We ensure a complete chain of traceability which is rare for stones of such quality." 
Unlike a diamond, which can be analysed before the process starts, the emerald is a dark stone that will only reveal its full potential when it has been cut. Emeralds are also fragile, which will present a real challenge for the master cutter to ensure the stone doesn't shatter. And while we must wait to discover these future creations, in Paris we were introduced to a new "Toi et Moi" ring in Fairmined-certified white gold, set with a 3-carat pear-shaped D Internally Flawless type IIa diamond and a 4.10-carat pear-shaped Fancy Intense Blue VS2 diamond.
Nature is an illuminating source of inspiration for Cindy Chao. The artist, appointed "Chevalier dans l'Ordre des Arts et Lettres" in Paris in 2021, is a magician who captures the wonder of nature with vibrant stones and gifts her subjects with perpetual beauty. Her three-dimensional Fruit earrings, set with two emerald-cut brown-yellow diamonds, are a perfect illustration of Ms Chao's skills. Set in platinum, they burst with a rich range of colour and volume, bringing a beautiful sense of movement to this still life scene. 
This year, David Morris narrows its palette of colours to blues and greens, focusing on an impressive collection of emeralds, sapphires, opals and turquoise. The one-of-a-kind Tetras bracelet features a 10-carat Madagascan blue sapphire surrounded by V-shaped sky-blue turquoise and diamonds. "Creating pieces that appear to effortlessly combine both contemporary and classic elements is a delicate dance, yet these two characteristics are an inherent part of the David Morris design DNA," says Jeremey Morris, the house's CEO and Creative Director.
In Paris, De Beers unveiled the breathtaking first chapter of the Alchemist of Light collection. With a pure, white spirit, seven Atomique jewels play with the abstract motifs of an atom, mimicking the geometric pattern representing the diamond. A sculptural collar necklace features a total of 1,907 diamonds set in all shapes and forms around an Internally Flawless 18.50-carat centre stone. The other nine jewels in the collection display warmer honey and red-yellow hues, reflecting radiating sunlight and the effect of shadows. The Light Rays jewels are bold, sensual and surprisingly light as they have been made in titanium. Céline Assimon, CEO of De Beers Jewellers, explains that "the collection represents the pinnacle of diamond expertise and artistry. It is a sublime fusion of art and science, precision and imagination, tradition and modernity." 
Galons DIOR, the collection presented by Dior during Haute Couture Week, reinterprets the lightness and the delicate curves of the ribbons adorning the Maison's couture creations. The collection celebrates the art of detail by creating sumptuous ribbons that intersect, intertwine and twirl as if dancing. Victoire de Castellane, Creative Director of Dior Joaillerie, drapes diamonds, emeralds, sapphires, rubies and other coloured stones cut in a myriad of geometric shapes to transpose the couture spirit of Mr Dior in all 81 jewels. For the first time, she has also designed brooches and cufflinks specifically for men. 
At Louis Vuitton, the focus was also on history and heritage with the second act of Bravery, the high jewellery collection originally presented last July to celebrate the bicentenary of the brand. The sophisticated and colourful new jewels are the perfect illustration of Louis Vuitton's DNA, with their reflection on the trunk and its iconic features. Francesca Amfitheatrof, Artistic Director for Watches and Jewellery, says: "The Bravery collection is a metaphor for Louis Vuitton's life. In the first chapter, unveiled in June 2021, we presented the different stages of the journey he undertook. Now, we are celebrating the highlight of his career – the invention of the iconic trunk and all its distinctive characteristics." The Magnetisme necklace brings together all the codes that have inspired this collection. The metal tips of the trunk are interpreted in yellow gold and the diamond patterns between the tourmalines, while the square clasp is transformed into an incredible 20.29-carat yellow sapphire suspended by a symbolic V-shape set with baguette-cut diamonds. 
Atelier Season 4 by Tasaki shows incredible pearl necklaces with clever clasps capable of transforming in a click, from wearable everyday jewels into glamorous red-carpet styles. With the Illimitable necklace, a personal highlight, the Japanese master of pearls takes us underwater to float along the coral reef between colourful sapphires and South Sea pearls and captures our attention with sparking diamonds that seem to rise like water bubbles to the surface.