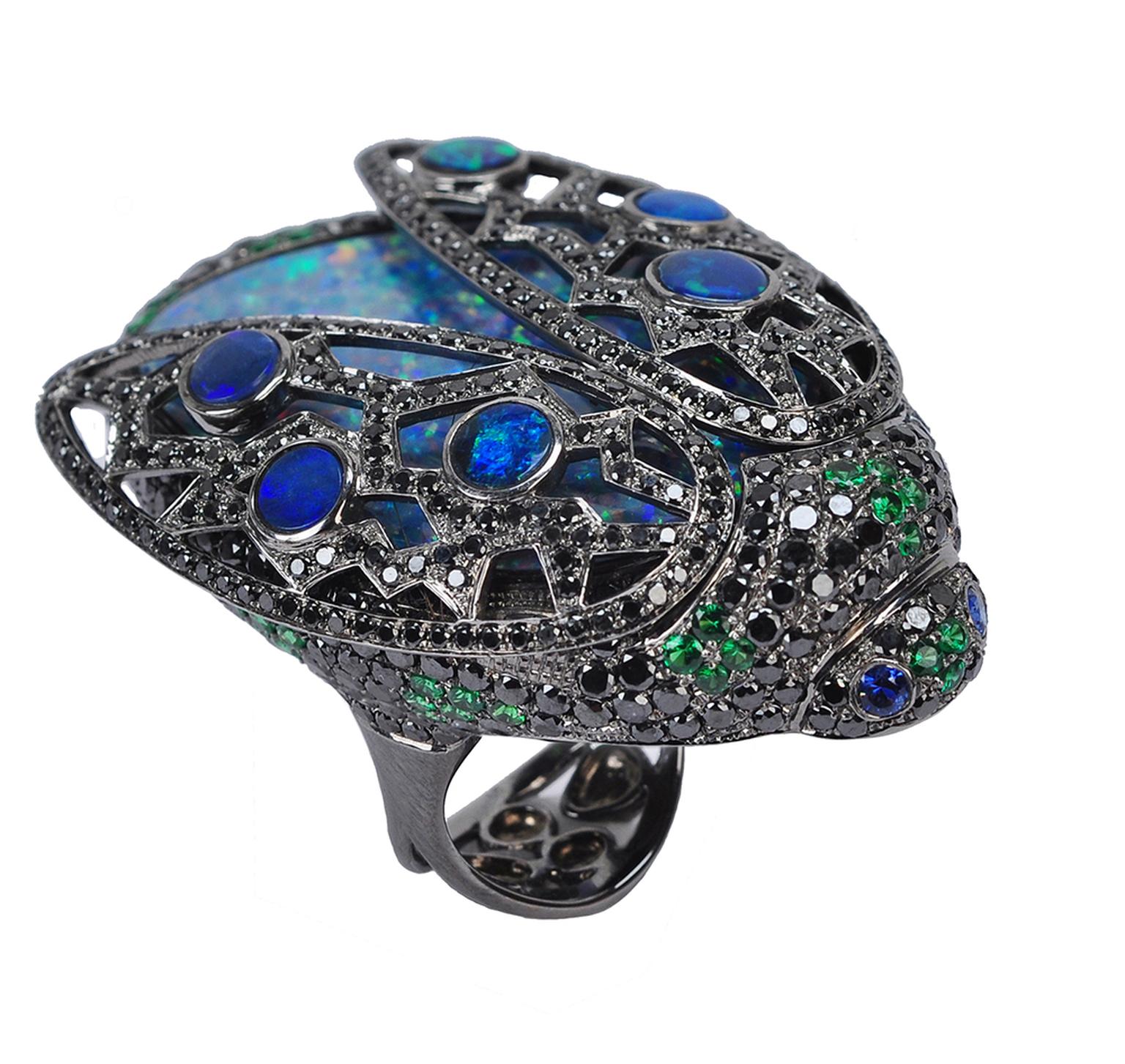 With just over a week to go until the five-star Wynn Resort in Las Vegas hosts the annual jewel fest known as Couture, here's a taster of some of the gems that will shortly be making their way to the Mojave Desert. 
Taking place during 'jewelry market week', Couture is an exclusive trade show where luxury jewellery brands - both established and emerging - present their latest creations to the world. It's an opportunity for retailers and the press alike to cherrypick their favourite pieces and identify the trends that will be filtering their way into the consciences of jewellery lovers over the next 12 months.
We've already looked at the prevalence of coloured stones at this year's Couture, and we're predicting a glut of gorgeous opals too. Long considered a stone of creativity, opals have been out of favour for decades. But this year, designers are plumbing the fathomless depths of this fiery gemstone for inspiration once again, and the results, as you can see here, are fascinating. 
Looking into an opal is like peering into a glittering pool of swirling colours, lit from within. Opals are able to express every colour in the spectrum. Some resemble an Impressionist painting, while others give off an almost cosmic glow. No two are the same. There are black opals - mined in Lightning Ridge, Australia - in whose dark depths swim myriad shades of neon; Boulder opals - found in Queensland - that are streaked with rainbows; and white opals from South Australia that resemble the sky, just as dawn is breaking.
Wendy Yue has taken an electric blue opal, shot through with greens, oranges and yellows, and used it to replicate the iridescent wings of a bug. The opal on Paula Crevoshay's 'Black Beauty' ring looks like it has been artfully daubed by hand to resemble the Northern Lights. Expect to see a lot more from this mesmerising gemstone in the year ahead. 
Annie Fensterstock opal locket.

Annie Fensterstock opal cuff.

Colette opal earrings.

Irene Neuwirth yellow gold necklace with mixed chrysoprase, Boulder opals, rose-cut diamonds and diamond pavé ($POA).

Irene Neuwirth yellow gold one-of-a-kind necklace with mixed mint chrysoprase, Boulder opals, Lightening Ridge black opals, diamond pavé and rose-cut diamonds ($POA).

K Brunini Twig cuff in yellow gold with large opal and 0.51ct diamonds ($39,920).

K Brunini Twig bracelet in yellow gold composed of Cocobolo wood cabochons and an Australian opal ($35,460).

Lucifer Vir Honestus Manetta bracelet in rose gold with boulder opals and diamonds (US$28,000).

Mauro Felter opal earrings.

Mimi So ZoZo Boulder Opal and Diamond Earrings in white gold (US$23,000).

Mimi So ZoZo Boulder Opal Necklace with two strands of opals, aqua and tourmalines with large central opal (147.53ct) in white and yellow gold (US$87,000).

Nina Runsdorf white gold opal earrings, set with opals, sapphires, emerald and diamond accents (US$14,500).