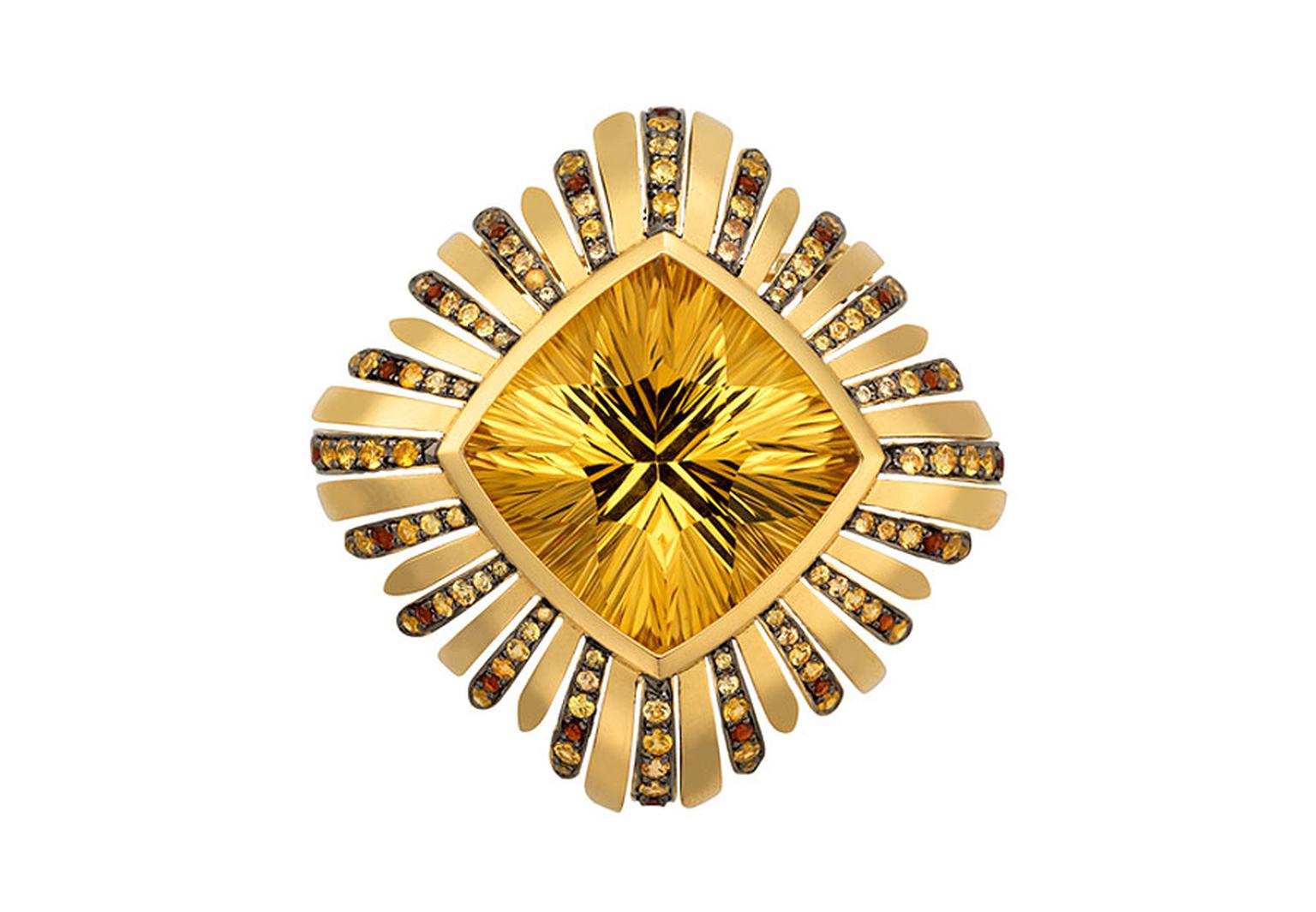 By Daisy Tinker
A member of the large quartz family, citrine was named after its unusual colour. Derived from the Latin word citrina, meaning "yellow", natural citrine is the rarest of the quartz varieties, which include amethyst, aventurine and prasiolite.
Athough some varieties of diamond and sapphire can be yellow, citrine is one of the few gemstones that is always this colour, making it extremely desirable. The hard stone can vary in shade from pale lemon right through to deep gold though, like many gemstones, darker-coloured citrine is usually more valuable. Mostly mined in the Brazilian state of Rio Grande do Sul, citrine is also found in much smaller quantities in Russia, France and Madagascar. The reason for its distinctive colour is still under debate, but many believe it is caused by varying levels of iron trapped inside the quartz mineral. 
Because of its unusual colour, citrine has become an increasingly popular choice for jewellery. Dior, in particular, has been using the sunny stone in a number of its recent jewellery creations. Inspired by Monsieur Dior's garden, an orange-tinted citrine is surrounded by hand-lacquered flora and fauna in a beautiful cocktail ring from the Diorette collection. Another cocktail ring from the Miss Dior collection is set with a warm yellow citrine, accentuated by a cluster of diamonds.
A number of other jewellers have also created similar cocktail rings of various shapes and sizes. Typically flamboyant, de GRISOGONO has surrounded a huge deep-orange citrine with spessartites, white diamonds and orange sapphires, while Rodney Rayner has complimented the burnished autumnal hue of a citrine with pavé orange sapphires, champagne diamonds and white diamonds, all set in warm red gold.
Traditionally the birthstone for the month of November, in ancient times citrine was carried to protect against against snake venom and evil thoughts. Today, it is often referred to as the Merchant's Stone and is more often associated with success and prosperity. 
Tiffany & Co. citrine cocktail ring.

de GRISOGONO "Melody of Colours" ring in yellow gold, set with one citrine, spessartites, white diamonds and orange sapphires.

Rodney Rayner "Via Roma Oval" ring with pavé orange sapphire, champagne diamond, white diamond and citrine, set in red gold.

Seaman Schepps walnut and citrine frog brooch, available from CoutureLab.

Kiki McDonough "Eden" necklace with citrine and diamonds.

Kiki McDonough "Eve" bee bracelet with citrine and diamonds.

Lauren Adriana "Ziggurat" ring in gold with citrine, rhodolite, spessartite, sapphires, amethyst and diamonds.

Dior Fine Jewellery "Miss Dior" ring in yellow gold with diamonds and a large citrine.

Dior Fine Jewellery "Incroyables et Merveilleuses Fruits" pendadt in white gold with diamonds, citrine, yellow sapphires, purple sapphires, spessarite garnets, emeralds and tsavorite garnets.

Dior Fine Jewellery 'Diorette', ring in yellow gold, with diamond, citrine, amethyst, tsavorite, pink sapphire, mandarin garnet and lacquer.

Dior Fine Jewellery "Diorella" ring in yellow gold with diamonds, citrine, pink sapphires and lacquer.

Style of Jolie citrine tablet style earrings.