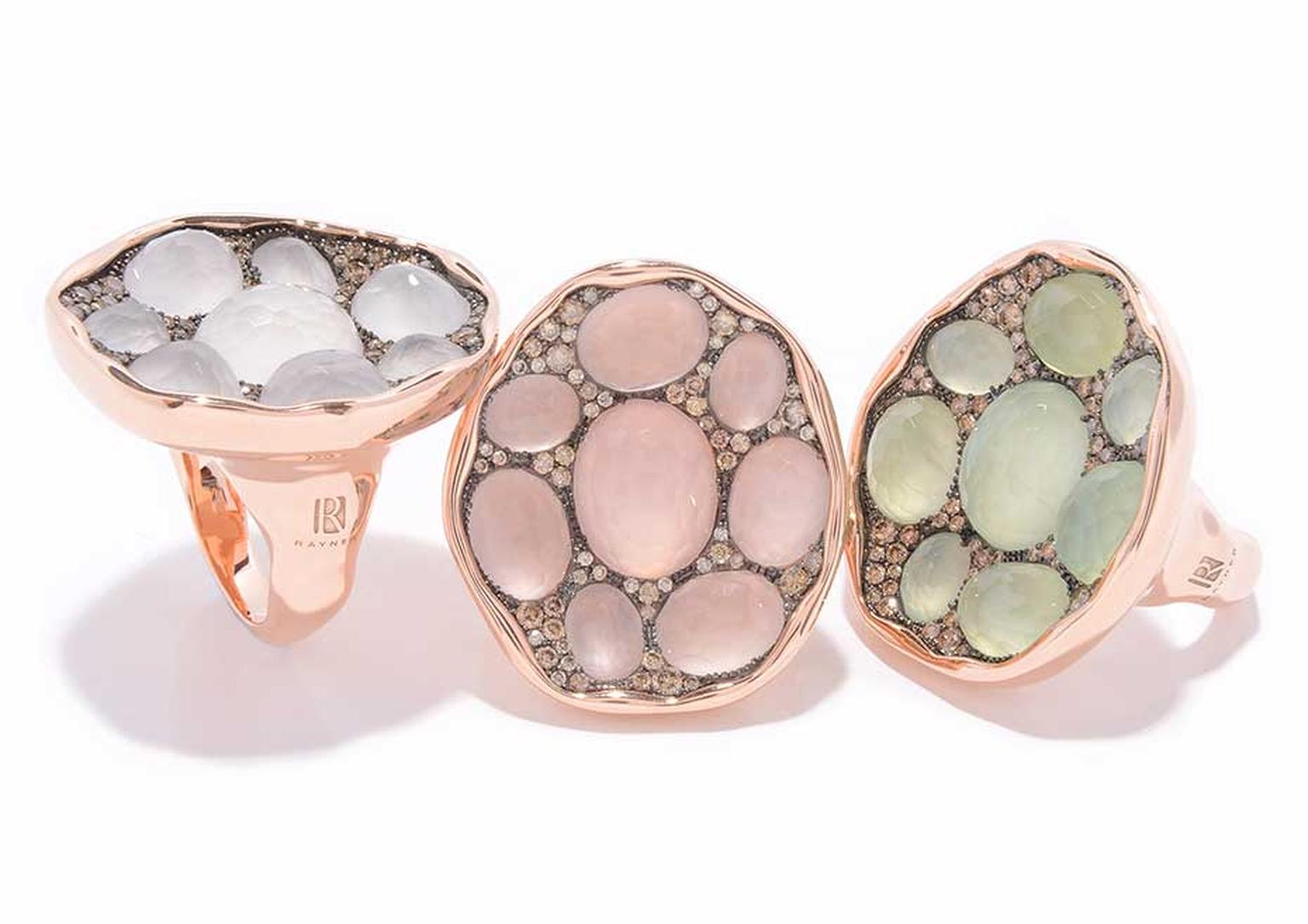 By Jordan Clary in Nevada
Milky, pastel-colour stones exude a distinctly feminine aura and offer a subtle contrast to some of the more dazzling rainbow gems trending this season. Mysteries lurk below their cloudy surfaces, which draw us into an enigmatic world of the unknown. Sensual and rich, milky gemstone jewellery is both soothing and gentle.
Prehnite jewellery
This pastel green stone is soft and cloudy. Named after a Dutch mineralogist and early governor of the Cape of Good Hope Colony, Colonel Hendrik von Prehn, prehnite was one of the first minerals to be identified in gem-rich South Africa. Composed of hydrated calcium aluminium silicate, it has a vitreous to pearly lustre and is usually a soft apple green, although some may have a yellowish cast. Rare specimens tend toward a rich emerald green. At a 6 to 6.5 on the Mohs scale of mineral hardness, it's a fairly soft gem.
Rodney Rayner's rings combine the allure of soft green prehnite, white quartz and rose quartz with tiny pavé diamonds for a dreamy, seductive effect.
Moonstone jewellery
Who can resist moonstone jewellery? I certainly can't. In ancient Rome, people believed they encapsulated moonlight. Ordinary-looking when mined, moonstone's beauty needs to be coaxed out with patience. Once cut and polished, it shimmers with an inner radiance known as "adularisation". This comes from the lamellar inner construction of the stone, which creates a mysterious glow like moonbeams when light is refracted and scattered through the stone. Some people have seen visions in moonstone, while others claim the waning and waxing of the moon is mirrored inside the gem.
Usually moonstone is cut in cabochons, although it can also be faceted for a more luminescent effect. It has a low hardness of 6 on the Mohs scale, but this can be countered by using a protective setting, such as that employed in the delightful Nanook Boucheron ring, in which a polar bear gently cradles a faceted moonstone in its paws. 
Quartz jewellery
This wonderful, versatile and abundant stone frequently shows up in pieces showcasing milky gems. It goes by many names.
Milky quartz is often carved for cameos and intaglios. Smoky quartz may be used to invoke clairvoyance. Brumani's Baobab ring, for example, features a mysterious cabochon-cut lemon quartz along with brown diamonds, chrysoberyl and mandarin garnets. Rose quartz is said to heal sadness and attract love and has been used to stunning effect in the K. Brunini Chains of Love Twig ring, where two rose quartz stones flank a central aquamarine.
There are many options for creamy, milky gemstone jewellery. From sparkling white opals to aventurine and agates, milky gems add a soft, feminine touch to jewellery.
Carrera y Carrera Sierpes necklace in white gold, moonstone and diamonds.

Fernando Jorge Fluid Chandelier gold and moonstone earrings.

Fernando Jorge milky aquamarine earrings with diamonds.

Pasquale Bruni Bon Ton rings with, right, milky white quartz and diamonds.

Carrera y Carrera Sierpes maxi ring in white gold, chalcedony and diamonds.

Boucheron Nanook ring with a faceted moonstone cradled in the arms of a pavé-diamond set polar bear.

Holts Vicious moonstone ring featuring a yellow gold band studded with blue and green diamonds.

Brumani Baobab collection rose gold ring with rose quartz, a central pink tourmaline and diamonds.

Brumani Baobab rings in yellow gold with rose, smoky and lemon quartz.

Atelier Zobel by Peter Schmid agate earrings featuring black diamonds set in gold.

K. Brunini Chains of Love Twig ring in yellow gold with a central 12.08ct aquamarine and two rose quartz ($8,880).

Astley Clarke Mini Astley ring featuring a milky aquamarine surrounded by a melee of diamonds.