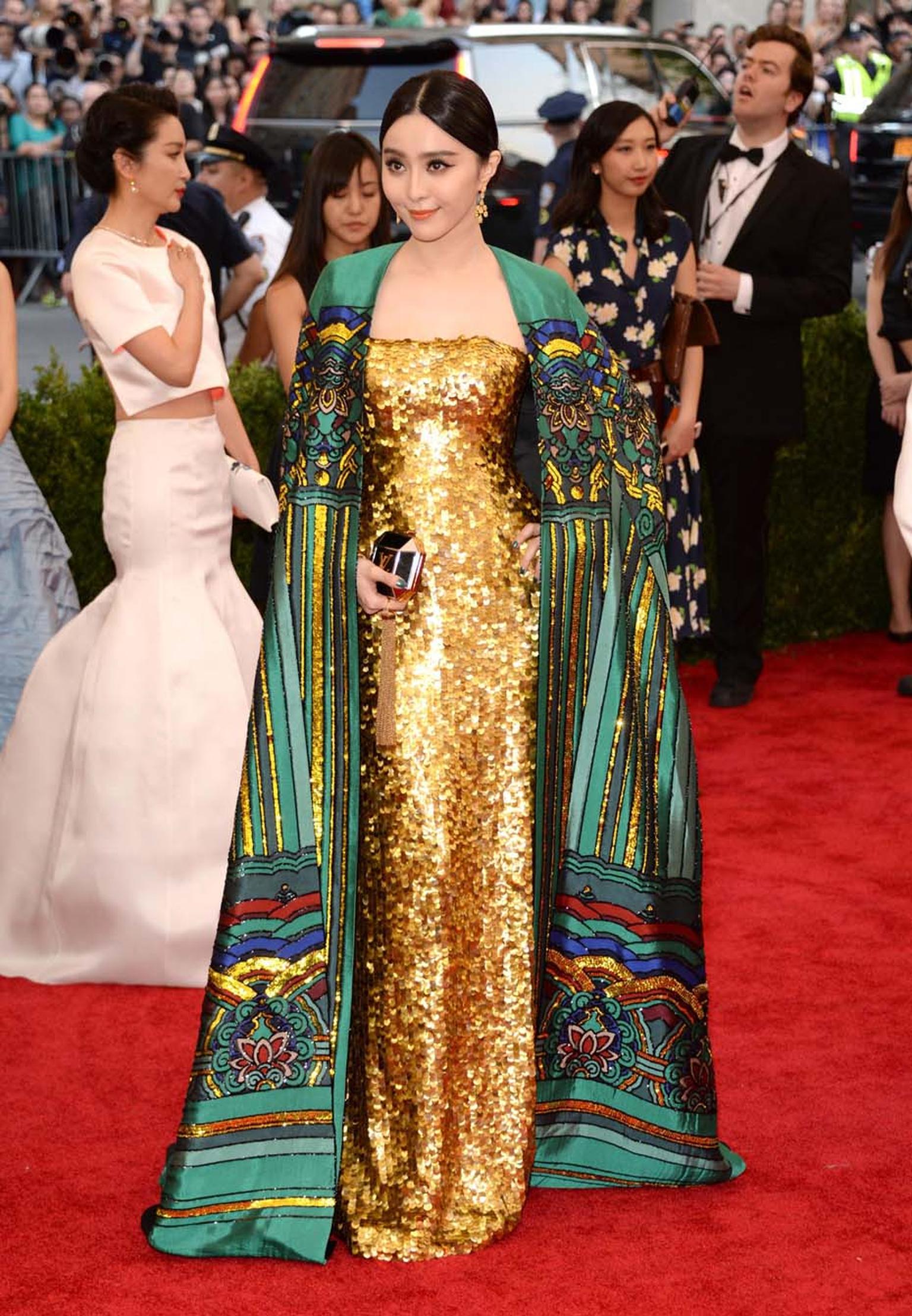 By Rachel Garrahan 
Monday's Met Gala was all-out glamor, red carpet jewelry and sartorial derring-do as the stars stepped out at New York's most eagerly anticipated annual event.
The ball celebrated the opening of "China: Through the Looking Glass" - the new exhibition at the Metropolitan Museum's Costume Institute, described by curator Andrew Bolton as an exploration of fashion's "fantasy of China".
Many guests chose a literal interpretation of the Eastern theme, with dragons, auspicious red, and fans aplenty. Sarah Jessica Parker divided opinion in a custom chinoiserie-inspired H&M gown and outsized Philip Treacy flaming headdress. Her red carpet jewelry included a beautiful Cindy Chao brooch in black and white diamonds, Fred Leighton diamond drop earrings, and custom-made jade bracelets from Jennifer Fisher.
Jade jewelry, unsurprisingly, was amongst the most popular of the colored gemstones on the night. Jade is the most esteemed of all precious stones in China and was worn by Lady Gaga in Fred Leighton. Actress Allison Williams also chose a Fred Leighton brooch to accessorize her Giambattista Valli couture gown. 
Less Eastern-inspired - and more suited to the Grammys, perhaps - were several stars competing in the nearly nude stakes with only a few strategically placed sequins between them. Cameras flashed as Beyoncé stepped out in Givenchy Haute Couture, Kim Kardashian in Roberto Cavalli and Jennifer Lopez in Versace. J-Lo's Sutra high jewelry fan earrings succeeded in drawing attention away from her derrière, while Beyoncé and Kim dazzled in Lorraine Schwartz diamonds.
Jessica Chastain, meanwhile, brought old-school Hollywood glamor to Manhattan, wearing Art Deco-inspired Piaget jewelry ruby earrings, which stood out resplendently against her signature red hair and plunging golden Givenchy gown. Actress and event co-chair Gong Li also wore Piaget. Her long blue sapphire and emerald high jewelry earrings were a dramatic contrast to the deep raspberry red of her Cheongsam-inspired Roberto Cavalli dress. 
Emily Blunt was one of the few selecting more muted tones at the Gala. She wore an embroidered Prada gown in the palest blue, with her red carpet jewelry consisting of a pair of one-of-a-kind sapphire orchid earrings for  by Asian-American designer Anna Hu.
Discover more about Anna Hu jewelry
In one of the night's best looks, combining unadulterated luxury with refined elegance, Fan Bingbing chose yellow diamonds from Chopard to compliment her Christopher Bu golden dress and rainbow-bright cape. Also in Chopard jewelry was Katie Holmes, sporting a new bobbed haircut. The actress accessorized her Zac Posen dress with an exquisite pair of diamond chandelier earrings, a sapphire ring and several diamond bracelets from the Swiss brand's high jewelry collection.
Leave it to Rihanna, though, to make the entrance of the night, with a golden headpiece and Nouvelle Vague Cartier necklace to match her canary yellow gown with a red carpet-covering, fur-trimmed train. This extraordinary piece of showstopping couture was created by Guo Pei, the Chinese designer whose work features in the exhibition itself.
Anna Hu with actress Emily Blunt, who wore a pair of one-of-a-kind sapphire earrings by the designer to the Met Gala 2015.

The Cartier rose gold and diamond Paris Nouvelle Vague necklace worn by Rihanna to the 2015 Met Gala in New York.

Cindy Chao Summer Butterfly ruby earrings, as worn by Olivia Munn at the 2015 Met Gala in New York.

Cindy Chao Winter Butterfly diamond ring, as worn by Olivia Munn at the 2015 Met Gala in New York.

Emily Blunt was one of the few who opted for muted tones with her oriental-inspired Prada gown, which she accessorized beautifully with a pair of Anna Hu sapphire earrings.

Actress and event co-chair, Gong Li, wore a pair of blue sapphire and emerald earrings by Piaget, which provided a dramatic contrast to her deep red Roberto Cavalli dress.

Along with the Oriental theme, jaw-dropping cut-out dresses were also the flavor of the night, with Jennifer Lopez accessorizing her risqué Versace gown with a pair of Sutra fan earrings.

Jessica Chastain added a pop of colour to her golden Givenchy gown at the 2015 Met Gala with a pair of Art Deco-inspired Piaget ruby earrings.

Kate Beckinsale oozed Hollywood glamor wearing a Diane Von Furstenberg gold gown and Carrera y Carrera onyx and diamond earrings, and yellow gold Garzas ring.

Carrera y Carrera Garzas medium ring in yellow gold and diamonds, worn by Kate Beckinsale at the Met Gala in New York.

Katie Holmes accessorized her Zac Posen gown and new bobbed haircut with an exquisite pair of diamond chandelier earrings and multiple diamond bracelets from Chopard's high jewelry collection at this year's Met Gala in New York.

Kerry Washington added some sparkle to her pink Prada ball gown with a pair of 18.82ct Harry Winston Cluster diamond earrings set in platinum, and a cushion-cut Winston diamond platinum ring, at the Met Gala in New York.