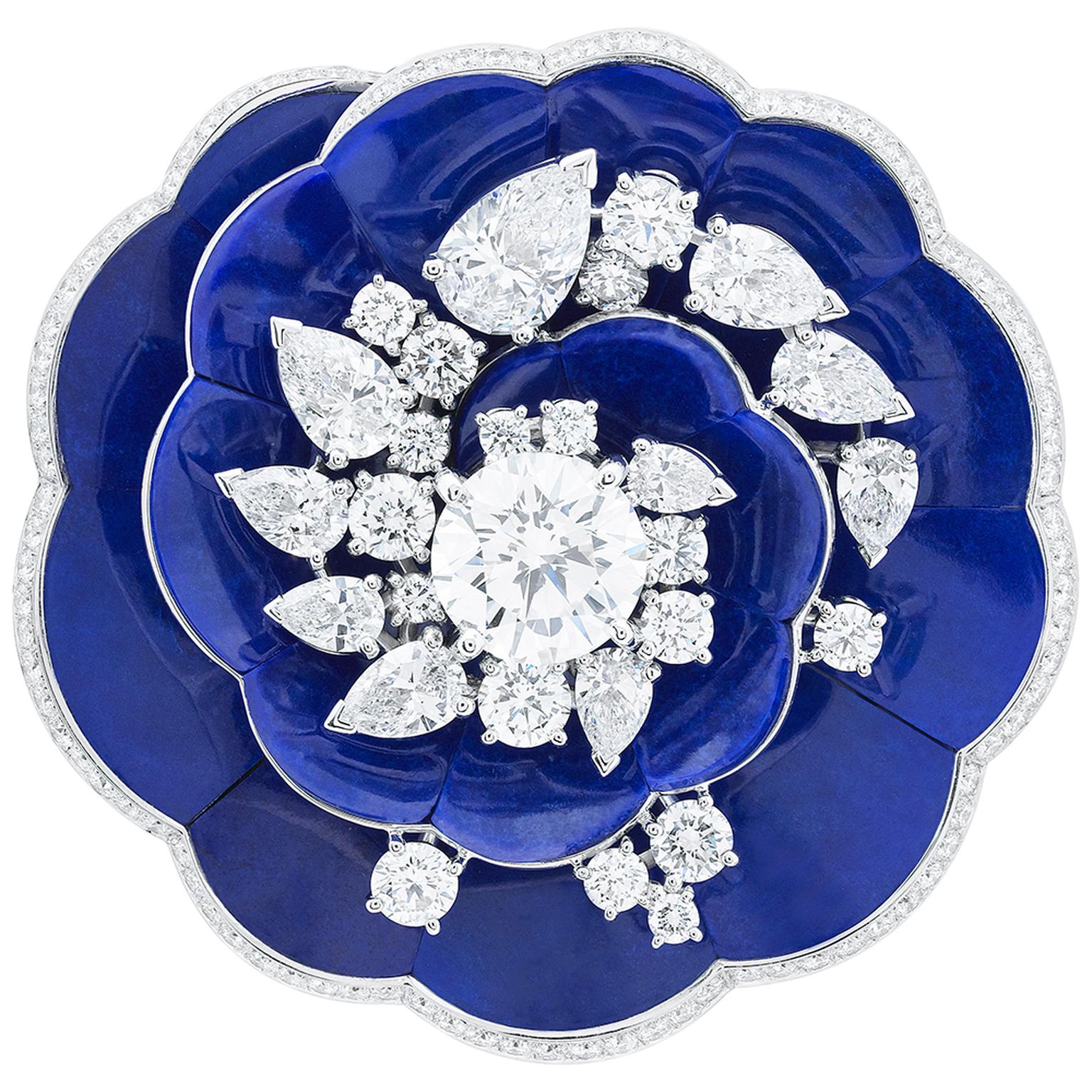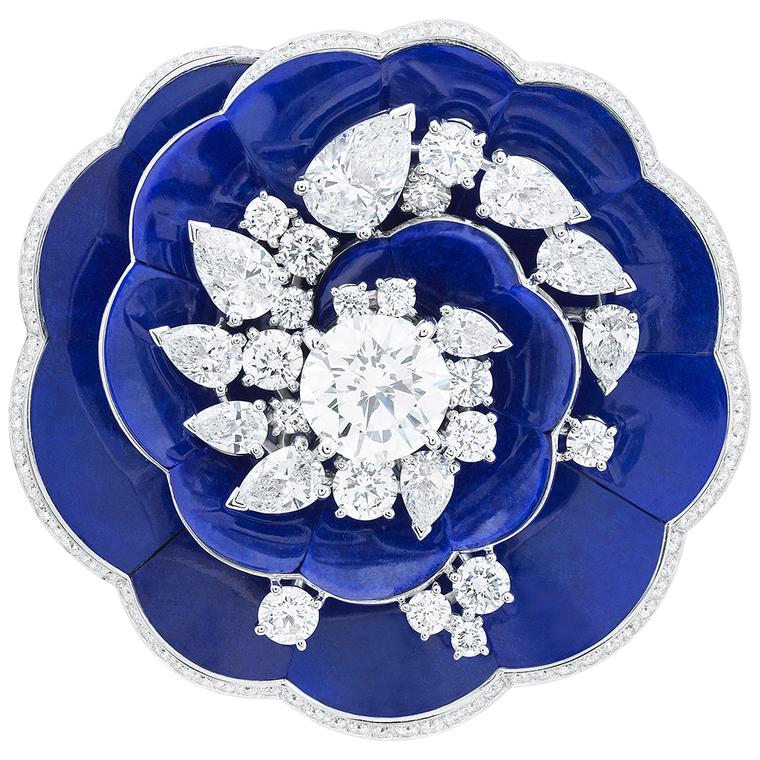 By Jordan Clary in Nevada
Some gem cutters claim they can tell - without looking -  the intensity of blue of a piece of lapis lazuli based on its smell. The scent that identifies the degree of blue of lapis lazuli to cutters comes from sulphur. Depending on the sulphur content, the stones may range in colour from deep-sea ultramarine to a lighter blue. Uncut lapis lazuli often comes with whitish marble veins and pyrite inclusions that give the stone a golden glimmer reminiscent of a starry night. 
This opaque rock that consists mainly of diopside and lazurite came into existence millions of years ago during the metamorphosis of lime to marble. A soft gemstone, lapis lazuli registers between five and six on the Mohs scale of mineral hardness. Its dense midnight blue lends itself well to cabochons, like the beads on Chaumet's tassle necklace from the new Lumières d'Eau high jewellery collection, which show off the shimmering star-like pyrite sprinkled across its surface.
Much of the world's lapis lazuli is found in limestone in the Kokcha River valley in northeastern Afghanistan where for more than 6,000 years, the Sar-e-Sang mine deposits have been worked. Smaller deposits have been found elsewhere in the world including India, the US, Burma, Canada, Angola and Argentina. Carvings and beads have been found along nearly all of the ancient trade routes.
The name lapis lazuli is a combination of  Latin and Arabic: "lapis" the Latin word for stone and "azula" is Arabic for blue. With artefacts and lapis lazuli jewellery dating to the 3rd millennium BC, the stone has contributed to world culture colouring some of the greatest works of art we know. When ground and mixed with binding agents, it makes a rich ultramarine pigment that is seen in many Renaissance and Baroque paintings including  the striking blue scarf worn by Vermeer's "Girl With a Pearl Earring".
With its deep celestial blue, lapis lazuli has been used as a charm to ward off the powers of darkness. Another of its metaphysical properties is that it encourages honesty and truth, so is considered a good stone to have around when engaging in deep conversation. From Piaget's cuff watch with a lapis dial, based on an original 1970s design, to Cartier's colourful Paris Nouvelle Vague jewels, which contrast blue lapis lazuli with green chrysoprase, it's certainly a stone that inspires conversation whenever you wear it.
Chaumet Lumières d'Eau collection diamond necklace embellished with a pompom of graded lapis lazuli and black spinels.

Cartier Paris Nouvelle Vague Mischievous ring in yellow gold, set with lapis lazuli, chrysoprase and diamonds, launched in 2013. 

Cartier Paris Nouvelle Vague 'Mischievous' earrings in yellow gold, set with lapis lazuli, chrysoprase and diamonds.

Louis Vuitton's Tambour Bijou Secret watch in electric blue with a lizard strap, lapis lazuli face and diamonds, all set in white gold.

Pippa Small's gold Turquoise Mountain bracelet includes a dove of peace in lapis lazuli.

Pippa Small's gold Turquoise Mountain earrings in gold and lapis lazuli.

Noor Fares lapis lazuli Wing earrings with blue rhodium finish gold.

Created exclusively for the 2014 Biennale des Antiquaires in Paris, Piaget's Extremely Piaget collection sautoir-style necklace is set with 192 diamonds and three natural lapis lazuli medallions, one of which features a quartz movement watch dial.

Piaget's Extremely Piaget collection watch cuff made from hammered white gold set with 236 brilliant-cut diamonds and a natural lapis lazuli dial.

Piaget's Extremely Piaget collection white gold bracelet set with 870 brilliant-cut diamonds and nine lapis lazuli cabochons.