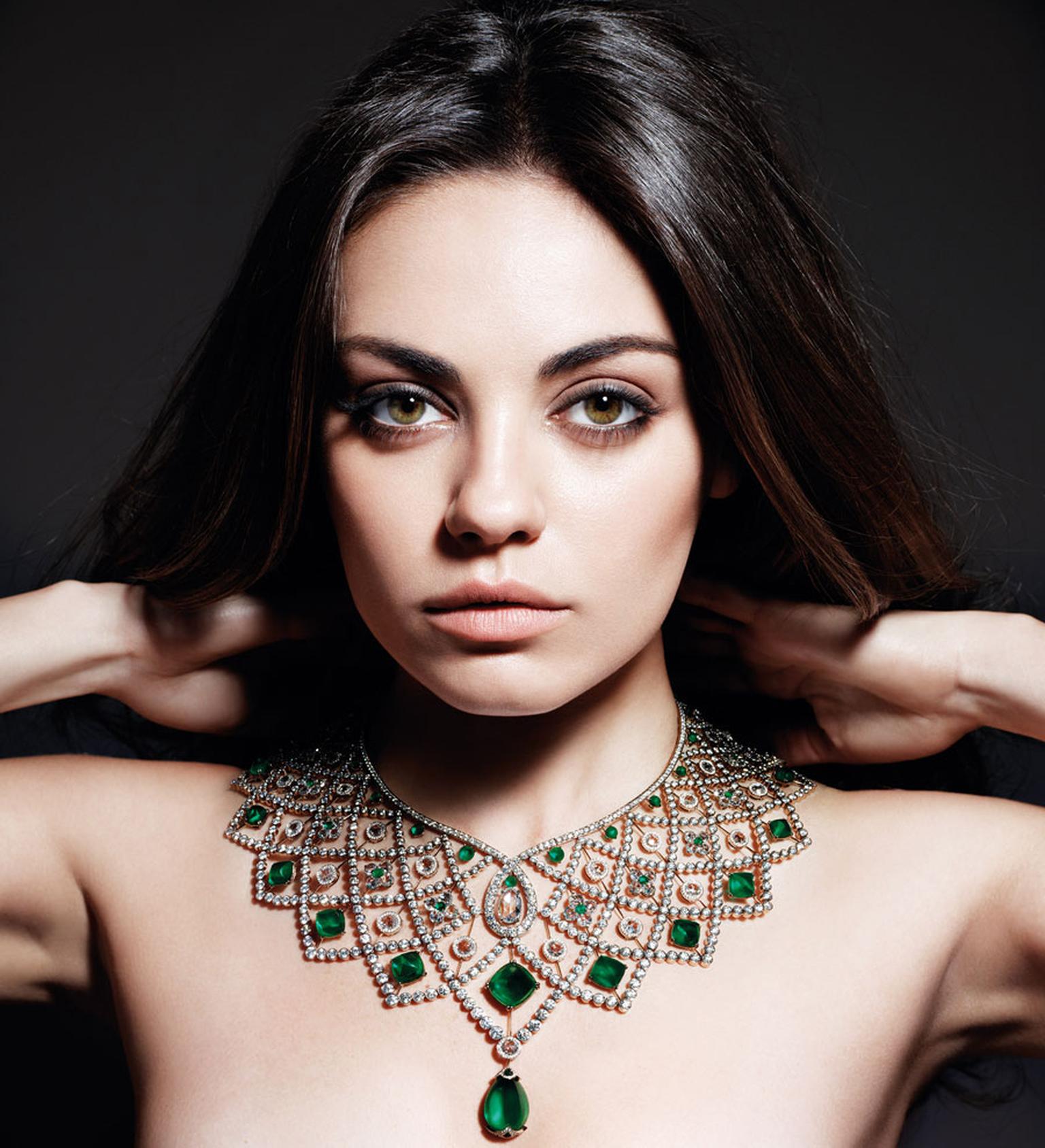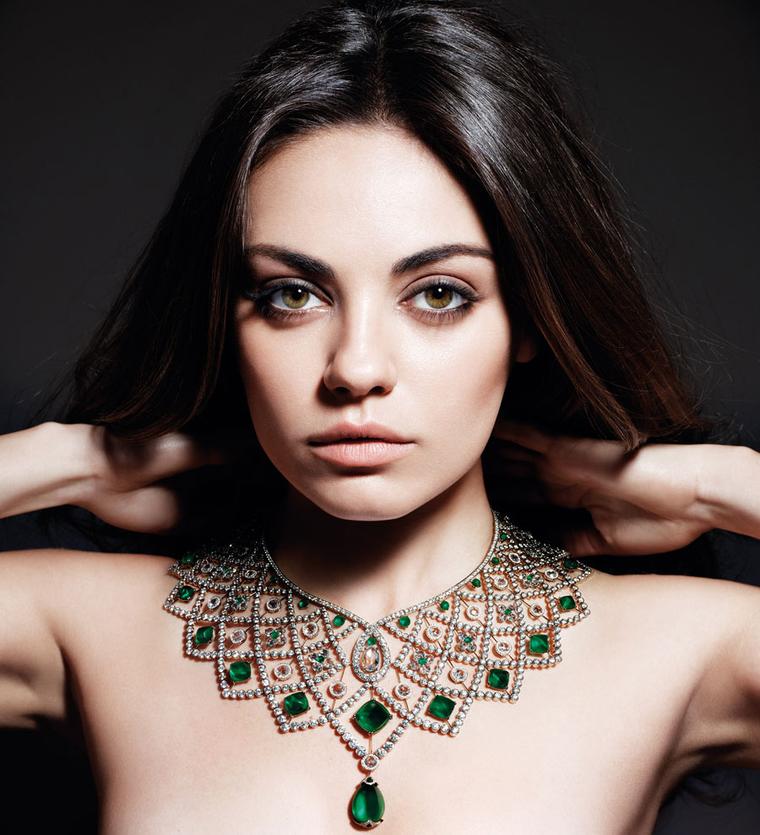 Actress Mila Kunis, soon to star in 'Oz the Great and the Powerful',  is the new poster girl for emeralds and coloured gems as it is revealed that she is the face and brand ambassador of Gemfields, the world's leading coloured gemstone producer. The first shots of Mila wearing jewels made with Gemfields emeralds have been released, and the actress' youthful face offers a fresh, new take on emeralds, a stone normally associated with more traditional style jewellery. But on Mila, the emeralds look contemporary, cool and very wearable, particularly in the shot of her wearing sexy Fernando Jorge earrings, exclusively revealed on The Jewellery Editor. The campaign was photographed by Mario Sorrrenti and styled by Anastasia Barbieri.
Directed by Sam Riami, all eyes will be on Mila when 'Oz The Great and the Powerful' opens at cinemas throughout the world. The Disney version of the classic tale of good and evil will be released on 8 March 2013 and premieres on 28 February in London. Mila plays Theodora, the Wicked Witch, alongside James Franco, Michelle Williams and Rachel Weisz. Mila is expected to be wearing Gemfields jewels for the premiere so keep an eye out for our coverage of this event. 
Here Mila is seen wearing emerald jewels by Fabergé (the fabled jewellery house bought by Gemfields in early 2013), Alexandra Mor, Shaun Leane and Fernando Jorge, but more shots will be revealed of jewels by other Gemfields' design partners, including Dominic Jones, The Gem Palace, Katarina Maxine  and Sutra. These will also include the rich, red glow of rubies. 
Gemfields is a unique company as it not just explores, mines and markets coloured gemstones but also operates a mine-to-market supply chain. This means that the source of each of its gems is traceable and backed by Gemfields' high ethical and environmental standards. Gemfields, whose Kagem mine in Zambia produces 20% of the world's emeralds, prides itself on maintaining its social, environmental and safety standards.
Mila went to see for herself, travelling to Africa to visit the Kagem mine in Zambia. The star of 'Oz the Great and Powerful' says: "While in Africa, I learned that the entire journey that each Gemfields stone takes is carefully considered and that the environment and the local communities where its mines are located are held in the highest regard. I truly believe in Gemfields' mission of ethical mining, and I absolutely have fallen in love with the rarity, beauty and history of emeralds."
Gemfields supports and promotes excellence and innovation in jewellery design through a network of carefully selected design partners. Ranging from individual artist-jewellers to bigger names such as Fabergé, these jewellers work with Gemfields' stones to create new and exciting designs. Watch this space as Gemfields plans to surprise, thrill and make us fall in love all over again with coloured gemstones. 
Portrait of designer Alexandra Mor.

Mila Kunis wears Fernando Jorge earrings featuring Gemfields Zambian emeralds.

In 2013, Gemfields announced its new Global Ambassador: Hollywood starlet Mila Kunis. Here she wears an impressive emerald and diamond collar style 'Romanov' necklace by Fabergé set with ethical Gemfields emeralds.