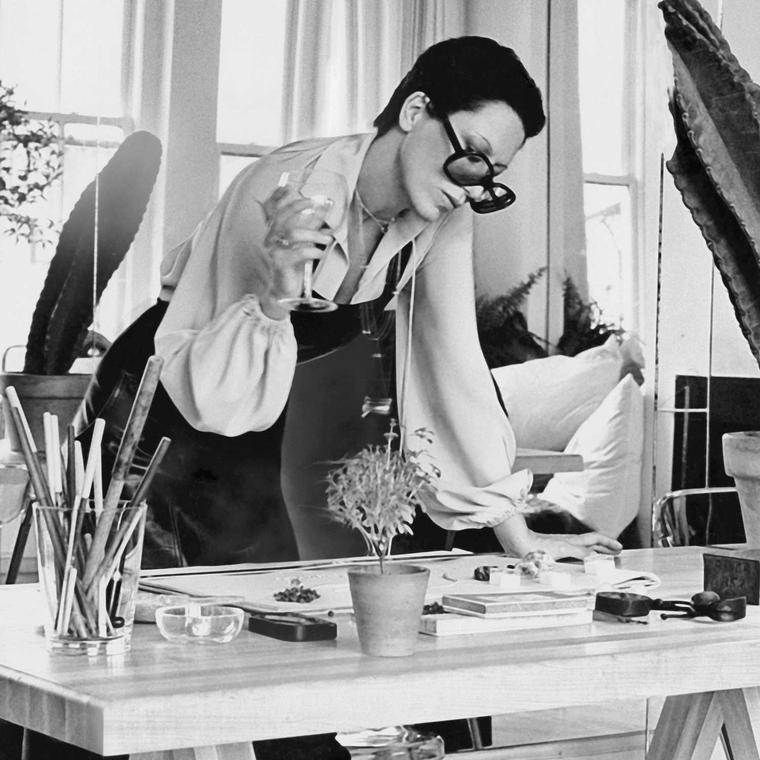 On the 18 March 2021, Elsa Peretti, jewellery designer passed away, leaving the world a legacy of ground breaking designs created over her fifty-year career. I met Elsa Peretti in London at the British Museum in the early 2000's to celebrate the 55 objects in their collection designed by the Italian-born model turned designer. From cake plates to Japanese lacquer bangles, Peretti had a singular approach to design in which material and form fluidly united to create objects of a singular and starkly brave beauty. Towering in height and a formidable presence, Peretti was a woman not easily forgotten.
Read more about Elsa Peretti's most famous designs here.
Revolutionising how women wore jewellery and when, since 1974, Peretti's designs for Tiffany & Co elevated humble motifs into the most sought-after and stylish jewels that have captivated generations of women. Breaking the mould with her new take on luxury for the women born of the feminist movement, she breathed the heady air of Studio 54 and shook the world with her daring and visionary designs for women who knew their minds. Her most famous pieces will live on in jewellery history and include the Bone Cuff, the Bean, the Open Heart, Diamonds by the Yard and the Bottle pendant. As I write this, I am wearing her silver bottle pendant, one of my favourite pieces of jewellery. Reassuringly rounded and perfectly smooth, this pebble-shaped flask is as much a talisman as a miniature sculpture.  
Discover Elsa Peretti's life here.
Raising the mundane to new aesthetic heights, Peretti had the confidence to find beauty in simple objects such as bones or beans. Meticulous craftsmanship and an innate sense of proportion with an Italian flair shook the formality out of jewellery and gave it swagger and attitude. These were pieces for women who earned their own money and bought jewels for themselves and were bold enough to choose style over the old hierarchy of values. Working with craftsmen and women from Barcelona to Murano and Tokyo, Peretti had an uncompromising approach to creation that will stand the test of time.
Jewellery designer Elsa Peretti.

Portrait of Elsa Peretti in the design studio in 1974.