A proliferation of high jewellery ear cuffs is not top of the list of jewels you might expect to see during Couture Week in Paris, but neither are ear climbers ablaze with rare pink and orange diamonds and knuckleduster-style hand jewels set with seriously valuable gemstones. This July, however, tradition was turned on its head as the classical aesthetic that has driven the design of "heirloom" high jewellery for so long was challenged, driven by a new wave of affluent young clients who have inherited their mother's discerning eye for diamonds and gemstones but wouldn't be seen dead in a tennis bracelet.  
With multiple piercings now the norm, jewellery's feverish focus on the ear shows no sign of abating, and what better jewel to combine your love of fashion with your appreciation of precious gems than a unique jewel that no one else will be wearing? An avant-garde accessory that has successfully transitioned from niche trend to major jewel, ear cuffs are edgy yet elegant and guaranteed to steal the show on the red carpet (take your cue from Dua Lipa, who wore de GRISOGONO's writhing diamond ear cuffs to the amfAR gala in Cannes in May).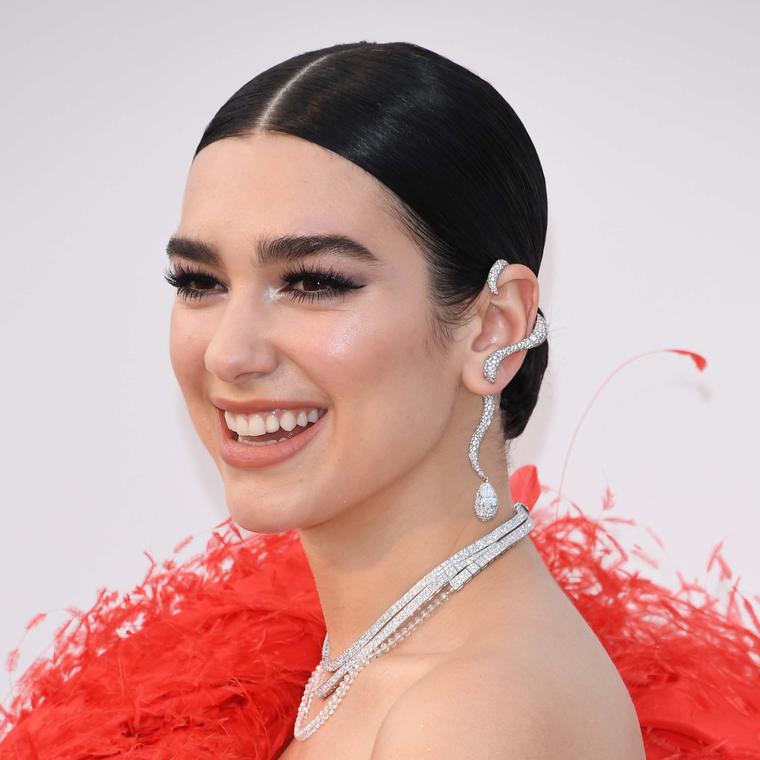 The most exotic and creative ear cuff seen in this summer's high jewellery collections is the Nuri (top) from Boucheron's Vu du 26 collection. The exotically coloured parrot is made of lightweight titanium and she perches on the ear as her feathers cascade from the lobe. 
As you might expect, it is the new guard of designers who are leading the way in this exciting new category of high jewellery. Daughter of a famous diamond dealer, Valérie Messika has been shaking up the traditional notion of diamond jewellery since she founded Messika in Paris in 2005. For Couture Week this July, she debuted her new vision for high jewellery with the fashion-forward Collection Privée, which includes an extravagant ear cuff formed of angular rows of baguette cut diamonds that cut across the lobe, culminating in eight cushion cut yellow diamonds. It's a dramatic statement piece that perfectly balances originality with wearability – precisely the kind of attention-grabbing jewel that has earned Valérie her legion of chic, young fans around the world.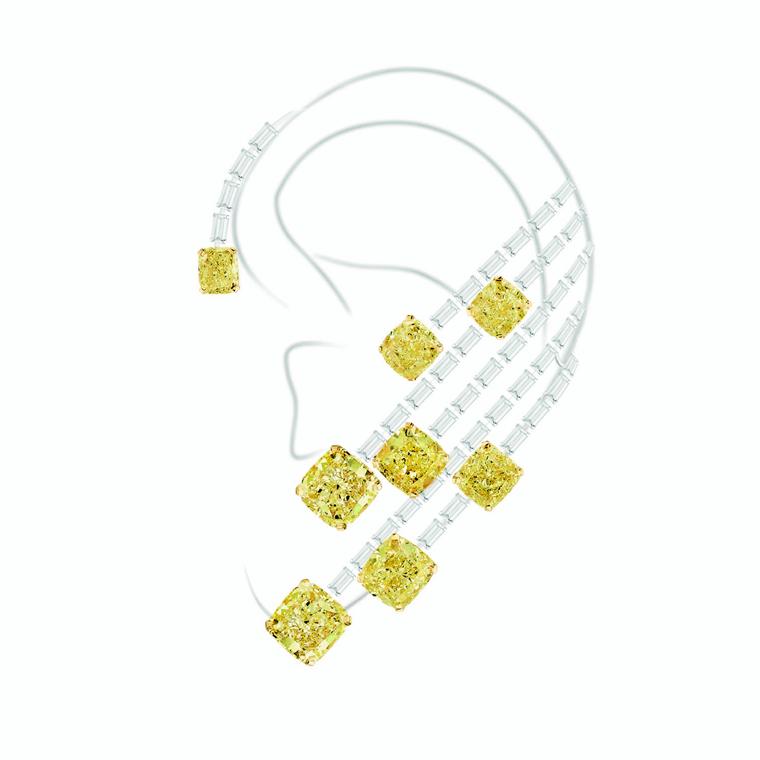 Not for the first time, an ear cuff forms part of Piaget's new high jewellery collection for 2019. Entitled Golden Oasis, the collection mirrors the vivid light and intense hues of a desert landscape, interpreted in vibrant gemstones, coloured diamonds and rich yellow gold. The Vegetal Lace ear cuff centres around a lush green 1.45 carat pear shape emerald from Colombia, its colour reminiscent of the agave plants that are among the only flora to thrive in a desert landscape.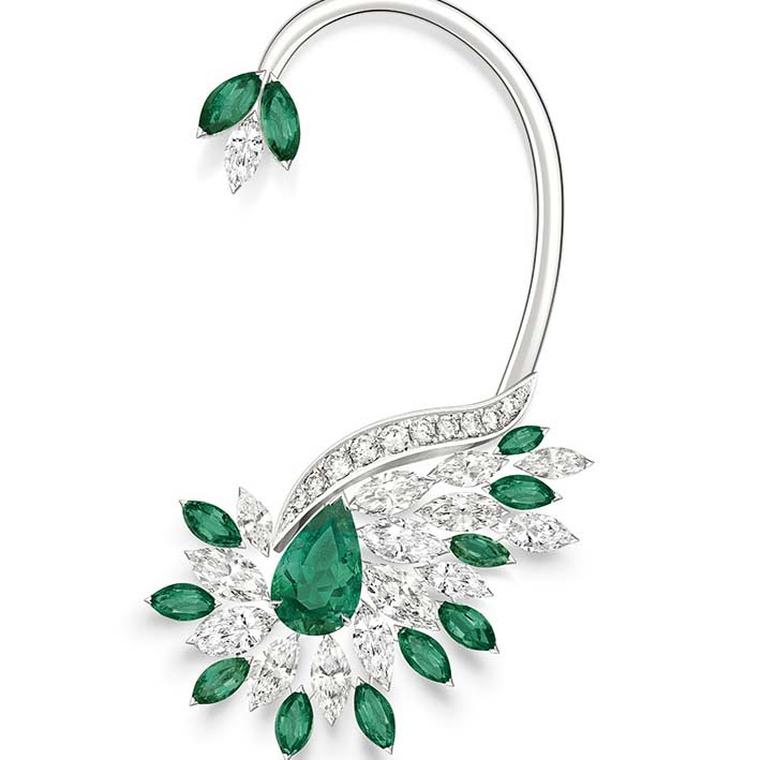 David Morris, the London jeweller who opened his Rue Saint-Honoré boutique in Paris in 2017, debuted two one-of-a-kind ear cuffs during Couture Week that are extensions of existing jewellery collections. The Cherry Blossom cuff features delicate flowers set with clusters of pink, yellow and white diamonds that creep across the lobe and peep over the ear, incorporating all the delicacy and femininity of the Cherry Blossom jewels and turning it up a notch. 
Japanese jeweller Tasaki opened a boutique in the Ritz Hotel in 2016 and quickly set about changing the status quo on Place Vendôme. Specialising in pearls, farmed by the company in Japan and Myanmar, its sculptural approach to jewellery design breathes new life into this most traditional of gems, and the high jewellery Atelier collection is where designer Prabal Gurung really gets to express his playful aesthetic. Set with pure white Akoya pearls that frame the ear and form a graduated fringe of pearls, the new Atelier ear cuffs are pure 1920s glamour. 
Piggy-backing on the success of Couture Week, and the wealthy clients it attracts, a growing number of independent designers are showing high jewellery collections of their own in Paris to much acclaim. My favourite new ear cuff of the season is by Ana Khouri, who debuted her new high jewellery creations at the Musée des Arts Décoratifs, on models sheathed in simple white slip dresses.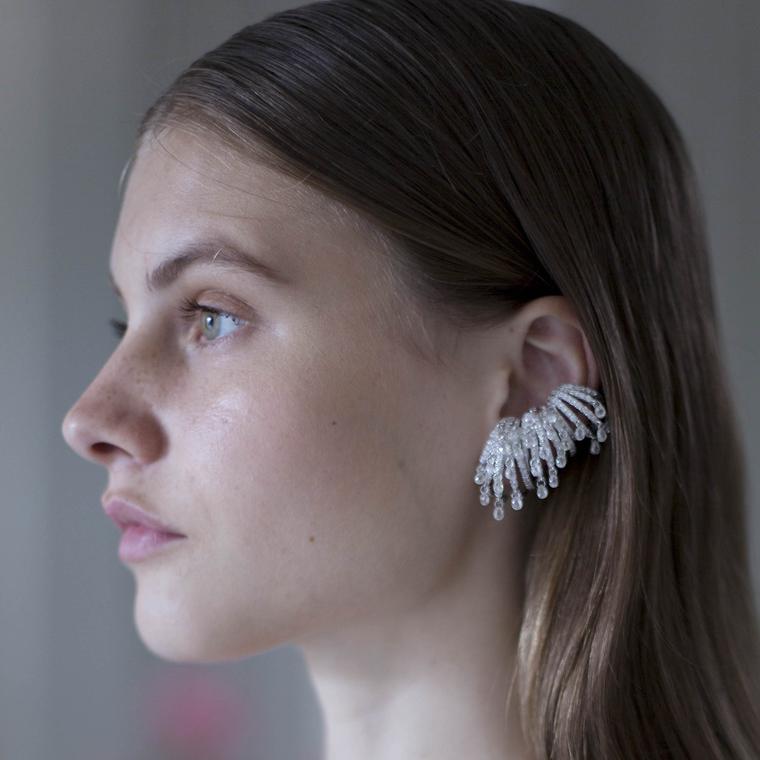 The Brazil-born, New York-based designer trained as an artist and a sculptor first and it shows. Her Delphine ear cuff is the epitome of contemporary high jewellery. The fact that it is set with ethically and responsibly sourced diamonds and gemstones is another very good reason to take a closer look at Khouri's new Harmony collection. 
David Morris' Cherry Blossom ear cuff (one of a pair) is a new addition to the Cherry Blossom jewellery collection launched in 2014. 

A gouache sketch of de GRISOGONO's diamond high jewellery ear cuffs. 

Dua Lipa wears de GRISOGONO's writhing diamond ear cuffs to the amfAR gala in Cannes in May

Messika Collection Privée ear cuff, set with rows of baguette cut diamonds and eight cushion cut yellow diamonds. 

Ana Khouri briolette diamond Delphine ear cuff, from the new Harmony high jewellery collection. 

Vegetal Lace diamond and emerald ear cuff from Piaget's new Golden Oasis high jewellery collection, set with a 1.45 carat pear shape Colombian emerald