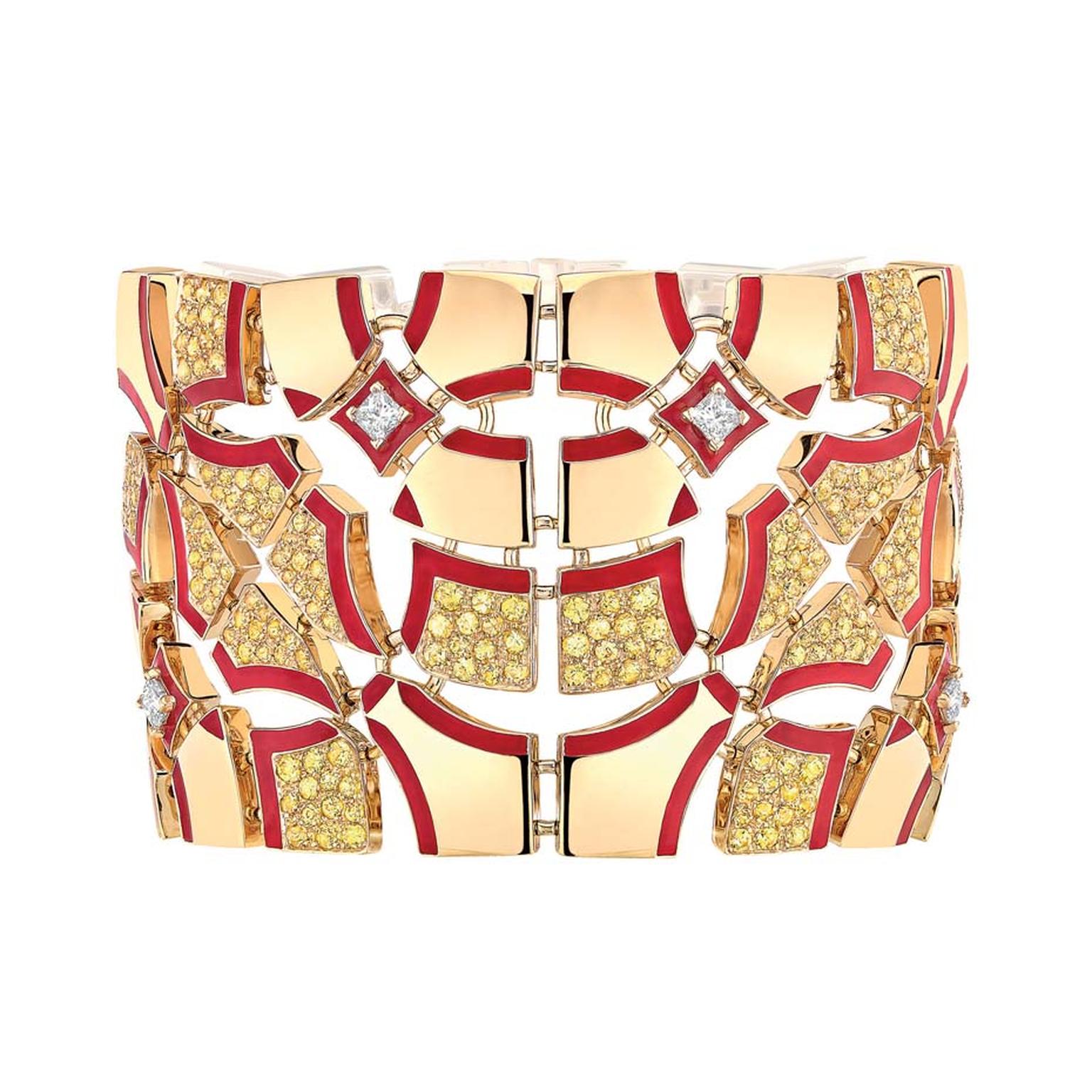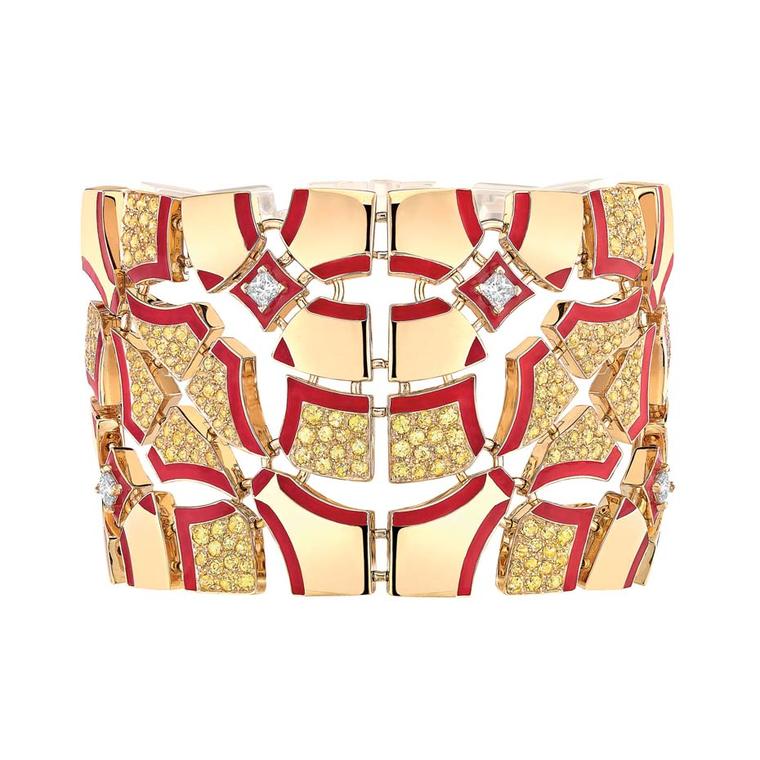 This season's cuff bracelets pack a powerful punch and are the ideal pieces to add a luxe-with-an-edge statement.
Inspired by Art Deco geometry, the Apotheosis cuff bracelet from Louis Vuitton's Acte V high jewellery collection combines sharp lines of twinkling diamonds with the drama of black onyx. The V, which features prominently in this fifth high jewellery collection from the Parisian maison, is further accentuated by the addition of a glistening 16.51 carat tsavorite. A second bejewelled cuff features white gold and diamonds in a less graphic but equally beguiling design.
Buccellati's chunky cuff bracelets are set with gemstones and engraved using the 'regato' technique, which scores ultra-fine lines in the gold so that it resembles silk. The Italian house launched its Dream Bracelets collection, consisting of around 45 cuffs, during Paris Haute Couture week this July. Each piece displays the prowess of the artisans who created them using traditional goldsmithing techniques.
Throw a colourful arm party with the glistening gold and red Sunrise cuff from Chanel's stunning new high jewellery collection, Café Society. From the same collection, the decadent Midnight bracelet also pairs diamonds and onyx in a design that references the glamour and elegance of the roaring 1920s.
For a more delicate take on the trend, look no further than Piaget's charming interlaced creations. The Maison's newest high jewellery collection, Extremely Piaget, features this asymmetrical cuff in pink gold with pink opals, turquoise beads and diamonds.
The perfect antidote to minimalism, Boucheron's Fleur des Indes bracelet, from the new Rêves d'Ailleurs high jewellery collection, celebrates the beauty of the Indian water lily. Diamond encrusted mother-of-pearl petals open up to reveal a sapphire cabochon pistil surrounded by smaller sapphires to represent strands of pollen - a delightfully pretty interpretation of this bold trend.
Boucheron Nymphea cuff featuring mother-of-pearl petals, sapphire cabochon pistils and diamonds, from the Rêves d'Ailleurs high jewellery collection.

Buccellati Lastra cuff featuring brilliant and fancy cut diamonds and 7ct of oval rubies.

Buccellati Lastra cuff featuring round faceted rubies and emeralds, and brilliant-cut diamonds.

Chanel Midnight cuff featuring black onyx and diamonds.

Louis Vuitton Acte V collection diamond Apotheosis cuff.

Louis Vuitton Acte V collection cuff featuring black onyx, diamonds and a pear-shaped tsavorite.

Piaget Extremely Piaget collection white gold bracelet set with 870 brilliant-cut diamonds and nine lapis lazuli cabochons.

Piaget Extremely Piaget collection gold cuff with enamel, turquoise beads and diamonds.

Chanel gold Sunrise cuff featuring enamelling and white and yellow diamonds, from the new Café Society collection.