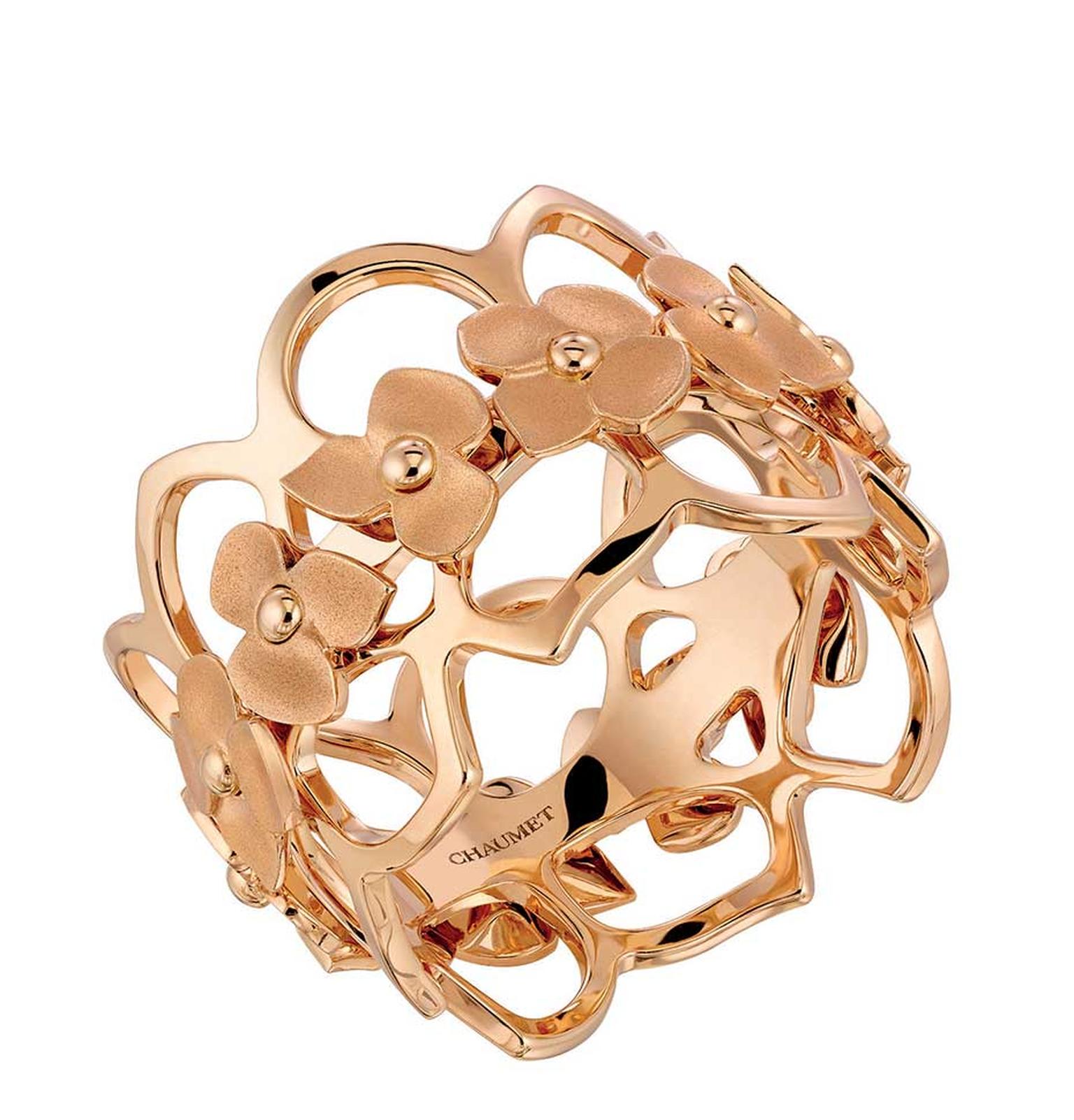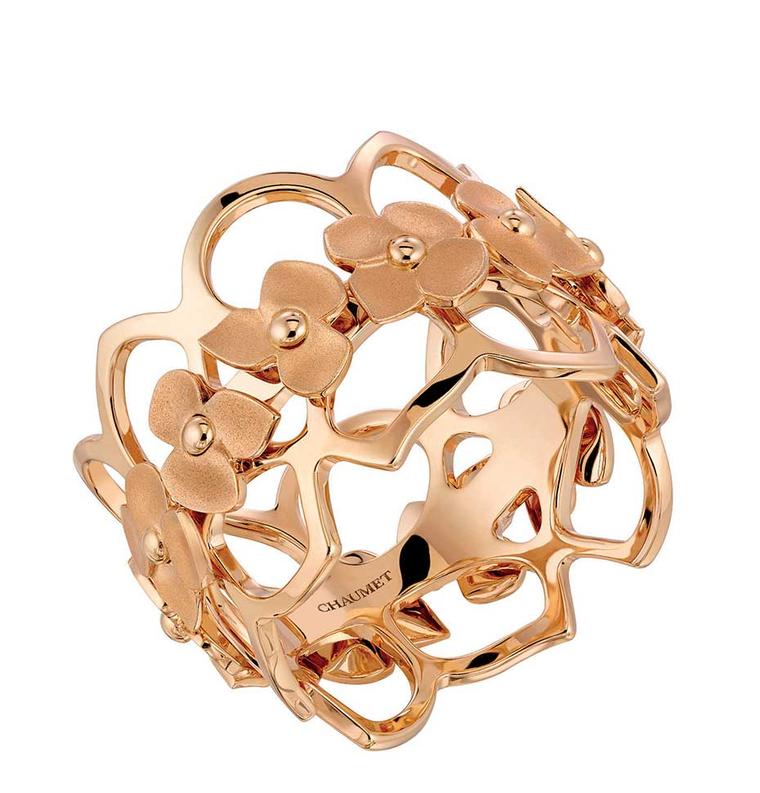 By Åse Anderson in London
With a soft and lustrous sheen that flatters every skin tone, it's no wonder that rose gold jewellery has seen a recent surge in popularity. A jewel crafted out of this radiant blush colour has a romantic quality that makes it one of the top Christmas gift ideas for women for 2014.
Also known as pink or red gold, the rose-hued alloy is created by mixing yellow gold with copper. While it was popular in 19th century Russia and the mid-Victorian era, rose gold jewellery had its previous heyday in the 1920s to 1950s, especially when platinum jewellery was banned during the war.
It all but disappeared in the minimalistic 1980s and 90s, but with the rise of vintage-style fashions, rose gold jewellery has enjoyed a very welcome revival 
Inspired by the hydrangea flower, Chaumet's Hortensia rose gold ring is a glistening floral wreath encircling the finger, while the rose gold pendant weaves an interlaced pattern of solid and openwork petals that hangs fashionable close to the waist.
A piece of rose gold jewellery from London jeweller Astley Clarke - which always arrives so beautifully packaged that there is absolutely no need to rewrap it yourself - would make an extravagant stocking filler. One of the latest additions to the Muse collection, the Cosmos rose gold locket, brings the traditional vintage locket firmly into the 21st century.
The circular diamond pavé on the Astley Clarke Muse Icon rose gold earrings and necklace is inspired by the ancient art of mosaic setting. The beautiful play of light created by the diamonds' open back setting adds an amazing sparkle and lustre that has to be seen to be believed.
Diamonds are not the only stones that lend themselves to being paired with rose gold jewellery. A different and more vibrant effect can be created by setting an amethyst into a rose gold ring as demonstrated by the gorgeous Chopard Imperiale ring. Or how about the colourful combination of rose gold beads and a vivid red cornelian gemstone, as seen in Van Cleef & Arpels' new Perlée Couleurs stacking rings?
Dark and alluring, the dramatic feel created by the juxtaposition of soft pink gold jewellery snow-set with black diamonds instantly elevates the Pomellato Sabbia ring to a statement piece. And this warmest of precious metals doesn't come much prettier than the new Mikimoto Sweets ring, with a soft white Akoya pearl nestled in rose gold, accentuating its pinky tones.
Looking for more Christmas presents of the jewellery kind? Visit our dedicated Christmas section, where you will find inspiring gift ideas galore, from new blue jewels to pearl earrings with a playful streak.
Mikimoto Sweets Akoya pearl and rose gold ring (£1,350).

Pomellato Sabbia snow-set black diamond and rose gold ring (£1,000).

Chopard Imperiale rose gold ring set with a 7.30ct cushion-cut purple amethyst (£2,180).

Van Cleef & Arpels Perlée Couleurs rose gold ring, set with a vivid red cornelian gemstone at the crown (£1,550).

Chaumet Hortensia rose gold necklace (£2,030).

Chaumet Hortensia rose gold ring (£1,870).