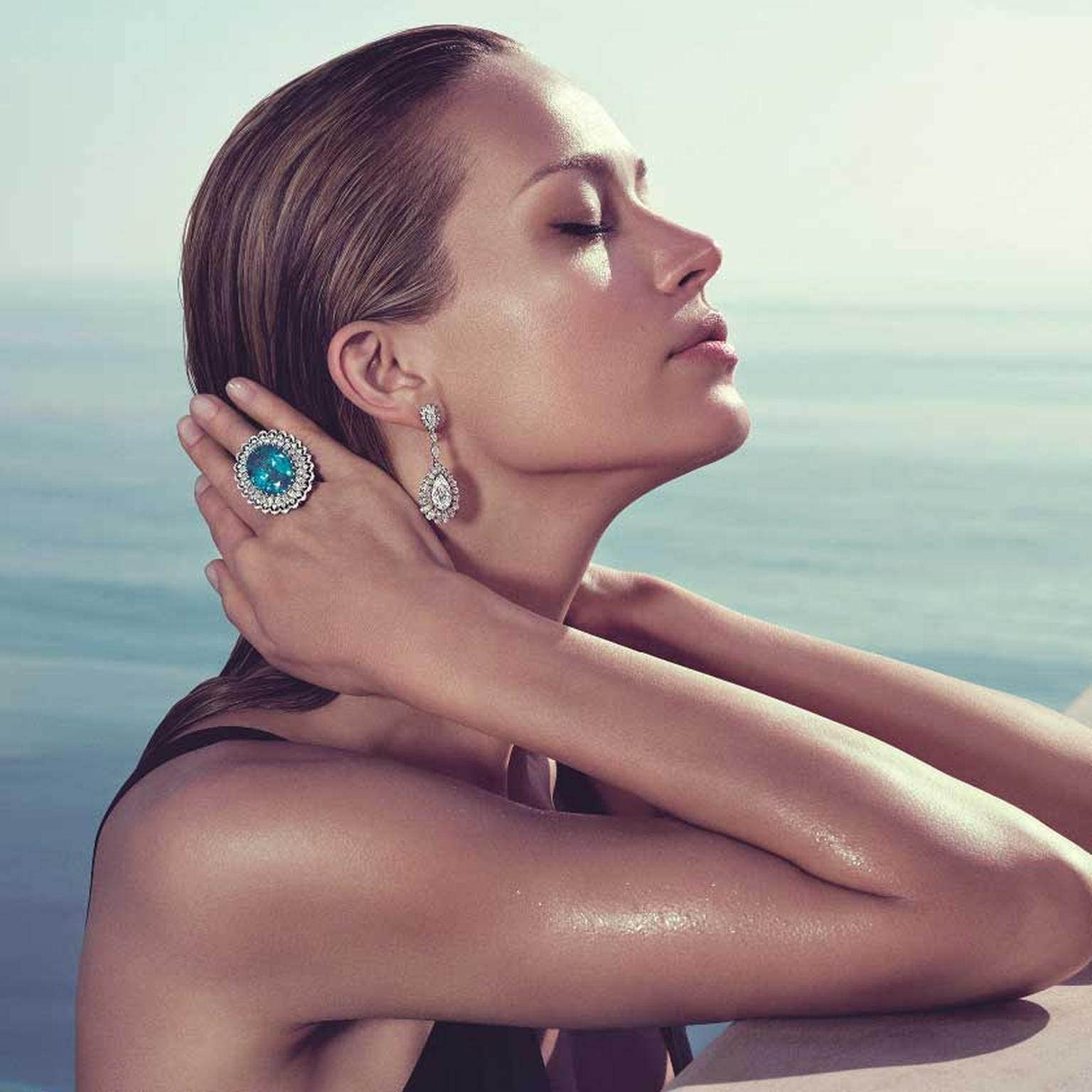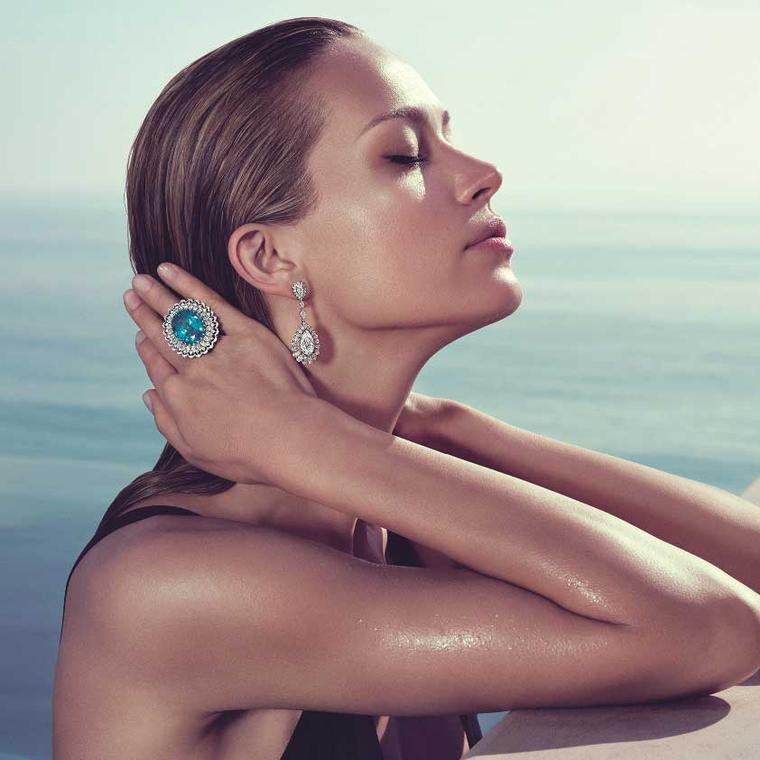 By Åse Anderson
Chopard is launching a new high jewellery campaign for summer starring supermodel Petra Nemcova - a continuation of the partnership that started two years ago between the Swiss luxury brand and the Czech model.
The sizzling pictures featuring a sun-kissed Nemcova are both elegant and full of a joyful energy. Wearing a stunning high jewellery Chopard ring in white gold set with an oval Paraiba tourmaline from the 2015 Red Carpet collection, the neon-blue gemstone mirrors the ocean behind it. Nemcova pairs the one-of-a-kind ring with Chopard earrings set with pear-shaped diamonds totalling 17.7ct.
As a Chopard ambassadress, Nemcova stunned the crowds at last month's Cannes Film Festival with her beautiful red carpet jewellery. The supermodel's impeccable Cannes jewellery choices included a Chopard diamond butterfly necklace and a coloured gemstone ring from the Temptations collection.
Chopard co-president and artistic director Caroline Scheufele first teamed up with Nemcova in 2013 to create a Chopard bracelet, which helped raise money for the Happy Hearts Fund - a charity set up by the supermodel after she survived the 2004 tsunami. A proportion of the sales of the rose gold Happy Diamonds bracelet featuring a mobile heart-shaped pink sapphire went towards rebuilding schools that have been destroyed in natural disasters.
Czech model Petra Nemcova stunned in Chopard jewellery at the premiere of American thriller Sicario at the Cannes Film Festival 2015. The Chopard ambassadress wore a sparkling high jewellery diamond butterfly necklace.

Petra Nemcova shows off her supermodel credentials in a plunging white gown paired with a Chopard Red Carpet collection necklace set with 93ct of green beryls and an aquamarine ring from the Temptations collection.

Chopard earrings from the Red Carpet collection in 18ct gold, fully set with pear-shaped diamonds and adorned with two pear-shaped diamonds of 5ct each.

Chopard ring from the Red Carpet collection in white gold, set with an exceptional 41.57ct oval Paraiba tourmaline and diamonds. 

The new Chopard campaign features summery pictures of supermodel Petra Nemcova wearing some of the Swiss jewellery house's most stunning high jewellery creations from the 2015 Red Carpet collection.