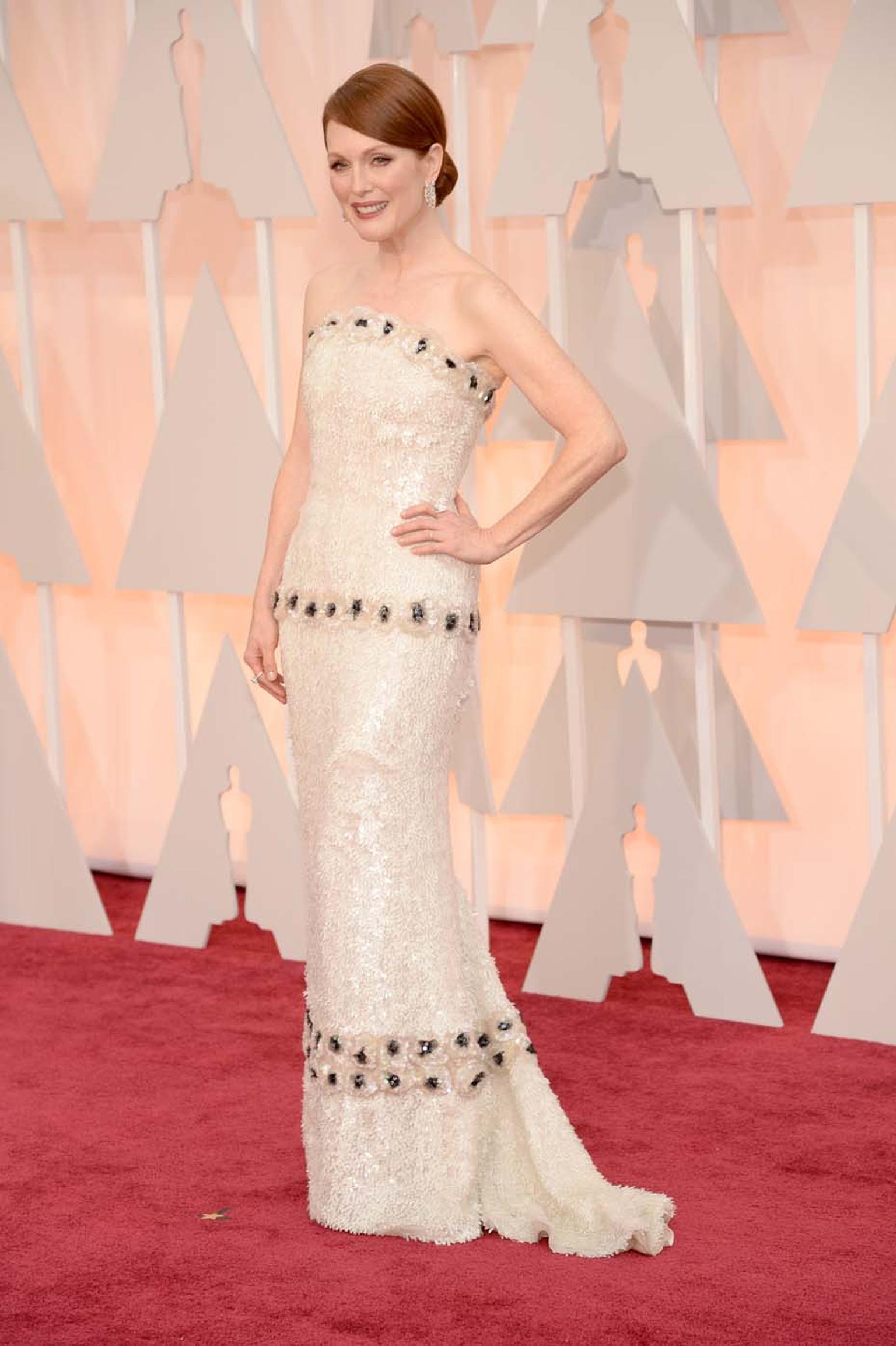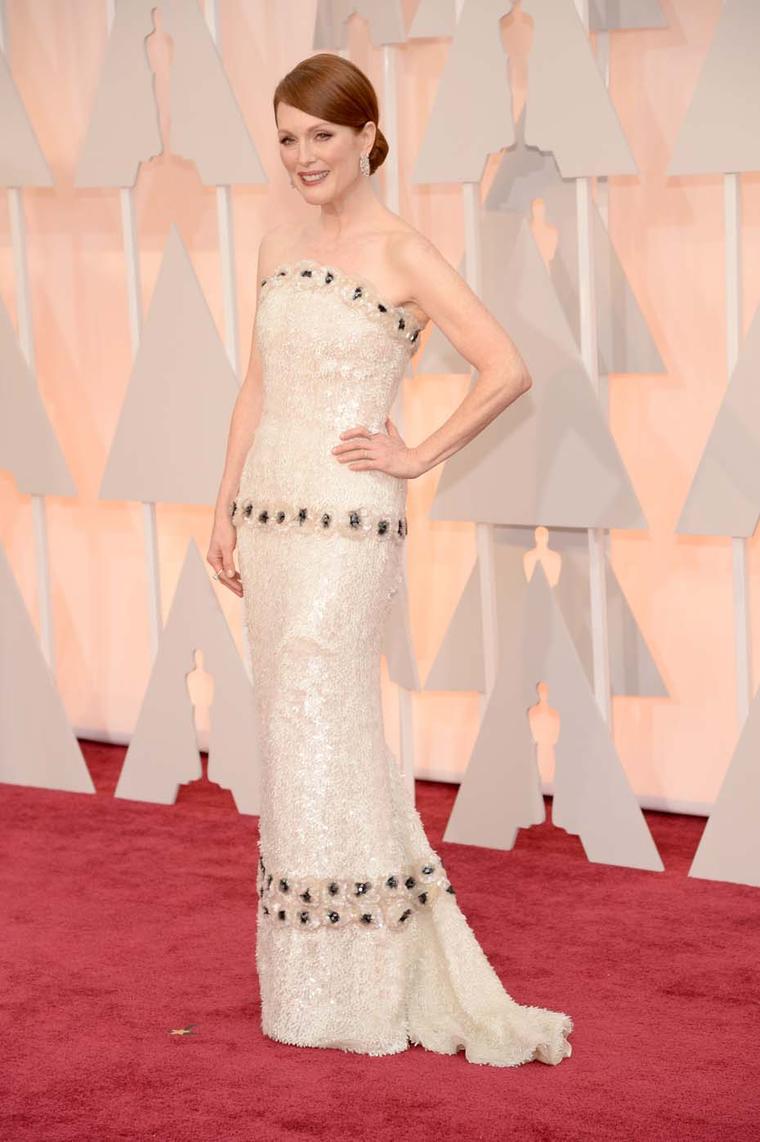 By Maria Doulton
It has been said that Chopard jewelry brings luck to the actresses who wear it on the red carpet, and Julianne Moore perpetuated the legend by picking up the Oscar for Best Actress at the Academy Awards 2015 wearing Chopard jewels. Moore, who was presented the Oscar for her leading role in Still Alice, wore over 14 carats of diamonds in a pair of white gold Chopard high jewelry earrings and a 10 carat square-cut diamond ring along with a smaller 4 carat marquise diamond ring.
We had tipped Julianne Moore as a likely Oscar winner in Chopard jewelry as earlier in the year she received the BAFTA award for Best Actress wearing Chopard jewels and was also seen on the red carpet at the Golden Globes in yet more Chopard diamonds. Last year, Cate Blanchett collected her Oscar for Best Actress wearing a pair of opal Chopard earrings and also chose Chopard jewels for her victorious moments at the BAFTAs, the Golden Globes and the SAGs. I am sure you will remember the large birds in nest diamond high jewelry pendant Blanchett wore to the BAFTAs 2014. In 2013, Jennifer Lawrence collected her Oscar for her leading role wearing - yes you guessed it - Chopard jewels. So by my calculations, that makes a straight run of three leading ladies in Chopard jewelry at the film industry's most prestigious awards ceremony.
Is Chopard the lucky charm or has this Swiss jeweler got a sixth sense for picking winning ladies? One thing is for sure, the house hedges its bets as Marion Cotillard, who was running for Best Actress at the Oscars, also wore Chopard diamonds.
And Julianne Moore's award was not the only success for Chopard on Oscar night 2015. Garnering a large share of press attention, Lupita Nyong'o wore Chopard diamond earrings and three diamond rings along with her scene-stealing pearl-embellished Calvin Klein dress.
And there was more: British actor Eddie Redmayne collected his Oscar for Best Actor wearing a Chopard L.U.C. XPS platinum watch. So now you know, if you want to pick up an Oscar, choose Chopard.
British actor Eddie Redmayne chose to accessorize his bespoke Alexander McQueen suit with a Chopard L.U.C XPS watch in platinum as he collected his Oscar for Best Actor.

Actress Lupita Nyong'o walked the Oscars red carpet wearing a pair of Chopard diamond earrings featuring pear-shaped and rose-cut diamonds and three Chopard diamond rings, which added extra sparkle to her pearl-embellished Calvin Klein dress.

Best Supporting Actress nominee, Marion Cotillard, also chose Chopard diamonds as her red carpet jewelry for the 87th Academy Awards.

Julianne Moore, winner of this year's Best Actress Oscar for her role in Still Alice, chose a pair of pear-shaped diamond earrings set in 18k white gold, a marquise-cut diamond ring, and a square-cut diamond all from the Chopard High Jewelry Collection, for her red carpet jewelry.