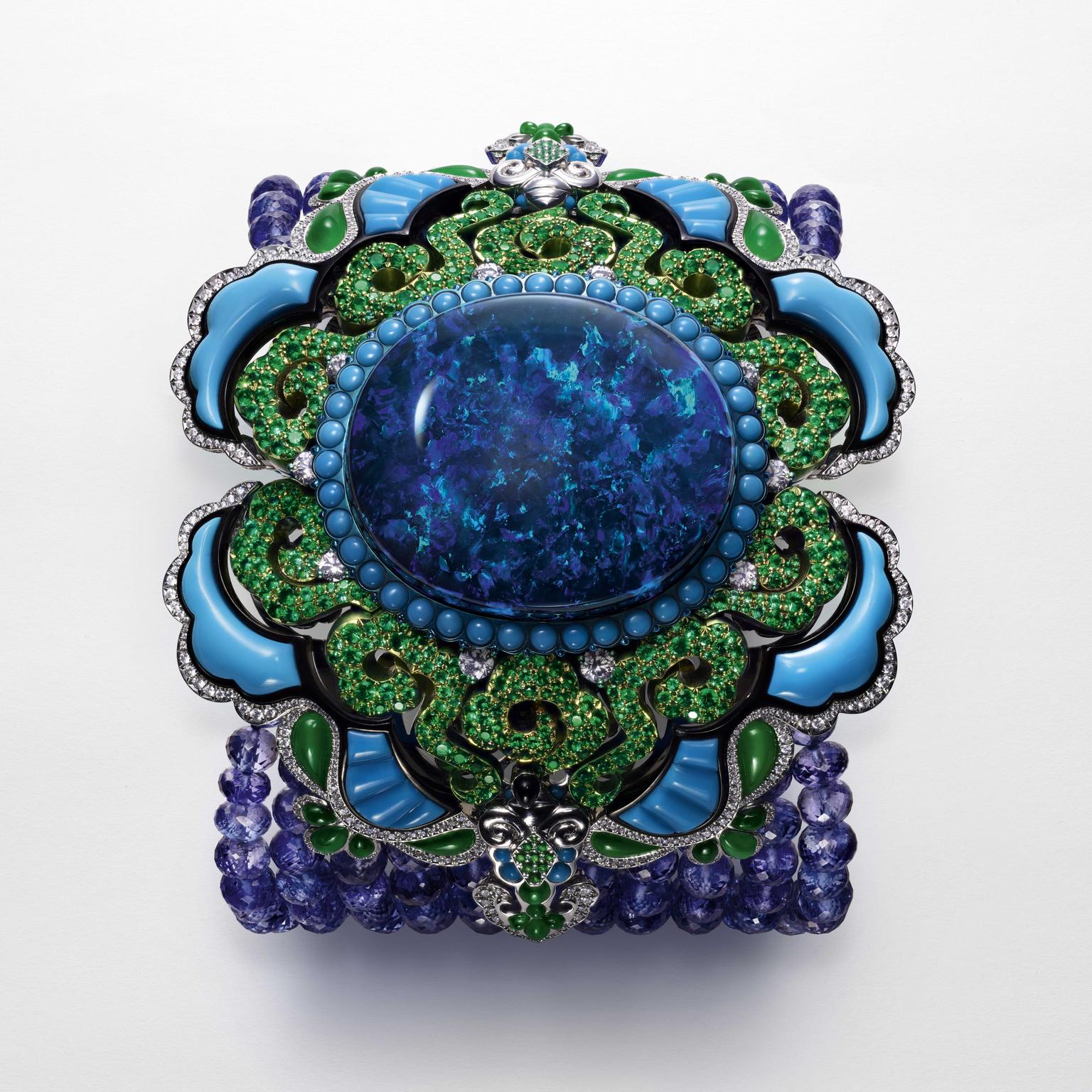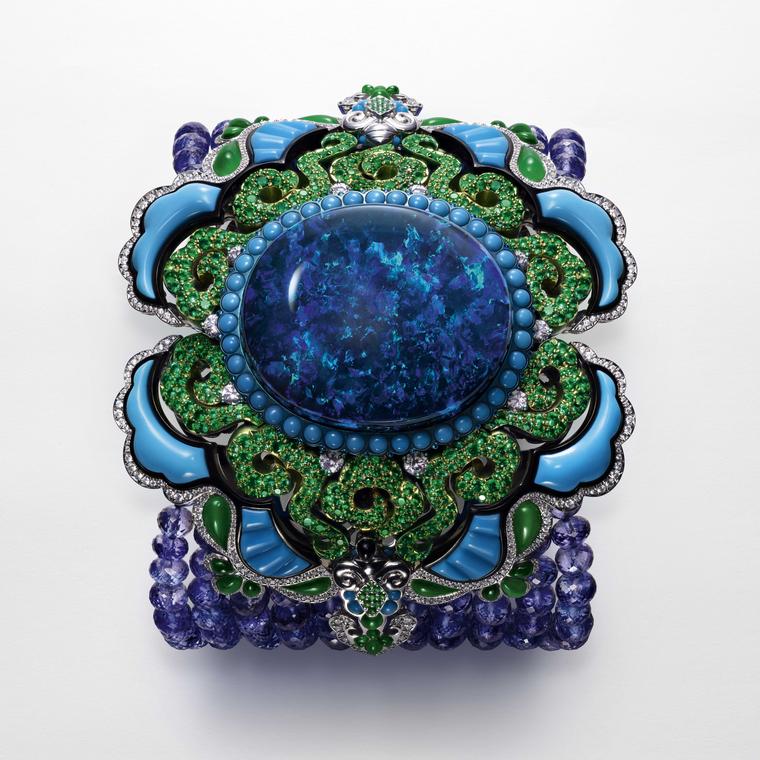 The name Chopard has become synonymous with the Cannes Film Festival. The Geneva house known for its glamorous high-carat jewels is not only an Official Partner of the Festival but each year creates the coveted Palme d'Or awards as well as dominating the jewellery draped on celebrities strutting the  red carpet.
So intertwined are Chopard and the Film Festival, that each year, Chopard's high jewellery collection is unveiled at Cannes and surprise, surprise it is called the Red Carpet Collection. The Film Festival is Chopard's single most important marketing, PR and sales event of the year, so all the stops are pulled out. A carefully orchestrated parade of Chopard jewels daily adorn super models and actresses, client drop by their roof top suite at the Martinez Hotel and Chopard's parties make Jay Gatsby look mean spirited. Read more about Chopard's involvement in the Film Festival here.
Matching the age of the Film Festival, now in its 71st edition, Chopard has created 71 one-off high jewellery pieces. Broad in its theme and range, from a traditional emerald and diamond necklace to an extravagantly eclectic feather choker what unites Chopard's 2018 Red Carpet jewels is a love of vibrant colour and a will to experiment with different materials from heron plumes to ceramic. Chopard is able to offer up this shimmering cornucopia of celebrity loans thanks to the fact that it has the largest high jewellery workshop in Switzerland with more than 45 specialised artisans.
The most valuable piece is a timelessly elegant emerald and diamond necklace composed of a circle of diamonds that alternate with vivid green no-oil emeralds and tapers down to two detachable diamonds (below), the largest of which is a 20-carat D Flawless pear-shape diamond. It took 268 hours of work to complete the jewel in Chopard's Geneva high jewellery atelier.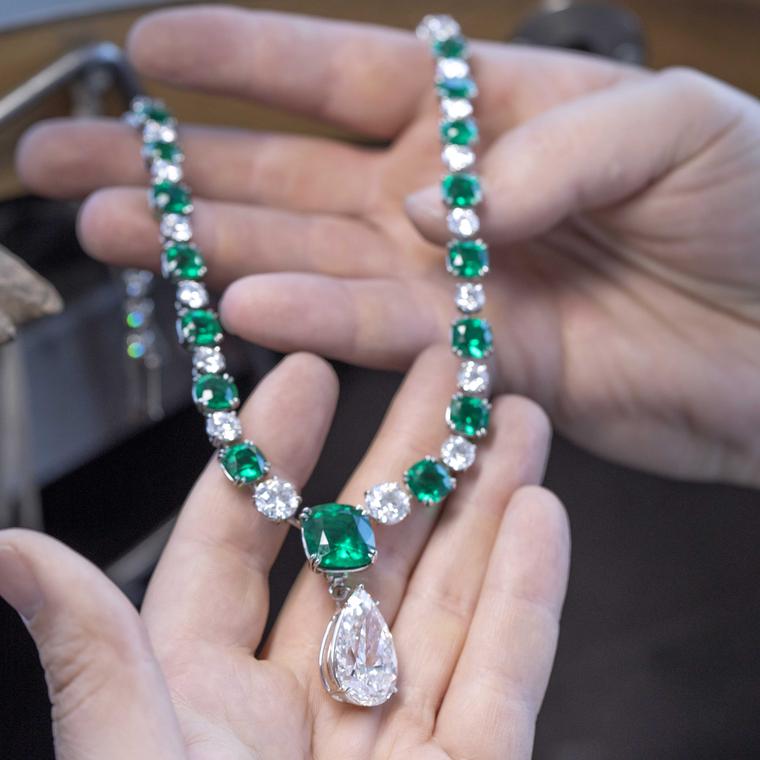 The Orchid earrings had their first outing with Cate Blanchett at the Opening Ceremony. There are two versions, each a cascade of blooms either set with opals, yellow sapphires and garnets – as worn by Cate – or set with opals and pink sapphires and coated in ceramic powder (below). Both use titanium to lighten and strengthen the elaborate structures and each has 4,800 tsavorites set on the stems and miniature buds.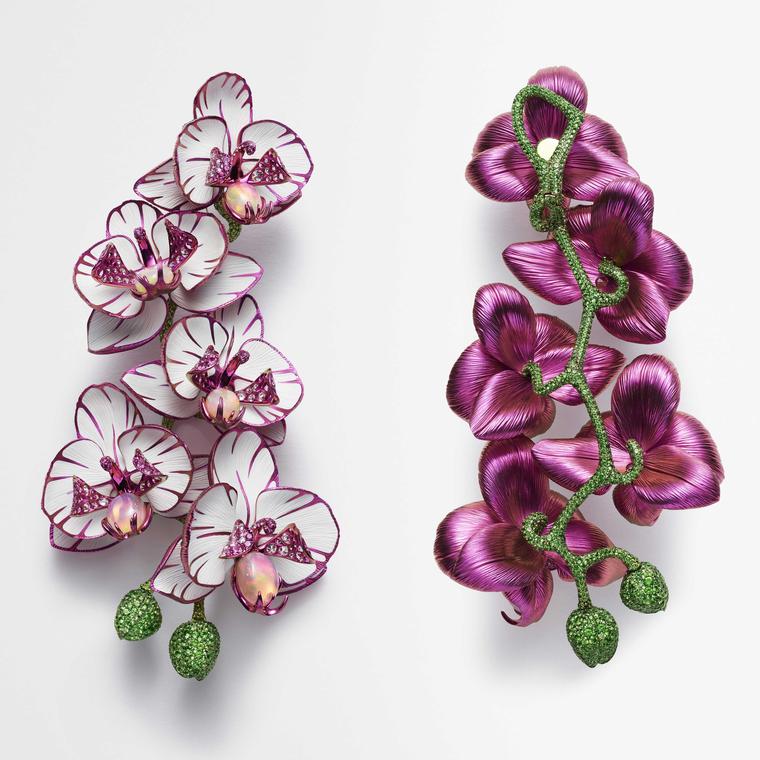 An Oriental aura surrounds some of the larger jewels including a 'secret' watch and outsize necklace and both are strung on tanzanite beads, a gemstone very much in vogue. The watch dial is concealed below a mesmerising black opal surrounded by Asian-style scrolls of gold set with tsavorites and carved turquoise. As its centrepiece, the necklace has a 12.4-carat pear-shape aquamarine surrounded by red ceramic in a blue-titanium mount topped by a golden pearl (below).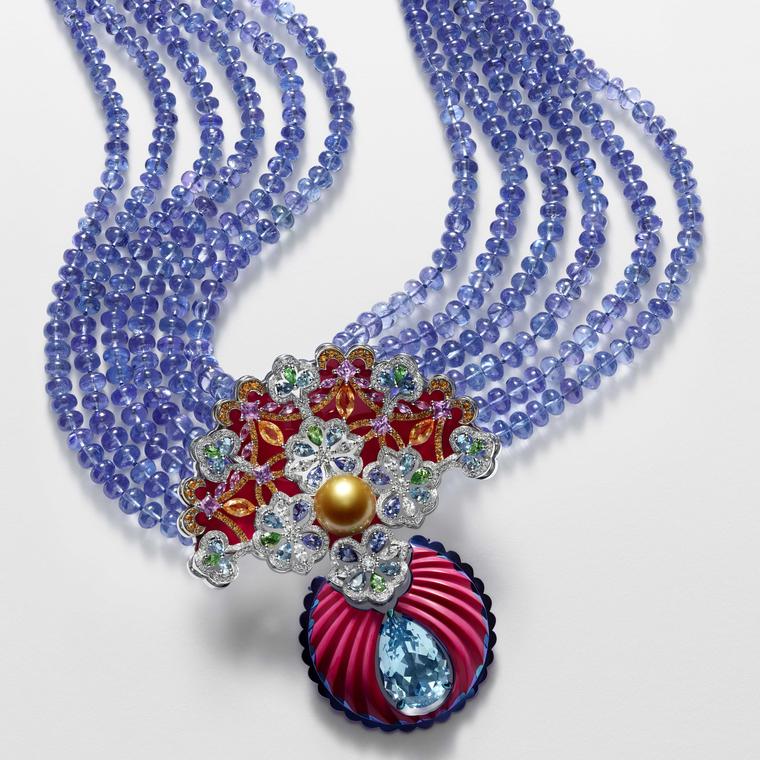 Attention-seeking as these may be, the Feather Necklace stands out for its originality. Inspired by the native costumes of the Mongolian planes, a sculpted gold cameo adorned with swirls of blue apatites, violet garnets and red jasper is set at the centre of collar of rooster, grey heron, ostrich and black pheasant feathers (below). Created in cooperation with feather artist Nelly Saunier, I can't wait to see this on the red carpet.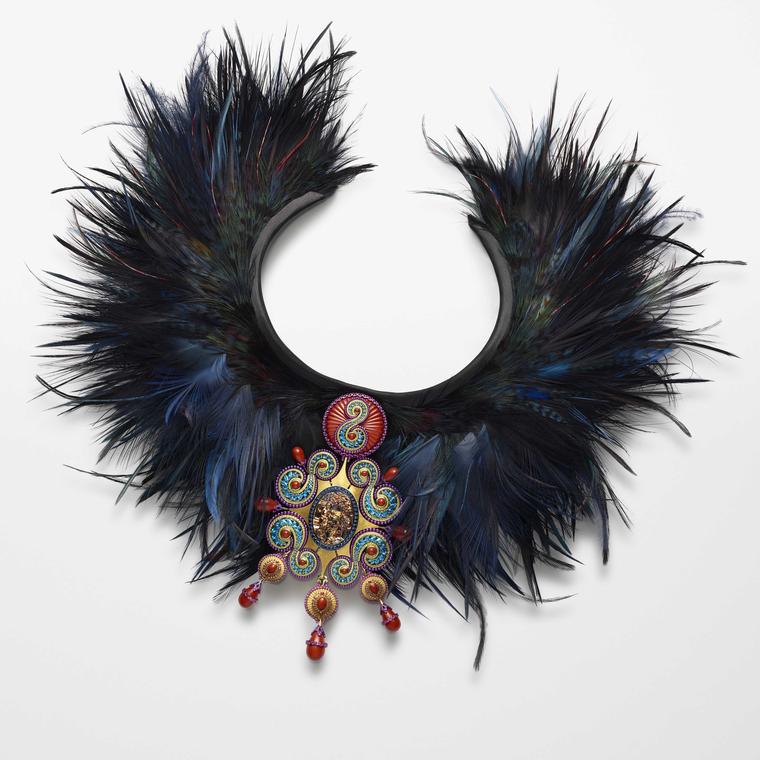 Since 2013 Chopard committed to a Journey to Sustainable luxury with the support of Eco-Age and Livia Firth's Green Carpet Challenge. The first to use Fairmined gold in high jewellery, each year sees more red carpet creations using ethical gold and sustainably sourced diamonds. This year Co-President and Creative Director Caroline Scheufele announced they would be using only ethical gold in all their jewels and aiming to responsibly source a new colour gemstone each year. This year's two diamond necklace and earring sets (below) are delicate lacy creations showcasing the skill of the house's 'mains d'art' or artistic hands.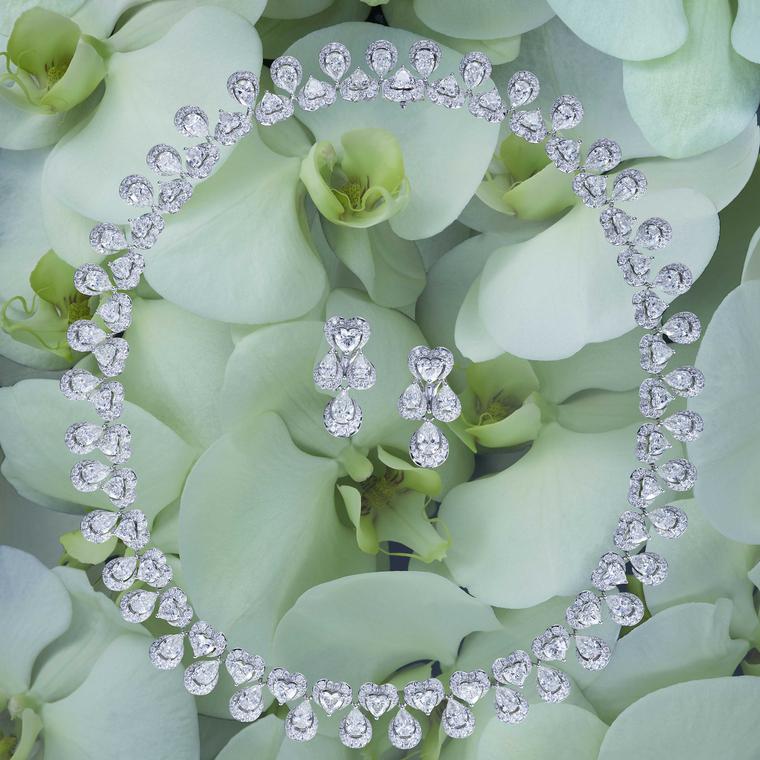 And Cannes would not be complete with the Palme d'Or that Chopard has made each year in its workshops (below). Since 2014, the Palme d'Or has been made from Fairmined gold, helping raise awareness of the importance of sustainability in the mining of precious metals. Read more about Chopard's first Fairmined Palme d'Or here. 
And that completes the impressive presence of Chopard at the Cannes Film Festival, a partnership that many vie for but few can deliver on. 
Since 1998 Chopard has made the coveted Palme d'Or given to the best film at the Cannes Film Festival that since 2014 has been made from ethical Fairmined Gold. Two smaller versions are created for Best Actor and Actress.

Cate Blanchett is known for her daring but usually spot-on jewellery choices and this year once again surprises us with the unusual and very beautiful Chopard Orchid earrings that she wore to the Opening Ceremony of the 71st Cannes Film Festival.

The Chopard Orchid earrings worn by Cate Blanchett  are made of gold and titanium. The slender stems and buds alone are set with 4,800 tsavorites and flowers shimmer with yellow sapphires, deep mauve garnets and opals.

Since 2007, Chopard produces a Red Carpet collection of jewellery based on the age of the Cannes Film Festival. Now in it's 71st year, the Geneva jeweller has created 71 one-off jewels including this sapphire and emerald bracelet. 

With 17 no oil emeralds and a D Flawless 20 carat pear-cut diamond, this is the most spectacular of Chopards Red Carpet Jewels of 2018.

A second pair of Chopard Orchid earrings are made of pink titanium and set with pink sapphires and opals and coated with a fine layer of white ceramic.

Suggesting a new direction in design for Chopard, this dramatic and exotic necklace features an impressive aquamarine surrounded by a red ceramic disc and tanzanite beads.

Chopard's unusual new arrival to the Red Carpet Collection 2018 has a central gold cameo adorned with blue apatites, violet garnets and red jasper and graced with rooster, grey heron, ostrich and black pheasant feathers.

In Chopard's atelier work is carried out on the central medallion of a sculpted gold with apatites, garnets and red jasper for the Feather necklace is inspired by Mongolia and made in collaboration with Nellie Saunier.

Chopard embarked on its Journey to Sustainable Luxury in 2013, creating jewels using Fairmined Gold and ethically sourced diamonds as seen in this Green Carpet 2018 necklace and earrings.

Oriental in inspiration, a majestic black opal surrounded by tsavorites and carved turquoise hides a secret watch dial secured on a tanzanite bead bracelet.