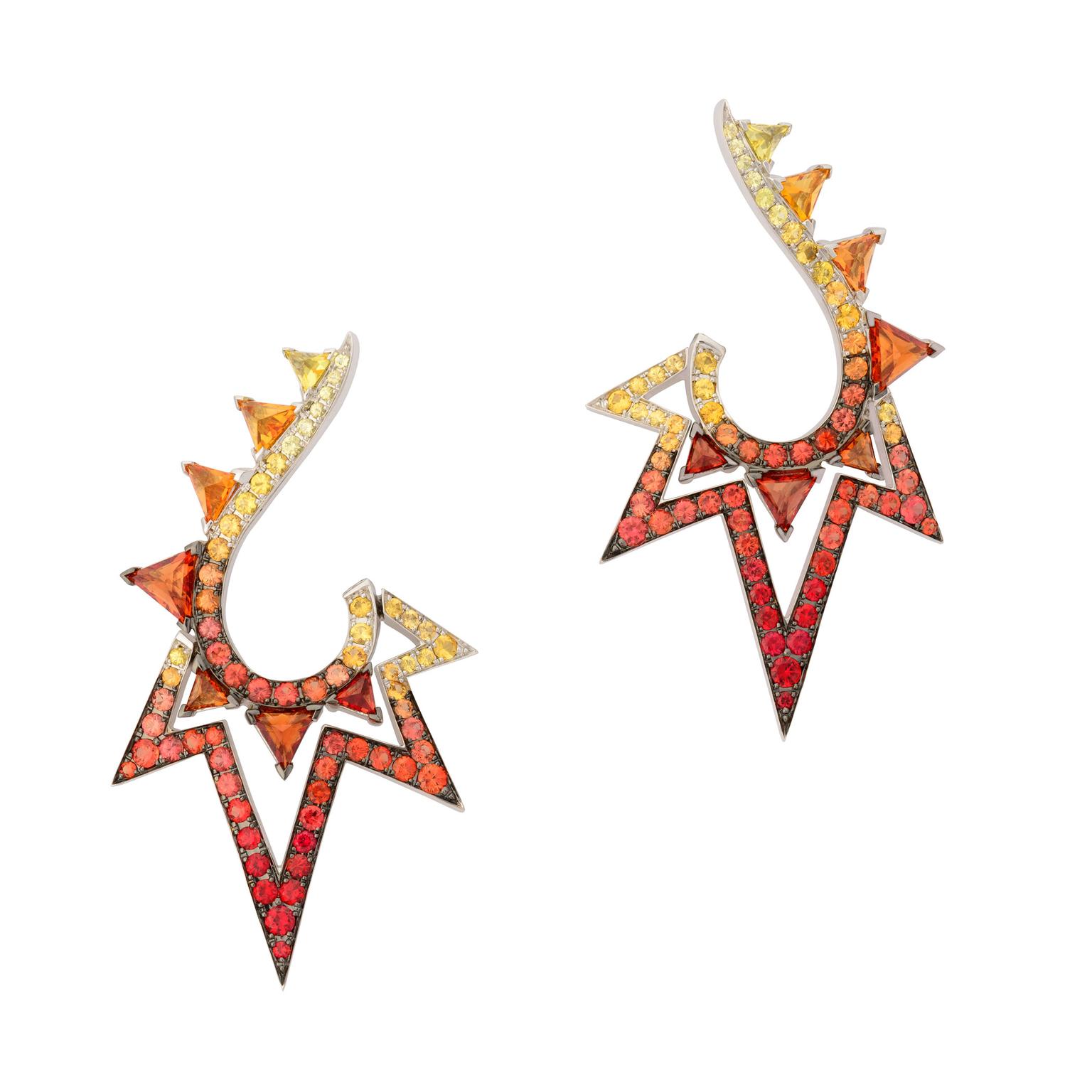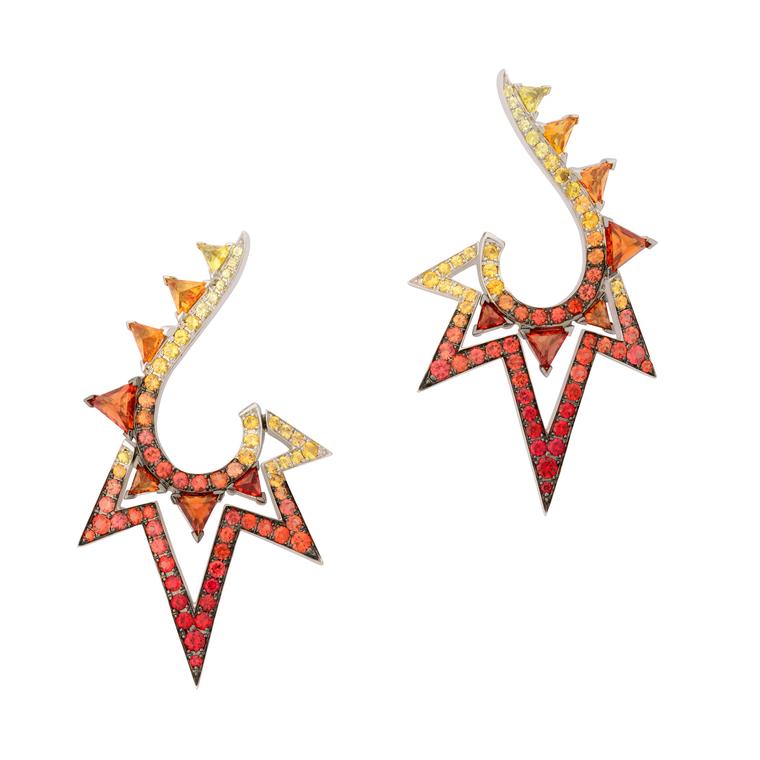 Jewellery designers are chasing the rainbow right now, with hoards of wonderful collections out there that clash together all the coloured gemstones this world has to offer. But for a more grown-up take on this trend, some designers are choosing to play with colour in a much more structured way, by blending colours of gems into each other - a task that is no mean feat.
Stephen Webster has been picking out different coloured precious stones for his Lady Stardust collection, inspired by that iconic lightening bolt painted on David Bowie's face for the Aladdin Sane album. This fine jewellery collection features both warm and cold palates, with precious zigzags of sapphires that morph from yellow to orange, and amethysts that turn into pink sapphires, lightening in shade until they blend into white diamonds. "It will drive you crazy," says Stephen Webster, referring to the time and extraordinary patience required to select stones that perfectly match with the gradient that is trying to be achieved.
Read more about Stephen Webster's Lady Stardust collection here
"Certain stones work well - sapphires are perfect as they come in every shade," continues Webster. He adds that another complication of this already complex process is that some coloured gemstones, such as peridot, do not hold colour well and this trend predominantly calls for smaller stones.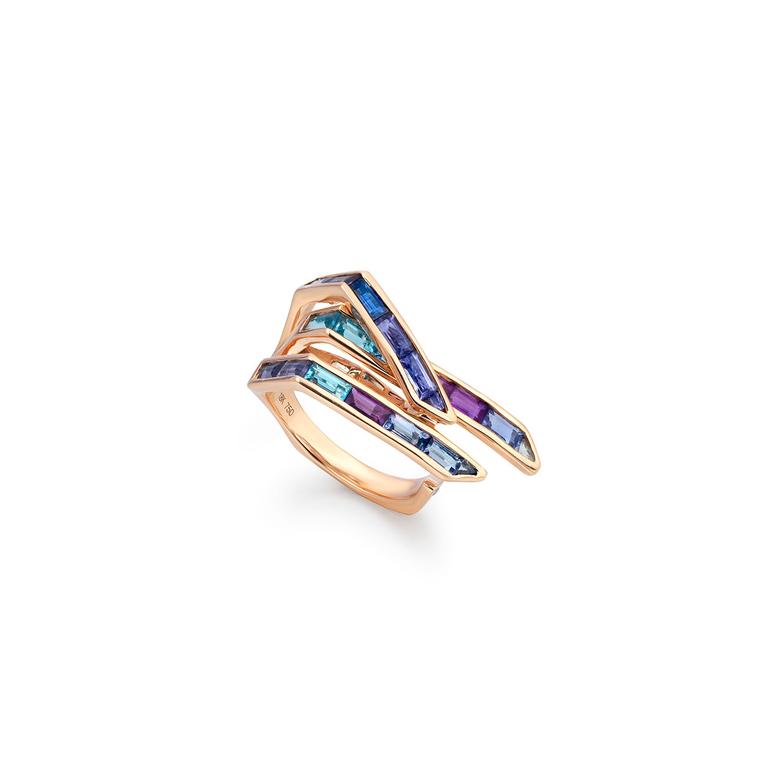 While it is certainly easier to stick within one stone group, such as sapphires, it is not impossible to achieve colour graduation by mixing types of stones, and this is something that Tomasz Donocik has been experimenting with for his award-winning Electric Night collection, inspired by cult sci-fi flick Blade Runner.
Read more about Tomasz Donocik's Electric Night collection here
The fine jewellery collection uses iolite, amethyst, tanzanite, blue topaz, sapphires and emeralds to create a futuristic nightscape palate with colours that run into each other. Donocik made the search for precious stones even harder by choosing to work with baguettes of coloured gemstones, which he says are so hard to source that he had to have them specially cut. "It took eight months to get the right stones - I wanted to get the colour to travel up and down the stones, which is why I channel-set them, to capture a highway of colour. You wouldn't get that with round stones."
Whether a highway of baguettes or a delicate swirl of perfectly graduated rounds, these designs are taking colourful gemstones to another level. And while this long and intricate process may be enough to drive some designers crazy, the final spectacular effect is always worth the effort.   
Stephen Webster Lady Stardust chandelier earrings in white gold featuring geometric zigzags with white diamonds turning into ever deepening purple amethysts for a dramatic dip-dye effect.

Al Coro 18ct rose gold Dolce Vita earrings with graduated brilliant white diamonds and brown diamonds.

De GRISOGONO Chiocciolina pendant necklace in rose gold with white diamonds, blue sapphires and amethysts.

Mattioli Feather ring in rose gold with brown diamonds, amethyst and rhodolite.

Robinson Pelham Circus earrings set with rainbow sapphires and tsavorites in yellow gold.

Temple St Clair Tolomeo eight ring pendant with mixed sapphires and diamonds in yellow gold. 

Tomasz Donocik Wing ring in rose gold and coloured gemstones, from the new Electric Night collection.

Stephen Webster Lady Stardust earrings in white gold with yellow and orange sapphires.