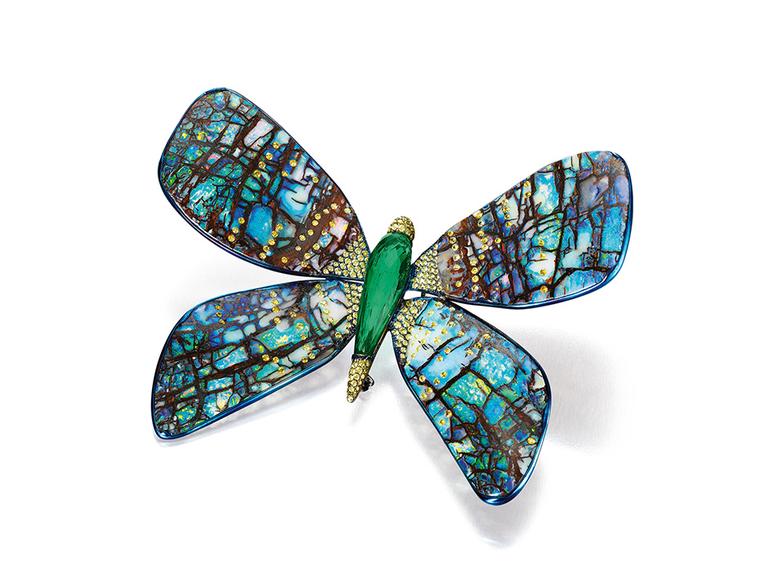 The secret world of high jewellery is a lofty and often impenetrable place. Less than one per cent of people on the planet have the resources to access this level of design, and very few discuss it openly due to the security and private nature of the transactions involved.  
Traditionally, determined and ambitious outsiders have fought their way to the top by presenting an artistic vision that brings something completely new to the world of high jewellery. The Boghossian family is one such force of Swiss, Belgian, Lebanese and Armenian heritage. Descended from four generations of gem dealers, when the Boghossian boutique opened in London in November 2013, it became a quietly potent presence on Bond Street.
Roberto Boghossian, the smooth-talking MD of Boghossian and manager of the flagship London store, meets me at the Arts Club to unpick the DNA of his life's work. "I believe that we are one of the master jewellers today in terms of inlay," he says matter-of-factly over his beautifully prepared salad. "One of our main sources of inspiration is the Mogul Empire. We love the shapes and the motifs. For us, the Middle Eastern aesthetic is loud, rich and full of colour."   
Dramatically bejewelled necklaces, tiaras and cuffs are Boghossian's main offering to the fabulously wealthy clientele who flock to its stores in Hong Kong, Geneva, Brussels and, now, London. Boghossian's journey to Bond Street took five years and was anything but easy. "I was asked by one of our very important customers to open on Bond Street," recalls Roberto. "We were already considering a move into retail and so I began the search."
Losing a location to Richemont and then fighting five other brands for the spot on which he had set his heart proved to be of little deterrent. After setting a new benchmark for rent paid per square foot, he moved in. "Bond Street for me is the jewellery street par excellence. In the drive to establish our brand, it was natural for us to be there."
So what plans for the future? "I'd love to work with Queen Rania of Jordan one day as I admire her grace and elegance, and I like what she stands for in terms of education," smiles Roberto, "But next week I'm going to Qatar for the jewellery fair." And with that he strolls off into the grey dampness of Bond Street, back to the glittering surrounds of his shiny, new shop.
See more from Boghossian here
Boghossian Colombian emerald, amethyst and diamond earrings (£POA).

Boghossian Colombian emerald and diamond earrings (£POA).

Boghossian natural saltwater conch and clam pearl earrings with diamonds (£POA).

Boghossian Ceylon sapphire and diamond earrings (£POA).

Boghossian 41.75ct sapphire inlaid into opal necklace (£POA).

Boghossian diamond inlaid into Paraiba tourmaline, inlaid into turquoise ring (£16,900).

Boghossian pink morganite inlaid into pink morganite ring (£6,400).

Boghossian opal and emerald butterfly brooch (£POA).