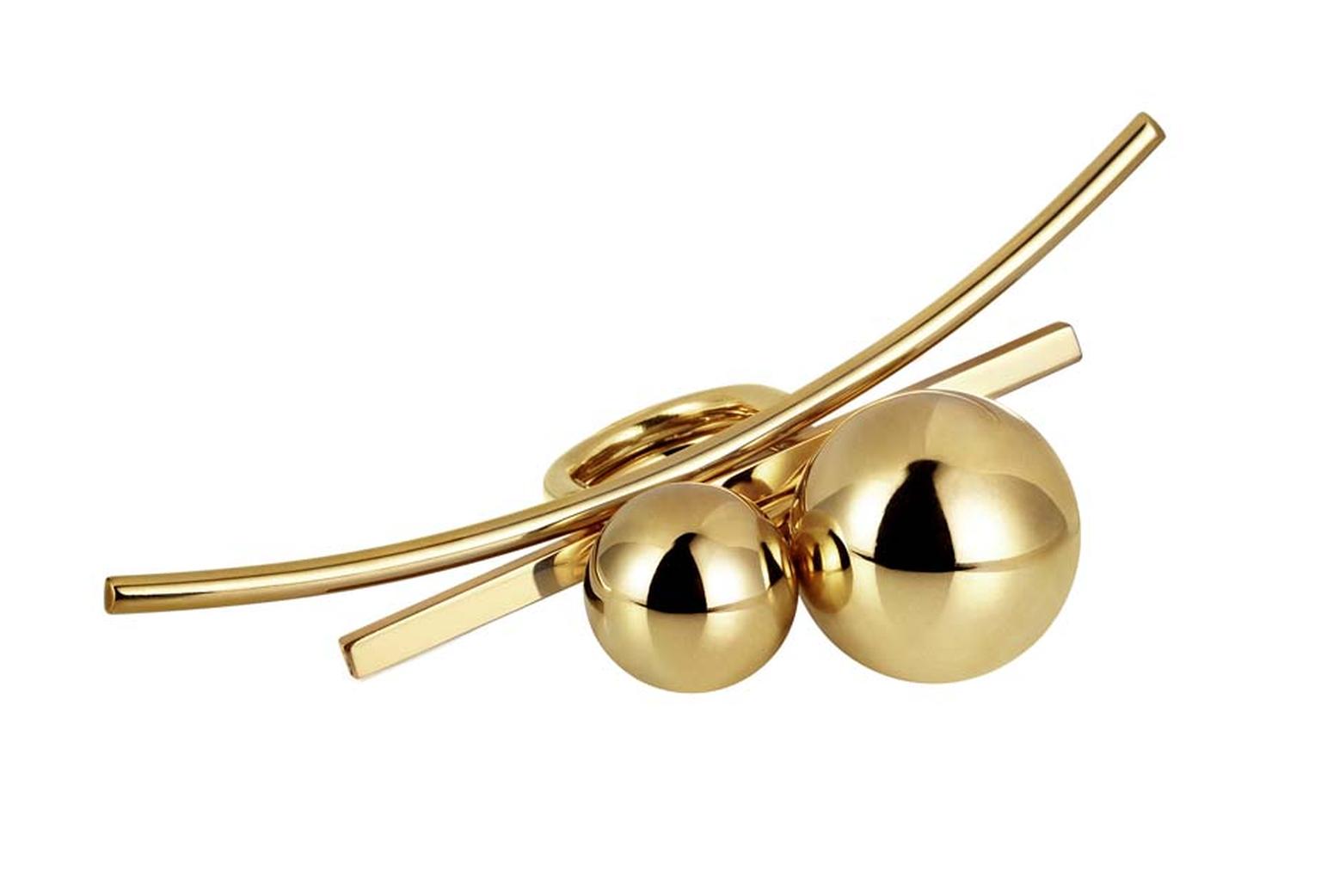 By Ase Anderson
Greek jewellery designer Elena Votsi's stunning collection is now available at online luxury jeweller Kultia. 
Renowned for her clean, bold designs, Elena hit the headlines when she was asked to redesign the Olympic medals ahead of the 2004 games held in Athens. 
Inspired by the beauty of the Greek sun, sea and sky, she uses geometric shapes to create designs that are defined by their precise lines. 
Her most recognisable work is the Sphere Collection, which represents the sun and its orbits and allows the wearer to create her own 'universe' by combining different rings and mixing spheres. 
One of Elena's very first designs, the arrow, was incorporated into her recent Eros collection, which draws its inspiration from love, desire and passion to deliver a look that is at once modern and classic. 
Twice a winner of the Couture Design Awards in Las Vegas, Elena studied at Athens School of Arts and completed a master's degree at the Royal College of Arts in London before returning to her home on the Greek island of Hydra. With a population of less than 2,000 and no cars (only donkeys), it's not surprising that Elena says her pet peeves are 'cars and driving'. 
The designer is the perfect fit for Greek online boutique Kultia, which was established in 2010 by Marina Manolopoulou-Vassiliou with the aim of bringing together talented independent designers to create 'an online gallery of jewellery masters'.  The site also stocks jewels by Mattia Cielo, Cora Sheibani, Lina Fanourakis and Jacqueline Rabun.
Elegant and humorous with names such as 'Twisted Love' and 'I lost my mind…', Marina says her favourite Elena Votsi pieces are the Crazy Line rings, which can be worn together for a modern and luxurious look. "They are also very comfortable to wear as they only have one band and you can move your fingers," she adds. 
To see the full Elena Votsi collection, visit the Kultia website.
Elena Votsi 'I lost my mind' circular gold bangle, with black pavé diamond arrows that move in various directions (€11,100).

Elena Votsi's Long Sun earrings in gold symbolise perfection and longevity (€3,400).

Elena Votsi Light and Shadow earrings in yellow gold with diamonds (€12,300).

Elena Votsi Bubbles of Champagne earrings in yellow gold and diamonds (€13,300).

These 'I lost my mind' earrings with multiple arrows pavéd with black diamonds pay tribute to Elena Votsi's Eros collection (€10,900).

The Elena Votsi Eros Passion earrings create a unique dynamic between arrow and heart and feature both a sharp-edged heart and twisted arrows set with black pavé diamonds (€8,000).

Signifying the madness of love, Elena Votsi's 'I lost my mind' necklace features three arrows traveling in various directions and one small, upside-down heart (€10,900).

The yellow gold and diamond Elena Votsi Light and Shadow 11mm ring celebrates volume and minimalism (€4,400).

Featuring a half sphere pavéd with diamonds and a golden arrow with a garnet drop, the Elena Votsi Eros ring - one of just three created - was designed as an ode to love (€46,100).

Elena Votsi's gold Crazy Line rings with diamonds can be worn together for a bold and experimental look (€3,510 and €3,900).

The bold circular spheres of Elena Votsi's Sun rings were inspired by beauty of the Greek sun, sea and sky (Black Dot ring, left, €8,800; White Shadow ring, right, €18,200).

Both playful and unique, Elena Votsi's Golden Bar and Golden Arc rings can be worn together (both €2,200).