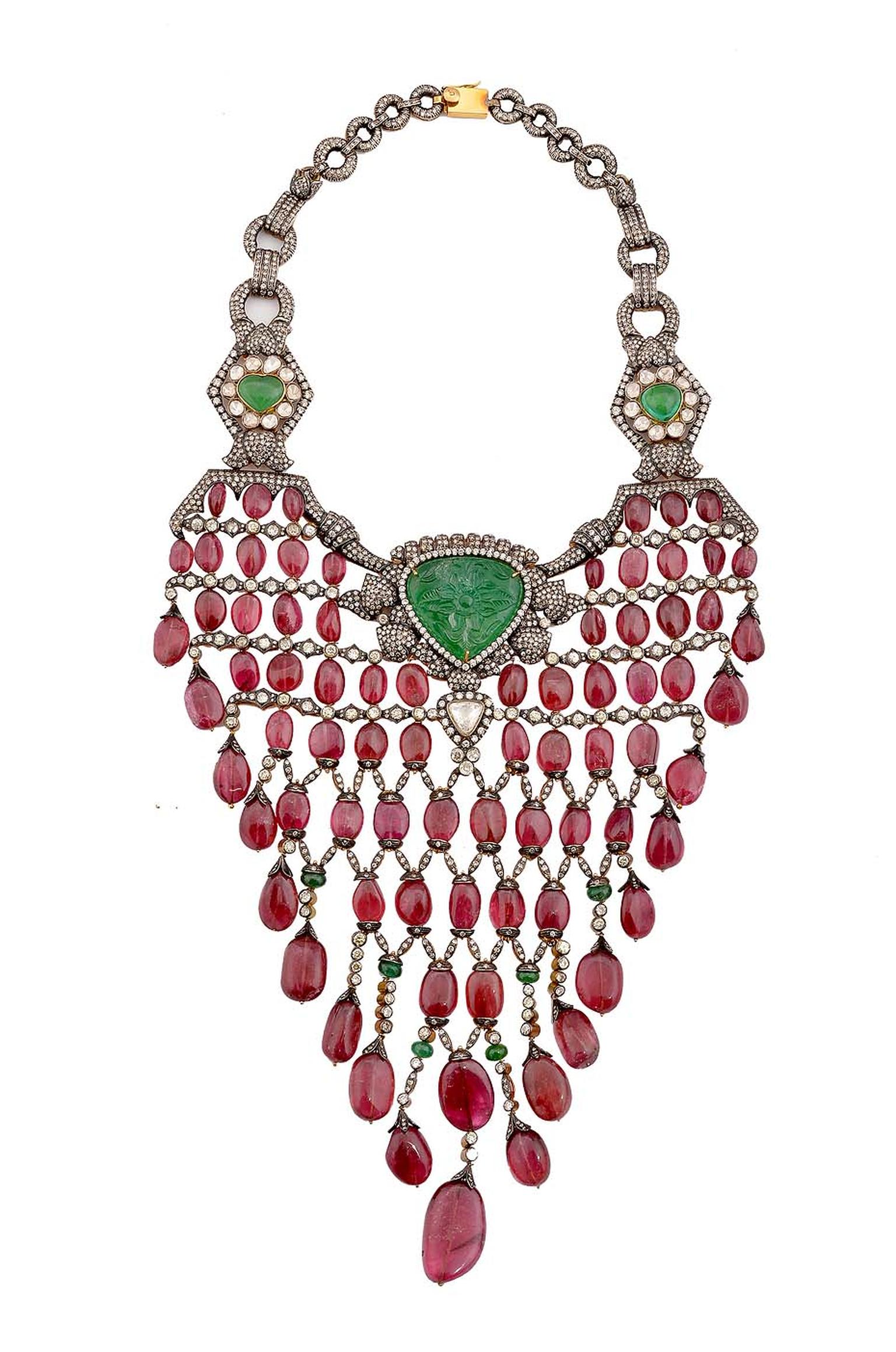 Be Preeta Argarwal in New Delhi
The popularity of Amrapali stretches well beyond India. In 1978, Mr. Rajiv Arora and Mr. Rajesh Ajmera decided it was time to share the magnificence of Indian jewellery with the world, and over the years the Jaipur-based jeweller has collected and manufactured a stunning array of traditional jewels. A number of these exquisite creations are part of the brand's Vintage Collection, which is displayed only on special occasions. 
One such occasion presented itself recently. To celebrate a decade of the brand's presence in New Delhi, Amrapali showcased some of its finest vintage pieces together with an exquisite collection inspired by the lotus motif, which is incorporated into the Amrapali logo.
On display were unique creations in gold and diamonds as well as antique silver tribal jewels. Many guests turned up to the event in Amrapali finery from their personal collections. Jewels were displayed not in cases but amongst antiques and red roses, which gave ladies the chance to try on magnificent bangles and necklaces studded with impressive uncut diamonds and precious gemstones. The royal necklace with multiple rows of ruby drops, a heritage necklace with triangular cabochon emeralds, necklaces studded with rubies in the shape of a lotus leaf, delicate feather earrings and a vintage peacock cuff were just a few of the pieces that caught my eye.
Shortly afterwards, Amrapali hosted another historic evening at the V&A Museum in London, where it showcases the best of its pearl jewellery to celebrate Diwali, the Indian festival of lights. This event coincided with the major pearl exhibition taking place at the V&A this winter, which explores the history of pearls from the early Roman Empire through to present day.
Amrapali heritage necklace set with rubies, emeralds and diamonds.

Amrapali Lotus ruby and diamond necklace.

Amrapali brooch with coloured gemstones and diamonds.

A pendant necklace with uncut diamonds and pearls by Amrapali.

A pair of feather earrings by Amrapali, showcased at a recent party hosted by the jeweller to celebrated 10 years in New Delhi.

Vintage peacock cuff by Amrapali.

A south Indian style necklace by Amrapali.

Amrapali displayed its jewels amongst antiques and red roses at the New Delhi event.

A display of Amrapali's collection of antique silver tribal jewellery.

A guest tries on an antique 'Pacheli' bangle by Amrapali.

Akanksha and Tarang Arora of Amrapali.

Amrapali's Tarang Arora at the pearl exhibition the jeweller recently hosted at the V&A Museum in London.