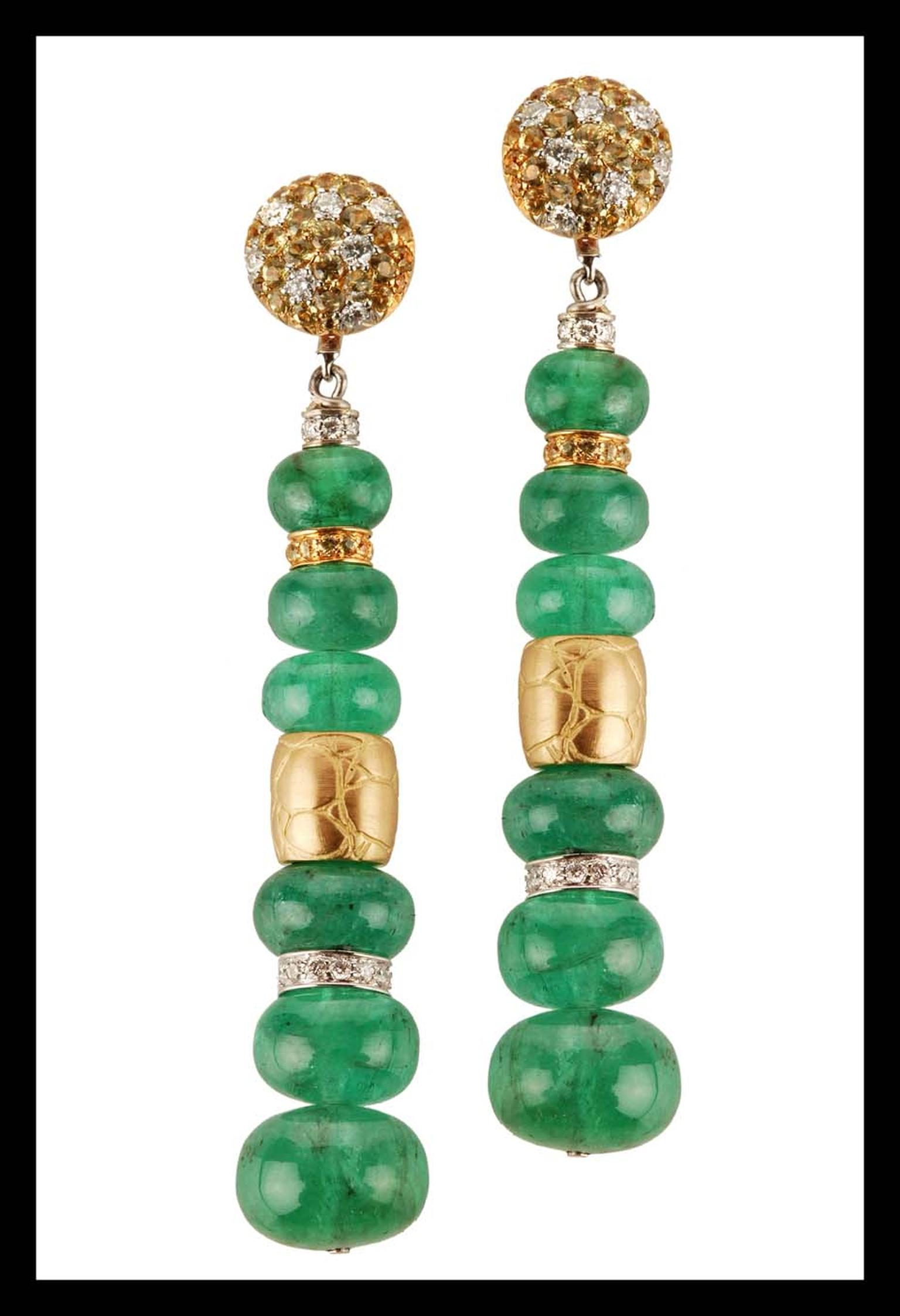 By Rebecca Doulton in Madrid
"Since I was a child, I breakfasted, lunched and dined on jewellery," confides Elena Carrera, referring to her upbringing in Spain's most famous family of jewellers. Founded in 1885 and catapulted to fame after confecting a bridal tiara for Queen Fabiola of Belgium, it was her father and uncle who turned Carrera y Carrera into an international success story in the late 1960s.
Although she grew up surrounded by gemstones and shop talk, Elena didn't follow in her father's footsteps.  She studied Business Administration to become purchasing director for the multi-brand company, J.E. & C Carrera, that she and her brothers created, retailing Bulgari and Pomellato, among other brands, to the Spanish public. But the Carrera family gene for creation started to show and Elena decided to equip herself with the tools of the trade studying gemmology followed by an intensive session of goldsmithing and design in Florence.
Our appointment is in Elena's flagship boutique, located on a quiet, tree-lined street of Madrid's affluent Salamanca neighbourhood. The brand, known as Elena C to distinguish her work from Carrera y Carrera, was launched in 2006, right at the beginning of Spain's economic recession. It was a tough initiation, but Elena had a clear vision of where she wanted to go. "My slogan, 'a bit of luxury for every day', is based on the idea of offering stylish and quality jewellery to women at an affordable price." Her target is professional women who like to buy their own jewellery and are tired of wearing "old lady" jewels.
Spotting a niche for an intermediary brand aimed at "women who don't necessarily want to spend a fortune on a ring, but don't want to settle for costume jewellery or shoddy quality", Elena combines her fine artisanship with a fresh dose of youthfulness. A far cry from Spain's traditional and somewhat musty jewellery shops, where conservative diamonds and pearls are the norm, Elena takes inspiration from the world of fashion and the colours of the catwalk. "I love to work with Paraiba tourmalines and tanzanite, but people still don't know enough about these stones to appreciate them here in Spain. They think tanzanite is a form of sapphire." Another one of her favourite stones is opal but, as she points out, "opal is seen as a bad luck gemstone in Spain".
The earrings and gold cuff in her Celosias collection, with its lovely latticework reminiscent of Arabic motifs, offers a touch of exotic glamour, while a similar Oriental spirit permeates the white agate earrings with antique-cut diamonds, as worn by the stylish Queen Rania of Jordan. Her popular Mariposas (Butterfly) collection also seduced Spain's young and trend-setting Queen Letizia, who was photographed wearing a pair of white gold diamond butterfly earrings while still a princess.
Her stackable Texturas collection of rings and bracelets in pink, yellow and white gold, with fun textures that imitate crocodile skin, bamboo and hemp, can be combined ad infinitum with blue and pink sapphires, cool green tsavorites and all sorts of colourful diamonds. However, if versatility is your game, the Fusion collection of rings, earrings and pendants offers the highest degree of wearability, allowing you to change the central stone and outer jacket. By extracting the central amethyst stone of the Fusion earrings from its green tsavorite setting, for example, you can reset the stone in any of the other jackets, or use the tsavorite setting for another coloured gemstone. 
In addition to her everyday collections, Elena creates high jewellery pieces that demand to be worn. The green emerald necklace takes the formality out of this most traditional of stones and adds an instant touch of modern glamour, as do the lovely emerald, gold and diamond earrings that cascade in all their natural beauty down the side of the neck.
In addition to overseeing her Elena C boutique and retail outlets, Elena writes a jewellery blog for Spain's best-known society and celebrity weekly, ¡Hola! 
Elena C rose quartz ring with brown and white diamonds (5,830€).

Elena C Fusion collection earrings in rose gold with central amethysts and interchangeable green tsavorite jackets (2,465€).

Elena C rings from the Texturas collection in pink, white and yellow gold with crocodile, bamboo and hemp textures as well as brown diamond and coloured sapphires. Prices start at 780€.

Elena C Butterfly earrings from the Mariposas collection.

Elena C pink and yellow gold rings set with white and brown diamonds and pink sapphires.

Elena C Amazonia cuff bracelet in white gold with coconut texture (36,850€).

Elena C necklaces from the Celosías collection in gold-plated silver.

Elena C one-of-a-kind emerald necklace with gold coconut textured barrels and diamonds (56,950€).

Elena C Celosías collection earrings with yellow gold-plated silver and smoky quartz (240€).

Elena C Celosías collection cuff bracelet in rose gold-plated silver (395€).

Elena C gold and silver earrings featuring white diamonds and white agate, as worn by Queen Rania (2,795€).

Elena C one-of-a-kind aquamarine ring set in white gold with diamonds (10,470€).