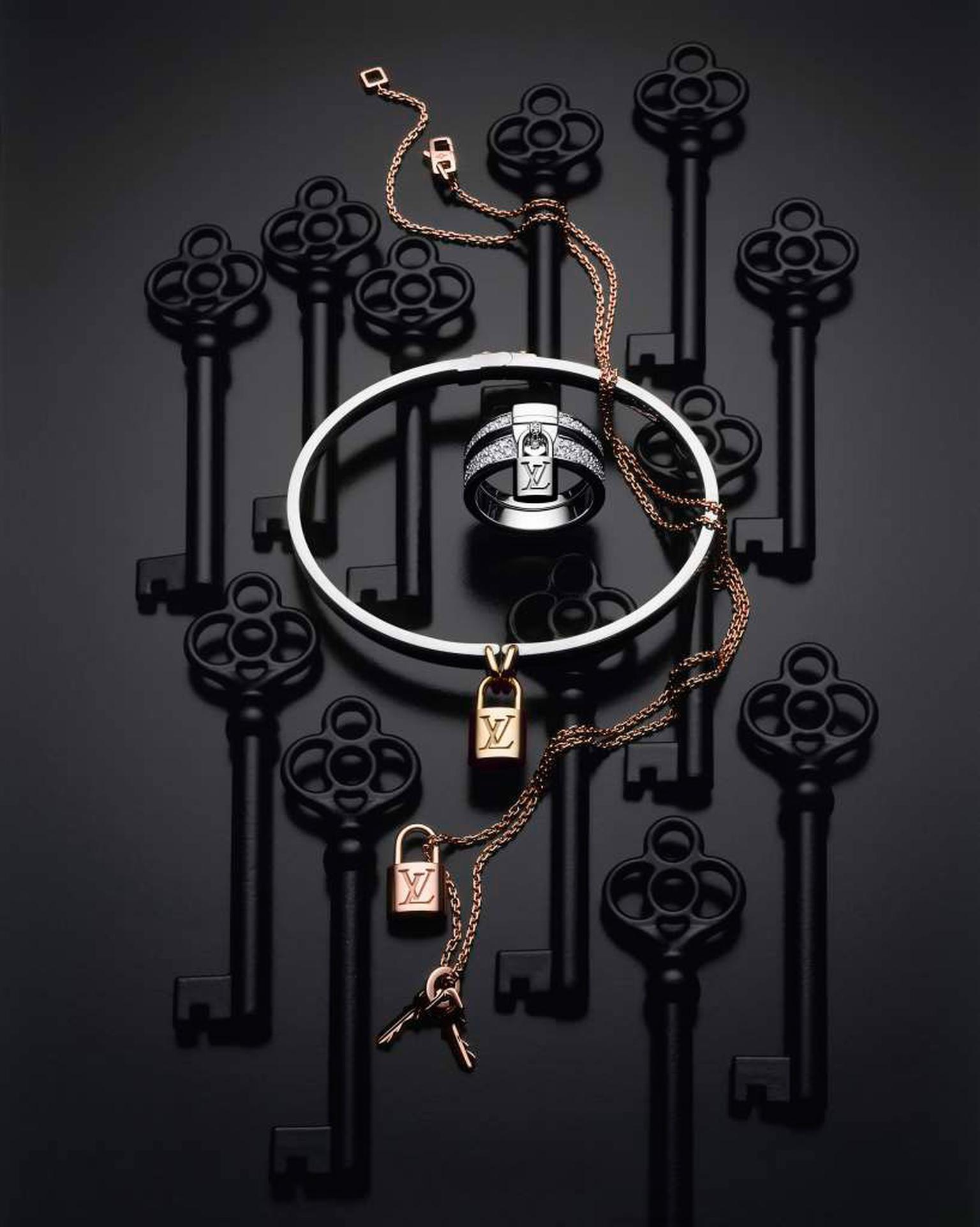 Louis Vuitton's new Lockit jewellery collection takes a romantic gesture filled with symbolism and hope and seals it in gold. Legend has it that "love padlocks" first made their appearance in Hungary more than 80 years ago. However, it is only in the past decade that they have become a popular sight in cities around the world, Paris in particular, where courting couples have been securing signed and dated padlocks to famous bridges and throwing the key into the water below, sealing their love forever. Until recently, thousands of "love locks" were attached to the railings of Paris's Pont des Arts bridge. Undeterred by their recent removal, couples have taken their unusual love tokens elsewhere, to Pont de l'Archevêché. 
There is no doubt Louis Vuitton's new Lockit collection will, in the spirit of "love padlocks", prove equally popular as a token of amour. However, the padlock is not a new concept for the French fashion house. Attached to the original Louis Vuitton steamer trunks, it is an iconic motif of the brand that has reappeared throughout the maison's history, most recently on the autumn/winter 2011 catwalk.
The latest addition to Louis Vuitton's ready-to-wear jewellery collections - joining the existing Monogram and Empreinte ranges - Lockit consists of 15 pieces in 18ct yellow, rose and grey gold, including pendants, rings and bracelets, all of which feature a beautifully rendered padlock, inscribed with the LV logo. On the rings and pendants, the padlock serves as an ornament. On the hinged bracelets, which are presented with a key, it becomes a working clasp. Higher-end pieces feature a double band of diamonds.
With a wide range of prices and designs, the new Lockit Collection, launched this month and available to buy in Louis Vuitton stores worldwide, is an accessible introduction to Vuitton's fine jewellery line and, for the hopelessly romantic, the perfect gift for Valentine's Day next month. 
Ring (Pink Gold) Price: £1489

Ring (White Gold with Diamonds) Price: £3310

Louis Vuitton Lockit jewellery as photographed by Mitchell Feinberg.

Louis Vuitton Lockit jewellery as photographed by Mitchell Feinberg.

Louis Vuitton Lockit jewellery as photographed by Mitchell Feinberg.

Necklace (White Gold) Price: £1324

Ring (Yellow Gold) Price: £2193

Necklace (Yellow Gold) Price: £1241

Bracelet (Yellow & White Gold) Price: £4758

Bracelet (White Gold with Diamonds) Price: £10,262; necklace (White Gold) Price: £1324

Bracelet (White Gold with Diamonds) Price: POA

Necklace (Pink Gold) Price: £1241